President Donald Trump denied an Atlantic report where sources described the disdain he has for military members who were captured in combat, including calling late Sen. John McCain (R-Ariz.) a "loser" for being shot down in battle.
However, despite Trump claiming that he "never called John a loser" in a series of tweets denying the report, a quick look at his Twitter account makes it pretty clear that he has.
In July 2015, Trump retweeted an article where he's quoted calling McCain a "loser."
Like seemingly countless other times, "there's always a tweet."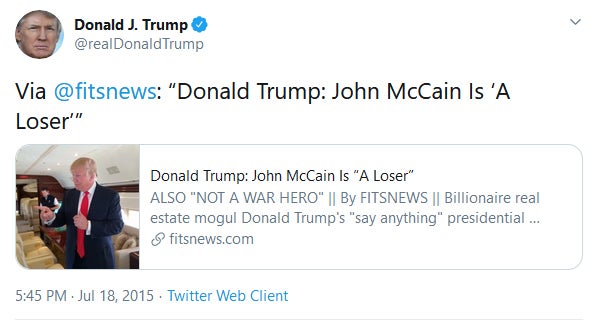 The Atlantic report, citing anonymous sources, said the president had made comments about military members who died during combat, including saying that he did not want to go to the Aisne-Marne American Cemetery in Paris because it was "filled with losers."
The article also cites sources who said Trump did not want to attend McCain's funeral in 2018—which he wasn't invited to—because it was a "loser's funeral." The sources also said Trump referred to McCain, who was a prisoner of war during the Vietnam War, as a "fucking loser" when he asked why flags were at half-mast following his death.
In response to the report, Trump vehemently denied the claims, but admitted that he was "never a big fan" of McCain.
"I was never a big fan of John McCain, disagreed with him on many things including ridiculous endless wars and the lack of success he had in dealing with the VA and our great Vets, but the lowering of our Nations American Flags, and the first class funeral he was given by our…." the president wrote in a tweet thread. "..Country, had to be approved by me, as President, & I did so without hesitation or complaint. Quite the contrary, I felt it was well deserved. I even sent Air Force One to bring his body, in casket, from Arizona to Washington. It was my honor to do so. Also, I never called.."
He added:
"….John a loser and swear on whatever, or whoever, I was asked to swear on, that I never called our great fallen soldiers anything other than HEROES. This is more made up Fake News given by disgusting & jealous failures in a disgraceful attempt to influence the 2020 Election!"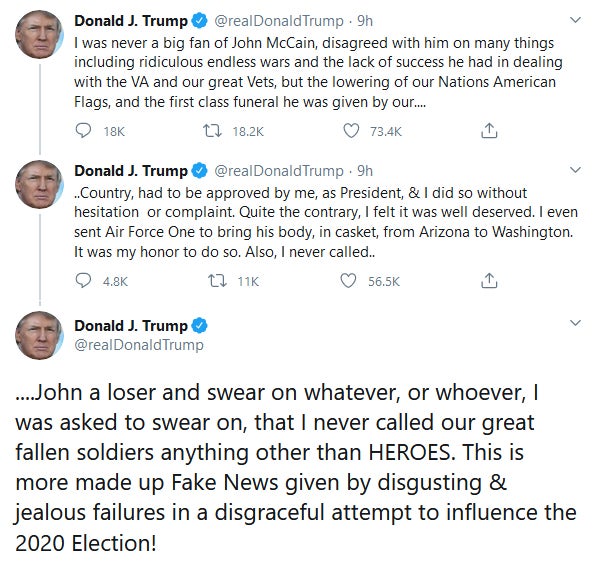 The story Trump was linking to in the tweet was about his infamous conversation in where he said McCain was not a "war hero" because he was a prisoner of war and that he liked "people who weren't captured."
During that conversation he called McCain a "loser" for not defeating President Barack Obama in the 2008 election.
"I supported him for president, I raised a million dollars for him, that's a lot of money. I supported him, he lost, he let us down, you know he lost. So I never liked him as much after that, 'cause I don't like losers," Trump said in the 2015 conversation.
So while Trump may be denying that he called McCain a "loser," it's pretty evident that he has.