Today, Joe Biden will be inaugurated as the 46th president of the United States.
We've known for weeks that President Donald Trump had no intention of attending the inauguration ceremony, breaking a longstanding precedent that typically signifies a peaceful transition of power. Rather than keep with this sacred tradition, Trump left with nothing but a note in the Oval Office—a typical nicety that usually pairs with attendance at the inauguration—before dipping and heading to Joint Base Andrews for his final address as president.
Given Trump's history, and the conditions under which he is leaving office, people's imaginations immediately went wild when they learned of the note. It is almost certain to contrast sharply with the poised and polite note left to him by former President Barack Obama. In fact, many people suspect it may be closer to hate mail than a welcoming letter intended to provide advice for the incoming president.
Soon, the internet became home to dozens upon dozens of different interpretations of the note. Is it an off-kilter, insult-riddled mess of a letter written in crayon?
Or perhaps a handwritten homage to his favorite Russian president?
Or is it a simple, mean-spirited gesture like Michael's going-away gift to Toby in The Office?
The possibilities are endless. People really let their imaginations go wild with this one.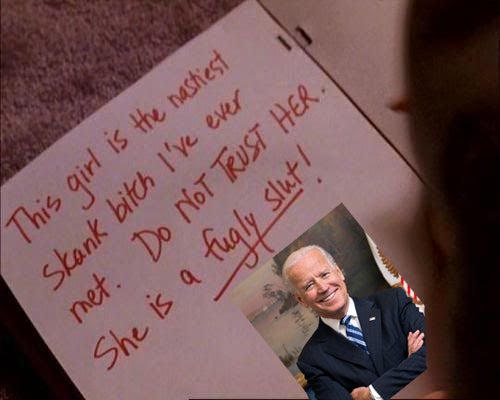 Numerous people nodded to the iconic Sex And The City breakup note left to Carrie by Jack Berger. Perhaps Trump found some inspiration in Jack's final words?
Trump has been insistent, despite ample evidence to the contrary, that he won the election, not Biden. A number of memes addressed the legitimately realistic possibility that the letter is yet another proclamation of victory.
Eventually, the memes degenerated into fart jokes and childish digs at the 45th president.
There are dozens of different interpretations of the note, but honestly, this one seems the most likely.
---
Today's top stories