While visiting hurricane-ravaged Louisiana in late August, President Donald Trump bragged that people could sell his autograph for $10,000.
That appears to have been inaccurate. Someone tried to sell what was branded as an autograph from the event for Trump's recommended price. That value doesn't seem to match the demand Trump said it would have.
After inspecting damage from Hurricane Laura on Aug. 29, Trump did a meet-and-greet in Lake Charles, Louisiana. Ever a fan of touring hurricane damage, the president appeared to be in a good mood as he sat in front of a firetruck in khakis, navy blue windbreaker, and red hat.
Near the end of the event, he called over some men standing nearby so he could sign autographs for them.
"Sell this tonight on eBay, you'll get $10,000," Trump bragged as he handed over the first autograph.
He repeated the line twice more.
"Who's gonna get this one? Sell it tonight on eBay. Ten thousand," he said.
"Give me a piece of paper … If I put your name down it loses a lot of value. Sell it tonight on eBay."
It looks like someone took the president's advice (or was trying to capitalize on it). The Washington Post's Phillip Bump spotted one of Trump's autographs purportedly from that day selling on eBay for $9,999, just a dollar less than Trump suggested. The listing went up the same day that Trump signed the autographs.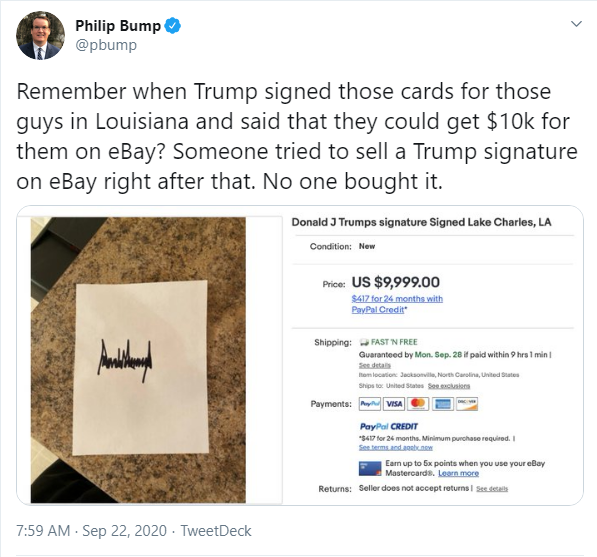 Bump reports that no one bought it. The listing ended because of an "error," according to eBay, on Aug. 31.
Regardless of whether or not the signature was actually from the Lake Charles event (or even real), it doesn't look like people are willing to spend $10,000 for a Trump signature.
However, there is another Trump signature claiming to be from Lake Charles for sale. The asking price: $10,000.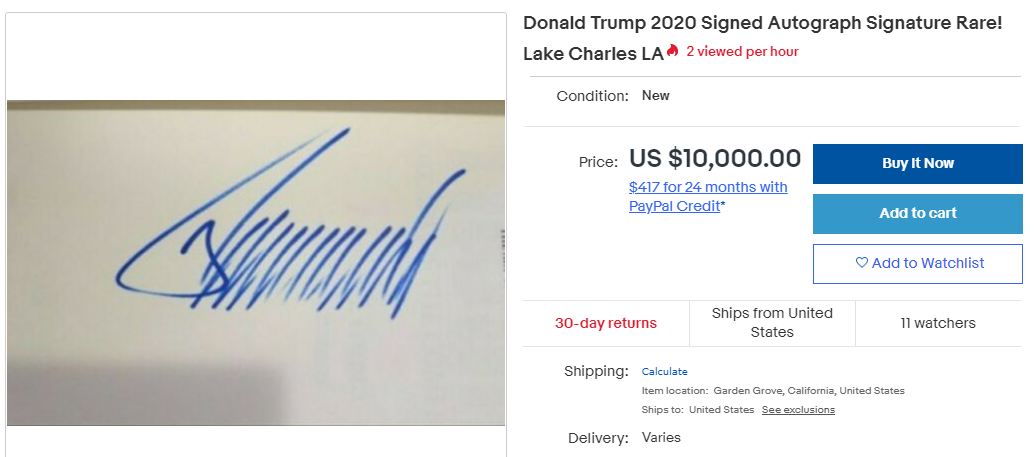 The shades of Sharpie differ, which indicates the two autographs weren't signed at the same event, but a person in the market for a $10,000 Trump signature might not be concerned with provenance.
The new Trump signature listing does offer a payment plan if $10,000 seems a bit much to put down at one time. The seller is allowing for 24 monthly payments of $417.
Of course, in the great marketplace of the internet, there are other options.
There's a dollar bill emblazoned with the presidential scrawl (condition: used; price: $15.99) also available on eBay. A seller is also offering a two-dollar bill autographed by Trump. According to the listing, 18 similarly-minded collectors have already bought one of their own.


Compared to the $10,000 Trump autographs from Lake Charles, which were signed on what appeared to be plain paper, the signed currency has an added selling point: it's actually worth something.
---
Read more of the Daily Dot's tech and politics coverage