This morning, President Donald Trump repeated his unfounded attacks on mail-in voting and the U.S. Postal Service. Now, Americans have taken to the internet in droves to voice support for the service that Benjamin Franklin first led in 1775.
On Fox Business Network, Trump claimed, in spite of overwhelming evidence to the contrary, that having the Post Office process ballots in November's election would perpetuate "one of the greatest frauds in history."
Unprecedented numbers of Americans plan to vote by mail this year due to the coronavirus pandemic. There is no evidence that mail-in voting poses a significant risk of voter fraud.
Trump has also threatened to deny $25 billion in emergency funding for the agency, which is struggling financially due to the pandemic.
Trump's attack comes immediately on the heels of the new Postmaster General Louis DeJoy on Friday announcing a major reorganization, hiring freeze, and ousting top executives, dubbed the "Friday night massacre."
DeJoy also owns millions of dollars' of stock in his former company, a Postal Service contractor, which many deem an unethical conflict of interest.
Democrats are now calling for the ouster of DeJoy, a longtime Republican fundraiser and Trump donor.
While the president has been railing against the Post Office for months, this morning he said the quiet part out loud.
"Now, they need that money in order to make the Post Office work, so it can take all of these millions and millions of ballots," he said, adding, "Now, if we don't make a deal, that means they don't get the money. That means they can't have universal mail-in voting, they just can't have it."
Many took Trump's comments to mean that he intends to deny funding for the Post Office in the hopes of improving his chances of winning re-election.
Outraged people immediately jumped to the agency's defense. "Post Office" trended on Twitter, with hundreds of thousands of tweets, many from current and former elected officials.
"The effort to destroy the Post Office is part of a continuing conspiracy to steal the election," tweeted Rep. Hakeem Jeffries (D-N.Y.).
Former Missouri Senator Claire McCaskill said, "Seriously rural America. You ok with losing your post office and reliable delivery of your medicine so this guy can continue to lie about absentee/mail in ballots?"
Many echoed McCaskill's point that sabotaging the Post Office could threaten the health of millions of Americans who receive medication by mail every year.
"I almost died a week ago because disruptions to the postal service resulted in an almost 3-week delay of a daily medication I am dependent on for survival," tweeted @ElleArmageddon, adding in a subsequent tweet, "Attacks on the USPS ARE attacks on disabled people. Killing the USPS will unequivocally kill disabled people."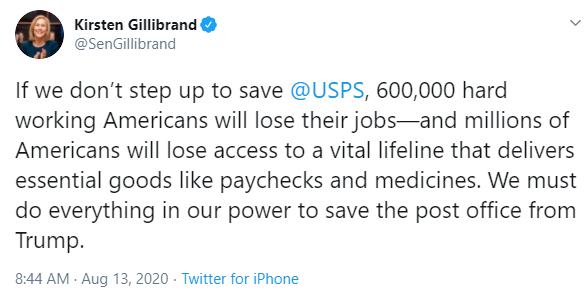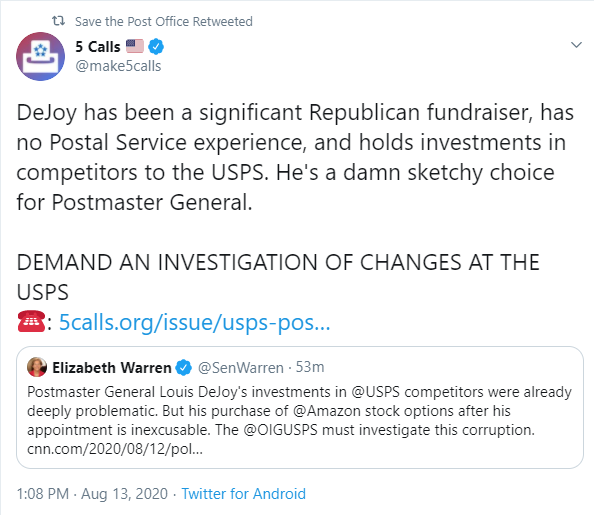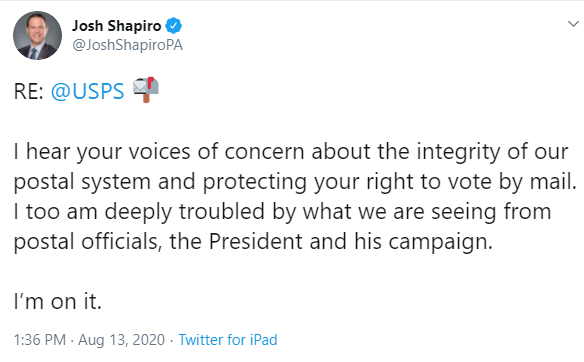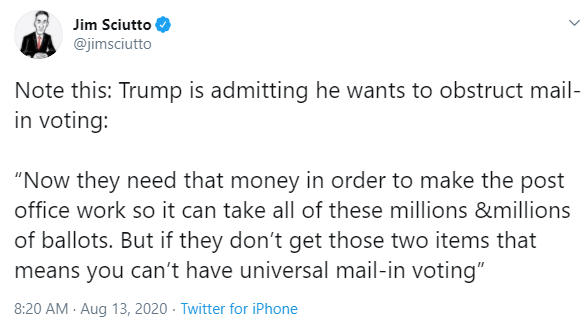 Although historically neither party gains a significant advantage in mail-in voting, the Washington Post reports that this year as many as twice the number of Democrats as Republicans plan to vote by mail.
---
Read more of the Daily Dot's tech and politics coverage