President Donald Trump announced on Tuesday that Secretary of State Rex Tillerson would be replaced by CIA Director Mike Pompeo.
And one former Trump official—who has a history of high-profile gaffes—couldn't get off a farewell tweet without horribly fucking it up.
Secretary Tillerson is a true patriot that has severed our nation well. Thank you for serving. Mike Pompeo will be an outstanding Secretary of State – the Senate should act swiftly to confirm him https://t.co/J8Eo0harb9

— Sean Spicer (@seanspicer) March 13, 2018
Tillerson has been accused of decimating the State Department and killing morale during his tenure. So maybe it's actually accurate.
But the president himself had his own bad tweet. Most people couldn't help but point out that just four months ago, Trump said it was "fake news" that his secretary of state would be "leaving soon."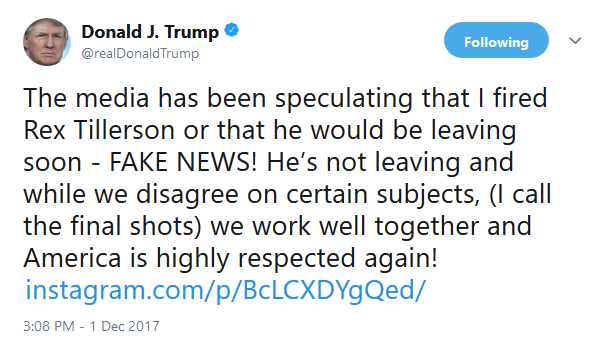 There were reports that Trump was considering replacing Tillerson with Pompeo late last year. While Trump called it "fake news" at the time, the news stories must have been onto something.
Narrator: Just four months earlier… https://t.co/OSO5NVSVVs

— Shannon Watts (@shannonrwatts) March 13, 2018
there's
always
a
tweeeeeet https://t.co/XYhFnU2MFj

— Mark Berman (@markberman) March 13, 2018
This is holding up well https://t.co/UVOsURqKhb

— Patrick McGee (@PatrickMcGee_) March 13, 2018
Life comes at you fast. https://t.co/ZvM9MaGm84

— Alex Mitchell (@heel_be_ok) March 13, 2018
Of course, there were other tweets.
https://twitter.com/BenjySarlin/status/973547421937684481
Rex is living on a farm upstate now. He'll be happy, running around with all the other dogs. https://t.co/VahxozPopF

— Maggie Serota (@maggieserota) March 13, 2018
like a big boy https://t.co/OMEEmBsxh5

— Matt Novak (@paleofuture) March 13, 2018
Rekt Tillerson

— Simon Maloy (@SimonMaloy) March 13, 2018
Some people also joked about Tillerson—who has close ties to Russia from his years at Exxon—and Special Counsel Robert Mueller.
#REXIT #RexTillerson walking into #RobertMueller's office like: pic.twitter.com/f67rHSVdpA

— Andrea G ™ (@Allegedly_G) March 13, 2018
Hey Rex Tillerson:

Here is Robert Mueller's email: [email protected]

— Denizcan James (@MrFilmkritik) March 13, 2018
See previously: Hope Hicks, Anthony Scaramucci, Sean Spicer.