This post contains examples of racist propaganda that some may find offensive and disturbing. 
An anonymous activist compiled a list of 367 Telegram channels that include neo-Nazi and white supremacists to illustrate how the secure messaging platform is now home to the internet's most hardcore far-right communities.
The extensive list, which was posted to PrivateBin, includes URLs for hundreds of openly accessible and active channels where users can be found glorifying or advocating for violence and spreading white supremacist ideas.
Extremist groups, from Islamic State jihadists to militant Nazi dissidents, have been using Telegram to organize themselves online for years. The communication app was founded by two Russian brothers in 2013 and recently became a safe haven for controversial pro-Trump right-wing internet personalities, such as former Breitbart writer Milo Yiannopoulos and activist Laura Loomer, in the wake of permanent bans from the likes of YouTube and Twitter.
Controversial and often-sexist sports blog Barstool, with its seven million Instagram followers, announced this week that it would start a Telegram community to post content Instagram was censoring. 
Just as personalities can use the platform to continue to connect with supporters and to solicit donations, nefarious far-right organizations use the platform's to openly share their ideology and propagate hate.
Investigating dozens of the channel links from the PrivateBin dump, many with hundreds of followers, the Daily Dot found users praising domestic terrorists like New Zealand mosque shooter Brenton Tarrant, U.S. mass shooter Dylann Roof, and Norwegian terrorist Anders Breivik. In many of the extremist channels, killers like these are referred to as "the saints" and "heroes."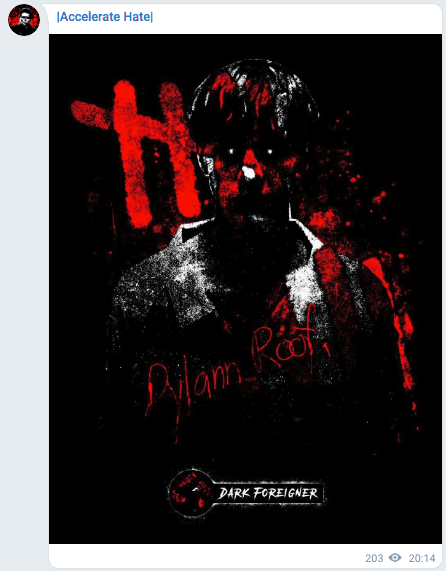 Blood-splattered graphics emblazoned with slogans like "legalise the execution of Jews" fill content feeds, calling for mass hangings or the killing of minority groups and police.
Historic images of Nazi soldiers from World War 2 and iconography from Nazi Germany are also used to push fascist messages.
Elsewhere users glorify militant neo-Nazi group Atomwaffen Division, an organization linked to at least five murders with around 20 cells across the U.S.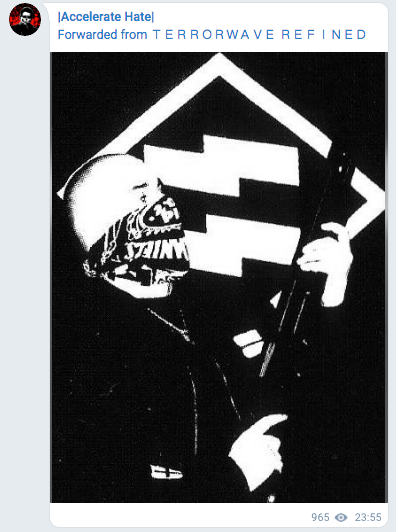 Other channels focus on promoting white supremacist or esoteric Nazi literature, memes, and ideas. The list also features European and British far-right political organizations as well as some Russian language channels.
Channels devoted to terrorwave, a nihilistic internet-based art aesthetic glorifying political violence and war, are also common.
A Southern Poverty Law Center analysis of Telegram in June concluded that the app's public and private chat facility was part of its appeal since "extremists can connect in channels that post publicly facing propaganda and then organize privately on the same app by using its encrypted chat feature."
Gaming chat platform Discord came under fire in 2017, after it was revealed white supremacist groups used it to organize ahead of the violent Unite the Right rally in Charlottesville, Virginia. Responding to the revelations, Discord company executives issued a statement condemning the far-right and warning that they would "act swiftly to take servers down and ban individual users" who violate community standards.
Despite growing scrutiny of the vast far-right extremist networks on its platform, and previous bans issued against channels associated with Islamic extremist terrorist groups, critics say that Telegram has "neither the appetite nor resources" to introduce moderation.
Although Telegram took action to ban Islamic State-affiliated channels, it only did so following widespread condemnation which mounted in the wake of the group's terror attacks. The company paired this action with a statement declaring that it would not engage in "politically-motivated censorship" and that it would protect "peaceful expression of alternative opinions."
Many of the channels viewed by the Daily Dot, however, clearly violate the platform's short, three-point terms of service, which forbids users "promot[ing] violence on publically viewable channels."
The open promotion of violence by neo-Nazi channels featured in the Privatebin watchlist, just a fraction of what's out there, indicates that these extremists do not fear or expect retribution from Telegram as they reach thousands of users with hate-filled propaganda.
The Daily Dot has reached out to Telegram for comment.
READ MORE: