There's nothing quite like that sinking feeling when a tweet flops. But, hey, it's a free market where engagements can't be taken for granted.
Sen. Ted Cruz (R-Texas) doesn't see it that way. He believes that his tweets should receive a certain amount of attention—and if one doesn't, it's not because it was lame, it's because he's being shadowbanned.
Yesterday, Cruz penned an op-ed giving Mark Zuckerberg props for letting politicians pay to circulate lies on Facebook and slamming Jack Dorsey for refusing to do so by banning all political advertisements on Twitter. In the piece, Cruz, who has worked in politics and government for two decades, complained that banning political advertisements on social media benefits career politicians. "If you ban political advertising from social media, how on earth is any upstart challenger supposed to beat an incumbent?"
He also pointed out that Dorsey's rule prohibits non-politicians from running "an ad that says 'Ted Cruz is a nincompoop.'"
Upon publication, Cruz tweeted a link to the piece captioned, "Mark Zuckerberg is right, @Jack Dorsey is wrong." (Cruz should take note that tweets typically do better if the caption isn't the same as the headline.)
The tweet landed with a thud. An hour later, it hadn't even cracked 170 retweets.
What's a Ted Cruz to do? Whine that he's being shadowbanned.
Hmm. Only 169 retweets. It's almost like the 3.4M people who chose to follow this account never saw this particular tweet…. Wonder why? https://t.co/p1VdOKqxAK

— Ted Cruz (@tedcruz) October 31, 2019
Cruz's quote tweet of himself did the trick. As of this morning, the tweet was rolling towards 6,000 retweets.
This isn't the first time that a Cruz tweet has earned relatively little engagement. It wasn't even the first or second time yesterday. His tweet complimenting Mitt Romney's grandson's Pierre Delecto costume barely broke 100 retweets in 15 hours; the one about fond memories of "tiny little butter cows" didn't manage to get triple-digit retweets in 20 hours. He didn't complain about the engagement those received.
Instead, he complained about the Dorsey/Zuckerberg tweet because he either sincerely believes that Twitter shadowbanned the tweet, or he realizes that his audience eats up complaints about Silicon Valley censorship.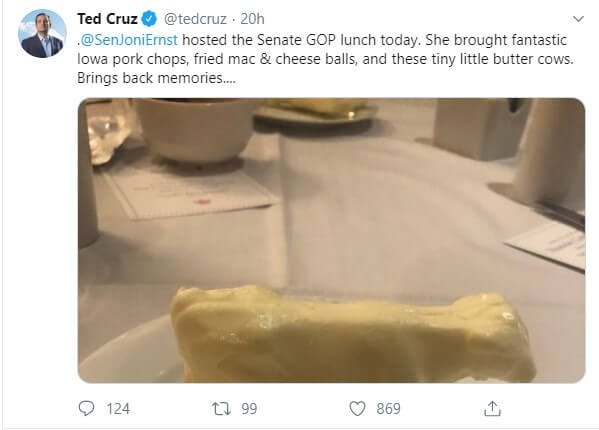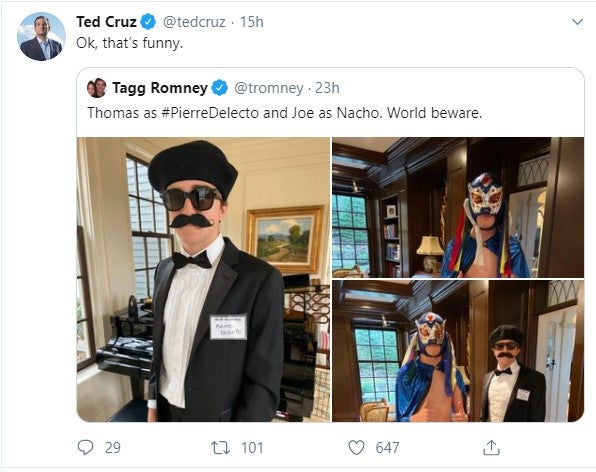 Conservatives have long complained about being shadowbanned, which Twitter defines as "deliberately making someone's content undiscoverable to everyone except the person who posted it."
The company has long denied shadowbanning, but concedes that its algorithm ranks tweets and search results based on several factors, including whether a tweet is by someone you're interested in, the popularity of a tweet, and if it's by a "bad-faith actor" who tries to "manipulate or divide the conversation."
In other words, the algorithm is essentially a mindless collection of programming, albeit one designed by humans.
Although Cruz's complaint about his tweet wasn't particularly salient, particularly given the performance of many of his other tweets, he did make some interesting points in the piece.
Specifically, Cruz noted that categorically banning all political advertisements still puts Twitter in the role of deciding what a political advertisement is. The rule also affects people and groups that advocate a particular policy or position—such as Sierra Club, the NRA, Planned Parenthood, and AIPAC, he wrote.
Other of Cruz's arguments contain fall short, however. Like many on his side of the political spectrum, Cruz equates the statements in political advertisements on social media with statements made in the public square. Twitter and Facebook are private companies, hence they are not bound by the First Amendment. He also inexplicably believes that prohibiting advertisements is the same thing as stifling all speech.
Further, as much as Cruz may commend Zuckerberg for taking a stand for free speech, there are numerous ways that Facebook restricts speech: pornography is prohibited, as is hate speech, being "cruel and insensitive," and many other types of expression that would likely pass muster under the Constitution.
As a Harvard-educated lawyer and chair of the Judiciary Subcommittee on the Constitution, Cruz is presumably well aware of the distinctions between constitutionally-protected and -unprotected speech. He just wants his speech to be seen by as many people as possible, on Twitter, Facebook, and beyond.
READ MORE: