Traditionally, the responsibilities of White House press secretary are communicating the actions of the president to the news media and create a relationship with the people whose job it is to cover the executive branch.
Sarah Huckabee Sanders, the newly-appointed White House press secretary, seems to have taken a less traditional approach—at least when it comes to the official @PressSec Twitter account.
The only media figure Sanders follows is far-right Fox News pundit Sean Hannity.
The @PressSec account does follow a handful of media outlets and programs including Fox News, Fox & Friends, and even President Donald Trump's favorite media punching bag, CNN. Overall, less than 1 percent of the accounts followed by @PressSec are media-related accounts.
Sanders did not immediately respond to a request for comment by the Daily Dot.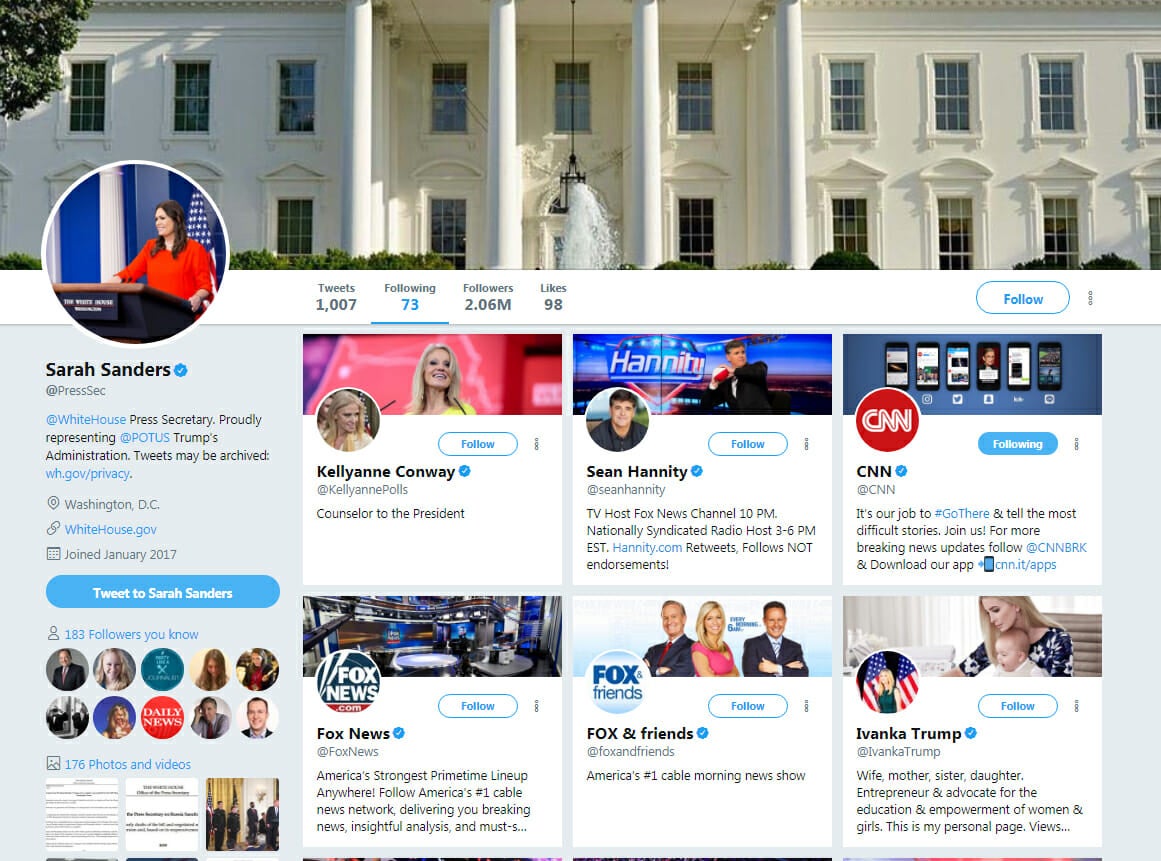 Sanders' old account, @SHSanders45, follows many more members of the media from a wide variety of news outlets including the Washington Post, Vox, Bloomberg News, Fox Business, RealClearPolitics, the Weekly Standard, Fox News, the Washington Examiner, the Daily Mail, and more.
Sanders said she was "signing off" of the @SHSanders45 account earlier this month to move to the @PressSec account.
While it is not shocking that Sanders, an ardent supporter of her boss, would follow conservative media outlets, Hannity, in particular, is a controversial choice as her exclusive media follow.
In recent weeks, efforts to get Hannity fired from his show on Fox News intensified with the #FireHannity hashtag making rounds on Twitter.
The effort to fire Hannity stems from the allegations that Fox News and the White House worked in tandem to help spread the conspiracy theory that Seth Rich, a DNC aide, was murdered for leaking documents to WikiLeaks. The claims have not been substantiated by law enforcement.
Following Fox News' retraction of the story—which is now that center of an explosive lawsuit—Hannity used his program to push the conspiracy theory, which prompted an effort to put pressure on the right-wing pundit's advertisers to pull commercials from his program. A similar push ousted Hannity's former colleague Bill O'Reilly.
A website, FireHannity.org, has launched with a list of advertisers who have commercials on Hannity's show with contact information for people to ask them to pull their ads.
Update 9:14am CT, Aug. 9: Following this report, @PressSec followed 28 journalists. In an email, Sanders told the Daily Dot: "I can't speak to why previous owners of the account didn't follow more people, but I'll continue to add members of the media particularly those that cover the White House as well as others."