Roger Stone is said to have drafted tweets in 2016 for then-presidential candidate Donald Trump that were sympathetic to Russia and the country's president Vladimir Putin.
The finding, outlined in a bipartisan report published Tuesday by the Senate Intelligence Committee's Russia investigation, sheds new light on the actions of the Trump campaign ahead of the 2016 election.
An excerpt from the report, which contains more than 1,300 pages, details an email from Stone that contained "eight draft tweets for Trump" concerning Russia.
"Many of the draft tweets attacked Clinton for her adversarial posture toward Russia and mentioned a new peace deal with Putin, such as 'I want a new detente with Russia under Putin,'" the report states.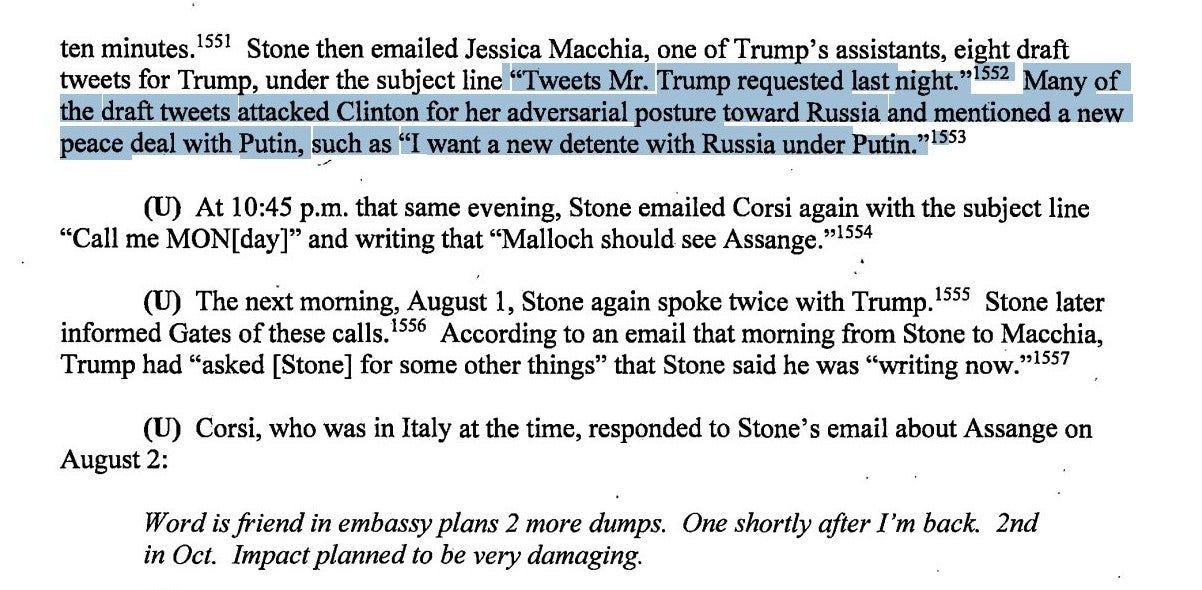 The email is just one of many revelations in the report, which describes a Trump campaign eager to accept help from the Kremlin.
Stone's drafted talking points have troubled lawmakers in light of other findings, including the close relationship between Trump campaign chairman Paul Mananfort and accused Russian intelligence officer Konstantin Kilimnik.
The report also says the Trump campaign was aware that emails released by WikiLeaks, which included those from fellow presidential candidate Hillary Clinton and her campaign manager John Podesta, came from Russian government hackers.
"While the GRU and WikiLeaks were releasing hacked documents, the Trump Campaign sought to maximize the impact of those materials to aid Trump's electoral prospects," the report said. "To do so, the Trump campaign took actions to obtain advance notice about WikiLeaks releases of Clinton emails; took steps to obtain inside information about the content of releases once WikiLeaks began to publish stolen information; created messaging strategies to promote and share the materials in anticipation of and following their release; and encouraged further theft of information and continued leaks."
And while Trump told the special counsel in a written statement that he did not recall discussing WikiLeaks with Stone, the report found that "Trump did, in fact, speak with Stone about WikiLeaks and with members of his campaign about Stone's access to WikiLeaks on multiple occasions."
The report also found that the Trump campaign learned one hour prior to its publication that the Washington Post was preparing to release the now-infamous Access Hollywood tape. In response, Stone used an intermediary to ask WikiLeaks to "drop the Podesta emails immediately" in an effort to hijack the news cycle and dampen the tape's impact.
Although Stone was convicted in November for numerous charges, including lying to Congress and witness tampering in relation to the Russia probe, Trump commuted his sentence last month.