Rahul Dubey recently let protesters seek refuge in his home. Now, he says he's being harassed by the police and other government entities.
On June 1, Dubey invited about 70 Black Lives Matter protesters into his Washington, D.C. home out of fear for their safety. Police were reportedly deploying pepper spray and arresting protesters for curfew violations.
"They unleashed sheer hell on peaceful protesters right outside my stoop," Dubey told NPR's All Things Considered at the time. "I don't know, I just flung the door open. And I just kept yelling, 'Come in. Get in the house, get in the house.'"
The protesters ended up staying the night in Dubey's home. Some documented the whole thing on social media, leading Dubey to be hailed a hero by many.
Dubey not only uses his Instagram to advocate for social justice but he also now uses it to document his alleged harassment by the police and government entities. Dubey even has a whole Instagram Story Highlight dedicated to "Harassment." In a slew of videos posted to the highlight—and one posted to his feed—alleged "special agents" are sitting inside a parked unmarked dark blue Jeep with tinted windows outside of Dubey's home. Dubey can be seen asking for their information, but they allegedly refuse to identify themselves.
"What is your name? That's all I'm asking you?" Dubey asks them before claiming they are with the Bureau of Alcohol, Tobacco, Firearms and Explosives (ATF), a federal agency.
"ATF. These guys are with ATF," he says.
The Daily Dot has reached out to ATF. Dubey said in a post this happened on June 11, eight days after he let the protesters into his home.
In a selfie-style video taken by Dubey, he can be seen walking as a squad of officers on bicycles and in police cars travel behind him. "My evening stroll brings unnecessary followers…These are OUR streets. There is nothing to see here, 'Authorties,'" he wrote in the caption of the video. It is unclear if Dubey is at the end of a protest, as chanting can be heard from a distance.
In another post featuring three selfie-style videos, Dubey is walking through a tunnel as at least two police cars and several officers on bicycles travel behind him. "Keep moving and Godspeed…" he captioned the video. It is unclear if Dubey is also at the end of a protest in these videos. There is no audio to them, and he doesn't specifically claim he is being followed like he does in the previous video.
Another post features a June 17 letter Dubey allegedly received from the Government of the District of Columbia Office of Police Complaints. The letter states that Dubey filed a complaint regarding his "recent interaction with the Metropolitan Police Department or the D.C. Housing Authority Police Department." The letter goes on to say it will initiate an investigation into the complaint.
However, Dubey claims he never even filed a complaint with "ANY AGENCY let alone an agency that harresses (sic) me and calls me 'a liar.'"
"Thanks DC Chief of Police. Are you proactively interrogating me? (Hmm…Isn't all itimidation proactive?) Sad display of authority," he wrote.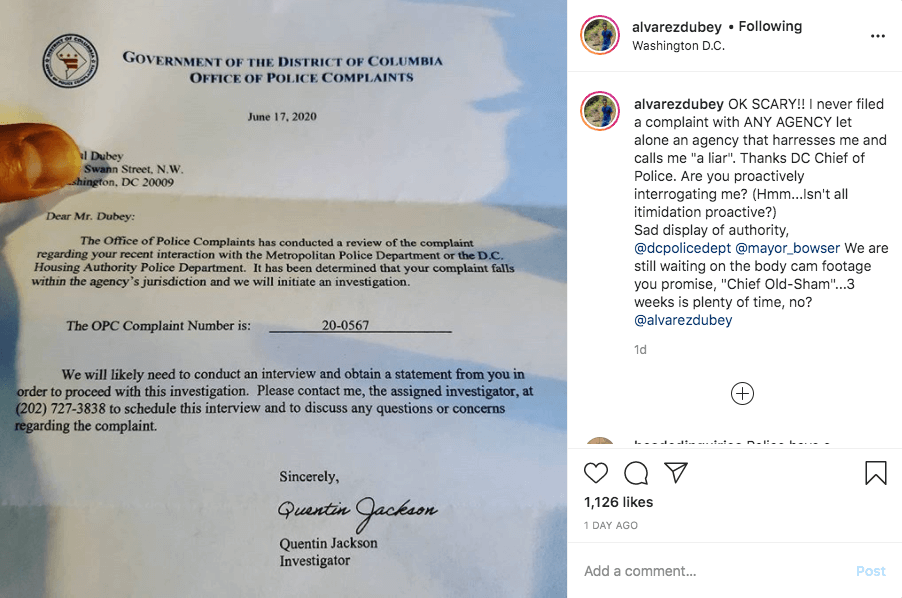 The Office of Police Complaints told the Daily Dot the letter is real, and it was sent by its office. It added that the investigator who is assigned to the complaint "has been in contact with Mr. Dubey."
People online have noticed Dubey's posts on the alleged harassment and are expressing their concern. "Please spread this like wildfire and don't let anyone harm him, he is such a good man," one viral tweet featuring screenshots of his posts reads.
The Daily Dot has reached out to Rahul Dubey.
This story has been updated to include a comment by the Office of Police Complaints.
READ MORE: