First Facebook banned them. Then Twitter did too. Last week's Capitol riots led to the rug being pulled out of from under Parler, leaving the Proud Boys adrift on the world wide web.
Now the notoriously violent hate group has set its eyes on a new hero, one whom they hope will build them a new internet home: Elon Musk.
That's right, Elon Musk, the chief executive officer of Tesla and SpaceX. If he can build rockets and cars, they figure, why can't he build the Proud Boys an internet refuge?
Members of a Telegram group created by Proud Boy leader Enrique Tarrio shortly before Parler disappeared are clamoring for the newly minted world's richest human to come to their rescue.
In "Enrique's Parler bomb shelter," they long for Musk to create a cell phone to take on Apple and Google, build a server network to rival Amazon's, or launch a social media platform that will welcome their bigotry, hate speech, and violent plots.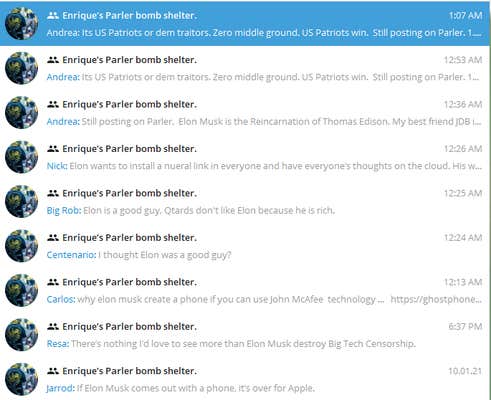 A few harbor doubts, such as that he might "install a neural link in everyone and have everyone's thoughts on the cloud," but most view Musk as a potential champion of the Proud Boys.
"If Elon Musk comes out with a phone, it's over for Apple," opined a user known as Jarrod.
"There's nothing I'd love to see more than Elon Musk destroy Big Tech Censorship," wished another member of the Telegram group.
Many simply want Musk to put his money where their hopes are.
One who goes simply by the letter "J," recently wrote, "We need to get alternative infra vendors out there, that aren't loaded with leftist shitheads. Maybe some funding from Musk, [President Donald] Trump, [Robert] Mercer could make it happen."
The same thoughts are bouncing around Twitter. Even Gab, a sort of poor man's Parler, has reached out to Musk via its verified Twitter.
The hopes come after Musk used Twitter to decry censorship from Big Tech, writing: "A lot of people are going to be super unhappy with West Coast high tech as the de facto arbiter of free speech."
The far-right has long looked to Musk as a sort of hero. His numerous dog whistles in their direction haven't exactly dissuaded this.
However much he may decry big tech censorship, it's far from certain that Musk is on the Proud Boys' side when it comes to creating a place to plot a violent insurrection.
During the Capitol riots, he tweeted a not-so-cryptic meme blaming Facebook for the violence.
On the other hand, on Monday, Musk tweeted that he'd donated to encrypted messaging app Signal and planned to donate more.
So maybe there's hope for the Proud Boys after all.
---
This week's top technology stories