Project Veritas, the undercover organization headed by right-wing activist James O'Keefe, is pushing its supporters to donate to a GoFundMe campaign on behalf of Omar Jamal, the star of its Minnesota "ballot harvesting" video.
GoFundMe told the Daily Dot that the fundraising company's "Trust & Safety team" is currently investigating the fundraising page in Jamal's name.
As the Daily Dot reported on Monday, Jamal is the whistleblower at the center of O'Keefe's latest sting operation, claiming to be a Minnesota expert on Somalia. But Jamal only published his "Somali Watchdog Group" advocacy site in August 2020, right around when Project Veritas was assembling footage for their piece.
It does not appear the group existed before Project Veritas found Jamal for its video.
Jamal has been called an unreliable grifter and criticized for presenting himself as a spokesperson for the Somali community.
"I can confirm that our Trust & Safety team is investigating this fundraiser and has reached out to the organizer for more information," a GoFundMe spokesperson told the Daily Dot.
The spokesperson added that the funds raised "are being safely held by our payment processor and will only released once we know how the funds are being spent and how the funds are being delivered."
The GoFundMe spokesperson also shared with the Daily Dot that the funds potentially going to Jamal are back by the company's "GoFundMe Guarantee," which "ensures that donations are protected if campaign funds…are misled by a campaign organizer or beneficiary. "
"It's important to know that the platform is backed by the GoFundMe Guarantee, which means funds are guaranteed to go to the right place or donors will get a refund," the company spokesperson concluded.
On GoFundMe, Jamal has already raised over $30,000.
In the video, the Veritas ballot harvesting "insider" claims he works with local police, a claim the Daily Dot was unable to verify.
According to the "insider," his goal is to raise half a million dollars to "fight any legal challenges I may be presented with and establish a baseline of financial stability for my family for the next year."
What legal challenges he may face as a result of his "whistleblowing," if it is legitimate, is unclear. When asked what legal needs Jamal might have, a Project Veritas spokesperson could not provide any.
Jamal added in his plea to potential donors: "I'm asking for your donation to further fund this ongoing, important project, that I'm collaborating with Project Veritas."
Project Veritas and O'Keefe have been extensively pushing the campaign across their social media platforms.
"This story was made possible thanks to a BRAVE insider willing to wear an undercover camera and work with Veritas," the right-wing group tweeted. "If you can, please support Omar Jamal. He has risked everything to help us blow the lid on this massive voter fraud scheme."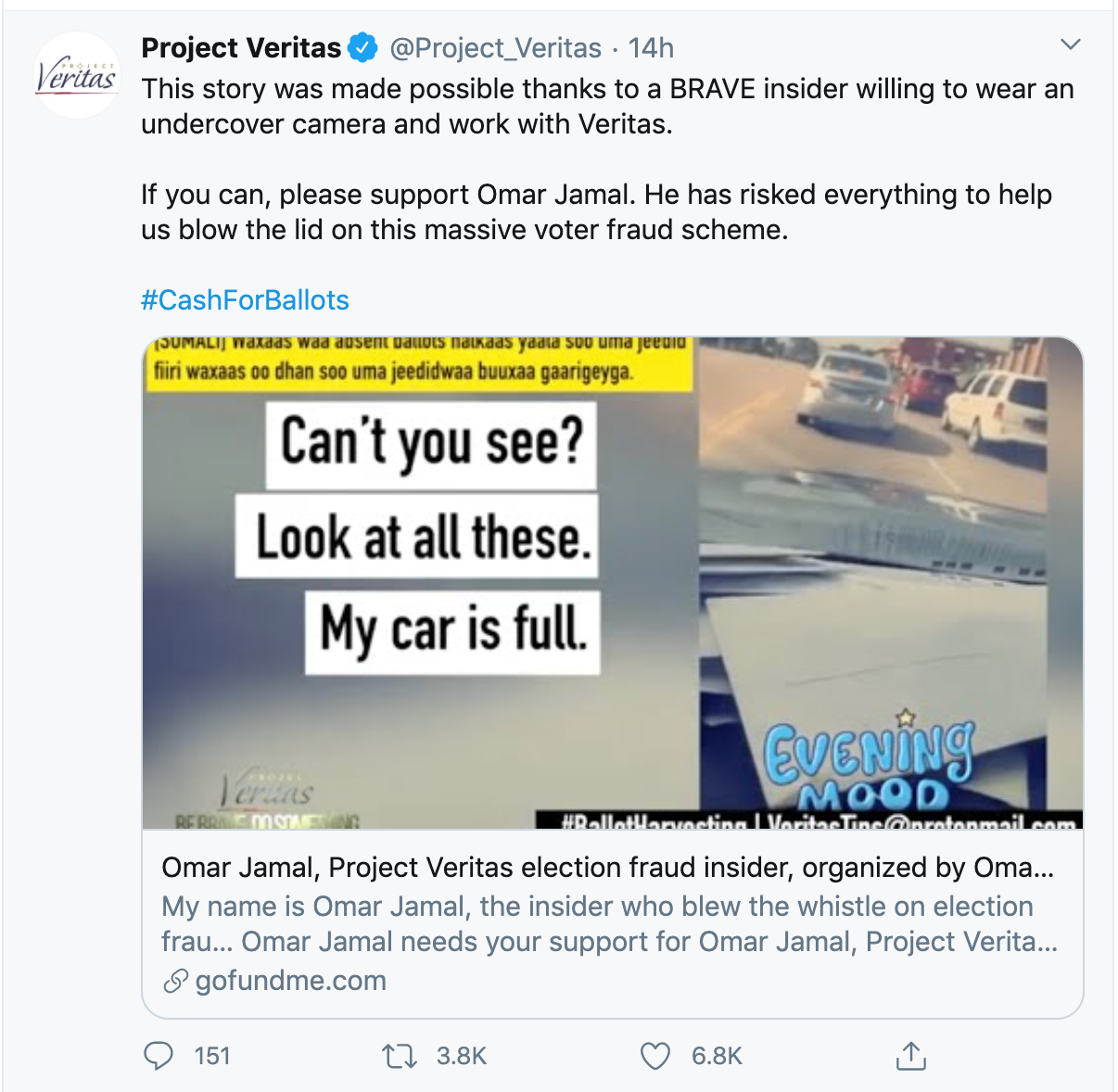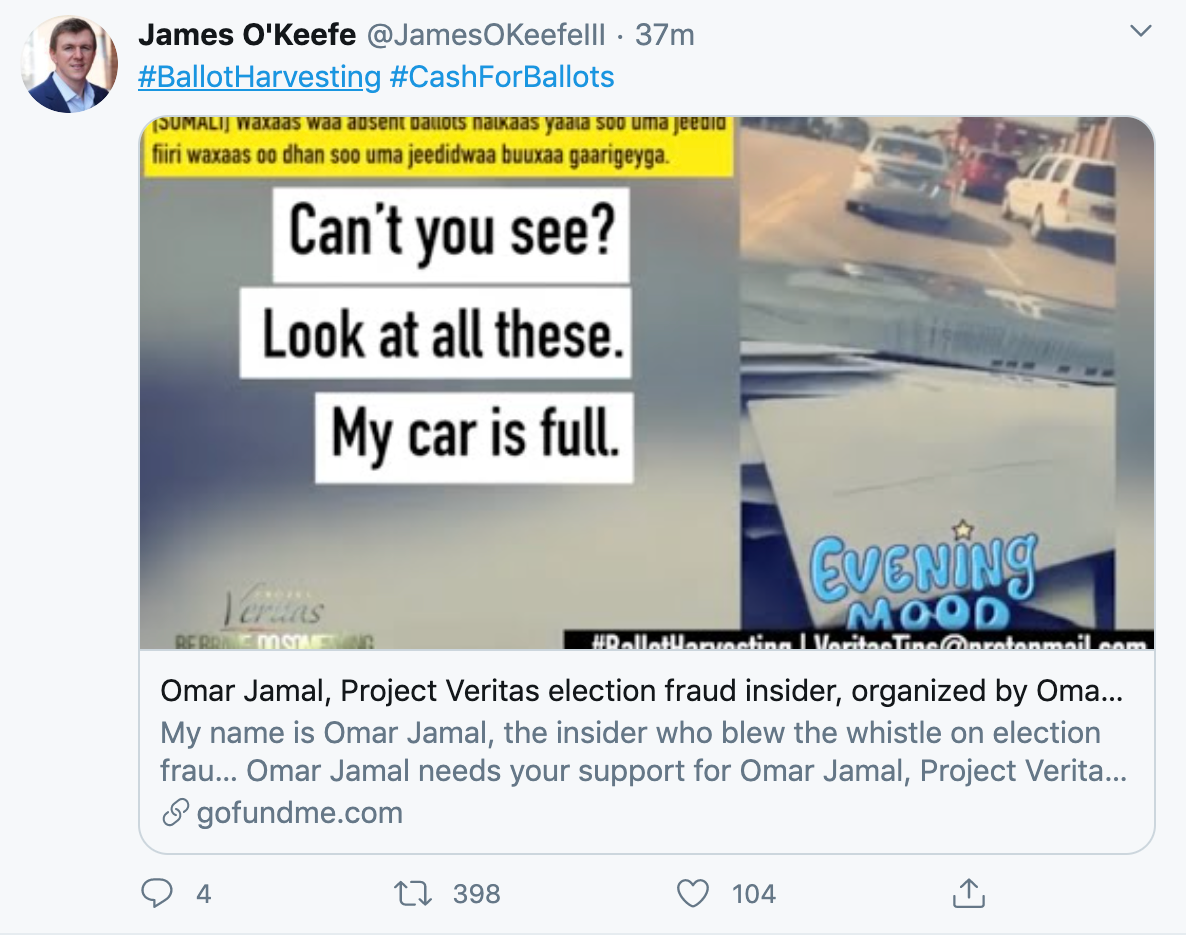 When Project Veritas communications director Neil W. McCabe was reached for comment by the Daily Dot, he initially distanced Veritas from the page, before beginning to ask this reporter questions.
"I think you would agree … don't you think that America is a better place with Project Veritas in it, then not in it?" McCabe asked.
Asked why the Project Veritas "whistleblower" was seeking to raise half a million dollars and what legal fights Jamal had to foot the bill for, McCabe failed to address the question.
"Do you know my title … I'm not the communications director for his GoFundMe page, so if that's what he said, I will take it at face value, I have no reason to believe that's untrue, do you?" McCabe stated.
Asked if he stood by the GoFundMe page, McCabe stated that he stood by Project Veritas' social media posts.
Jamal did not return the Daily Dot's request for comment.
---
Read more of the Daily Dot's tech and politics coverage