When Reddit booted the popular, festering forum that was the The_Donald last summer, former members flocked to thedonald.win, where they continued posting hate speech and calling for violence.
Today, amid an internal power struggle, thedonald.win is no more. Some time in the last day, it was abruptly reincarnated as patriots.win. Thursday morning, the former consisted simply of a blank page with a single message urging users to visit the latter.
"The Donald has evolved to Patriots.win," it stated. "Don't worry, everything else is the same. We've explained why on the top sticky post on Patriots.win."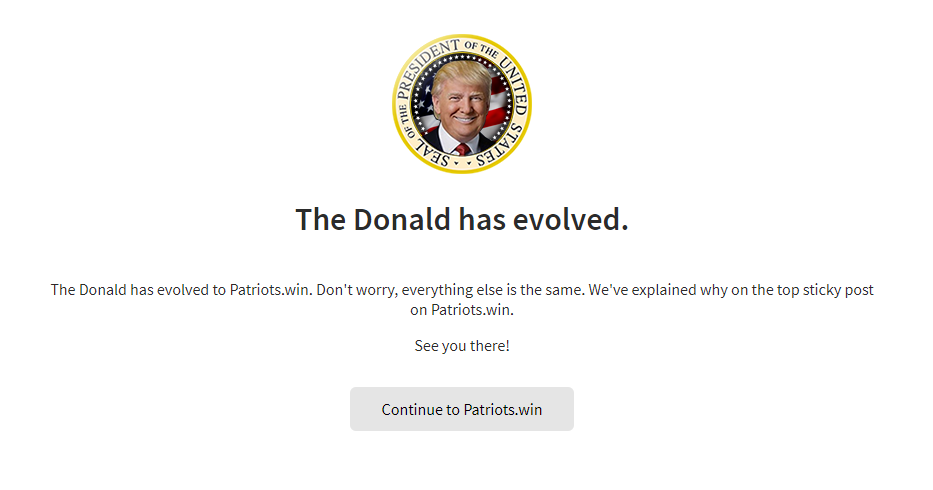 The new site appears to contain all the content from the previous one.
The shift, first noticed by Melissa Ryan, who writes a newsletter about disinformation and extremism, is apparently due to a disagreement between moderators and the url owner.
In a pinned post, a moderator says a "precarious situation" with the previous site led them to create the new one. They also referenced fears that the Federal Bureau of Investigation (FBI) would take it over and turn it into a "honeypot," presumably for collecting intelligence on users.
"The TL;DR is that we don't have control over it, and we cannot risk that any longer," moderator Doggos wrote. They also claim that thedonald.win was meant to be owned by a group, not a single person, but that an individual registered it preemptively as fears grew that Reddit would kick them off and they began discussing creating their own website.
Doggos also claimed that the owner repeatedly failed to fulfill promises to transfer ownership of the site to a shared legal entity. "We knew this would come back to haunt us—and perhaps it has," they wrote.
The Daily Dot was unable to reach Jody Williams, whom the Wall Street Journal reports owns thedonald.win, for comment.
Earlier this week, Williams told the Journal that he's been waging an internal battle to keep out white supremacists and violent extremists. "Mr. Williams said a small cluster of the site's most powerful moderators—including one who controls its code—have thwarted his efforts to rein in such content even as it grew over the last 10 months," the Journal reported.
Williams added that such content, already rising amid the COVID-19 lockdowns and civil rights protests, exploded in the wake of President Donald Trump's bad-faith attacks on the integrity of the election. His efforts to control it earned he and his family multiple daily death threats, he said.
In his post about the new site, Doggos also noted that the owner left in fear for his safety, and that of those around him.
The Journal story said that thedonald.win was on the verge of getting kicked off of its server, Epik, due to failure to police racism, harassment, and calls for violence. Epik Senior Vice President Robert Davis reportedly said, "They need to recognize the critical role they play as an inspirational place rather than a hotbed of extremism. Epik has no tolerance for anything that incites hate or violence." Davis warned that it could be dropped within days if it didn't shape up.
The piece also noted that the FBI had contacted the site three times as it investigated the attempted insurrection at the Capitol. The page was reportedly a hub for planning some of the violence and chaos that occurred that day.
The new site is also registered on Epik, according to its records. Two backup sites, thedonald.space and thedonald.xyz, Doggos mentioned in a post today are registered with Namecheap and Porkbun, respectively, according to online records. Both sites redirect to patriots.win.
In an Ask Me Anything this morning, Doggos claimed that the previous owner was refusing to relay communications from Epik to them. He also said that they'd kept the plans to create a new site secret so the "rogue individual in control of the domain" didn't find out.
Doggos' post further asserted that Williams recently told media that he planned to transfer ownership of thedonald.win to them. It isn't clear what media outlet they're referring to. Several attempts to use the new site's feature for contacting moderators resulted in errors and a message stating, "Sorry, your account is new."
A few hours after thedonald.win became a redirect page, it was taken down. Patriots.win is still active. Subsequently, a moderator called Triiton pinned a post to patriots.win titled, "Thedonald.win now taken down by the rogue mod. Traitor!"
---
Read more of the Daily Dot's tech and politics coverage