Alt-right comedian Owen Benjamin has returned to social media, ignoring the numerous permanent suspensions he's received from the major platforms.
And he's using it to spread coronavirus disinformation.
Twitter banned Benjamin in 2018 after he went on a tirade about gun control advocate David Hogg's genitals. Benjamin was banned by YouTube in December for what the company described as attempts to circumvent its terms of service. Within days of the YouTube ban, he was booted from Facebook and Instagram for anti-Semitic memes.
Benjamin, who calls himself Big Bear, has returned in full force on all three. He actually appears to have created some accounts in advance, potentially anticipating he'd get banned.
This afternoon, a Twitter spokesperson said they would look into Benjamin's platform return. A few hours later, they said "the account was permanently suspended for violating our platform manipulation policy."
YouTube's parent company Google did not respond to request for comment. Facebook, which owns Instagram, didn't immediately respond.
On all three platforms, Benjamin has lately been urging people not to take coronavirus seriously—"fear is the virus" is his favorite line about the global pandemic—and making homophobic and anti-Semitic jokes. His new thing is referring to Jewish people as "grabblers," a derogatory term used on the alt-right, a loose collection of conservatives that harbor white supremacists.
"I still use my hands," he recently tweeted about coronavirus. "Only cowards who believe the news don't use their hands." On a livestream yesterday, he said, "If the government says close your business, that doesn't mean anything. That's just a pedophile in a suit at a news conference."
On a recent video, he said it was statistically less likely that a Catholic priest is screwing kids than "a Jew is stealing money." "What's up with the Jews?" he later added. "Because there is something going on with it."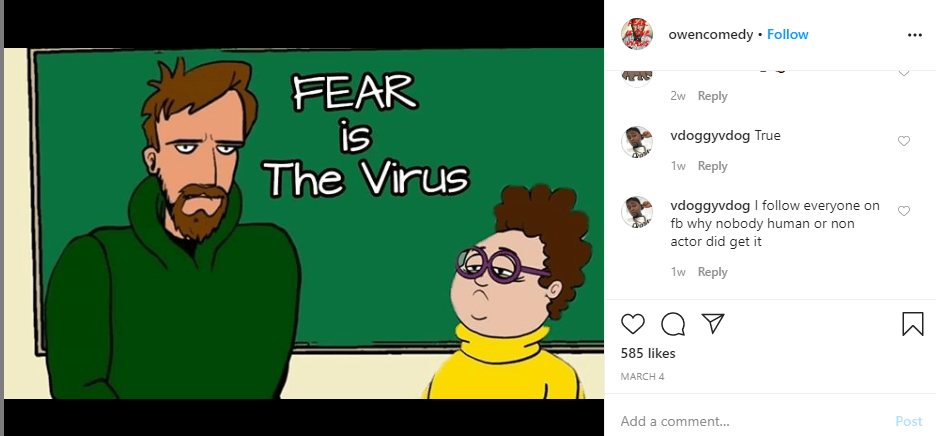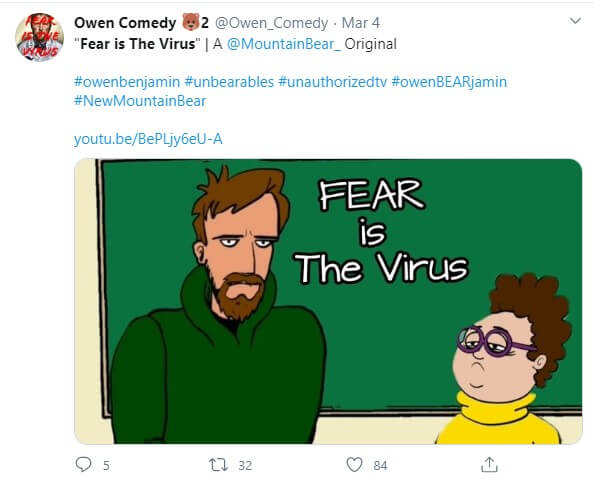 On YouTube, he's particularly prolific.
The Daily Dot has found at least seven YouTube channels that appear to belong to him: Owen Benjamin Grey-vee (3,000 subscribers), Owen Benjamin Bear Cave (27,600 subscribers), Owen Benjamin Comedy (14,500 subscribers), Mountain Bear (20,700 subscribers), and I'm Not Owen Benjamin v4 (9,800 followers), I'm Not Owen Benjamin v3 (15,100 followers), and Falsewitness Bear, which doesn't have a follower count. Some were started within a few weeks; others launched roughly a year ago.
The vast majority of the content on the YouTube channels are Benjamin's videos.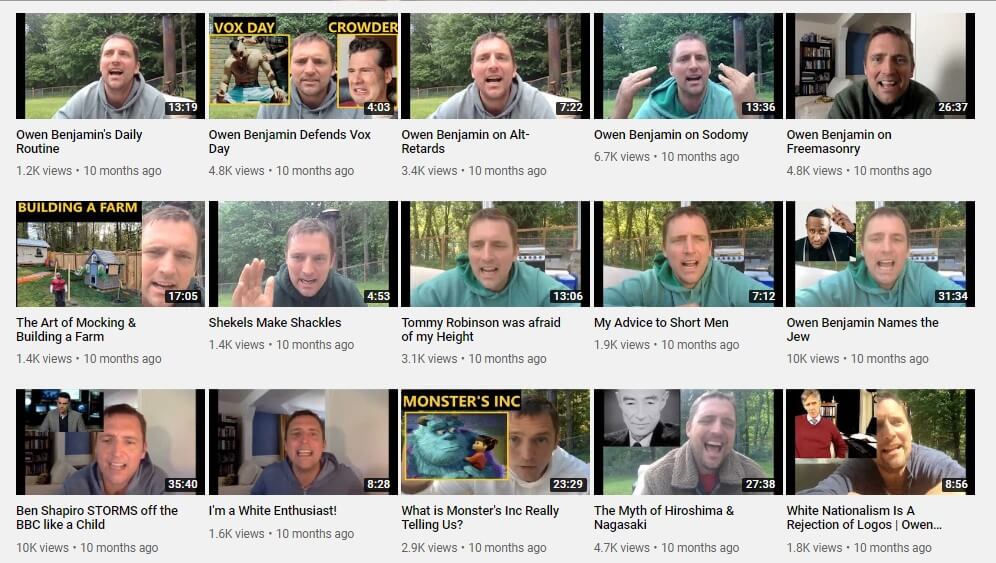 The Mountain Bear channel is an exception. It has a bunch of animated videos, many Benjamin does the voices for and others that use audio from clips and shows by people such as Joe Rogan.
Some of the YouTube channels post full videos directly from his DLive, a platform with more permissive terms. Others post shorter clips. Three claim "I'm not Owen Benjamin" in the about page. But today on DLive, Benjamin said, "Subscribe to all the mirror channels on YouTube, you guys."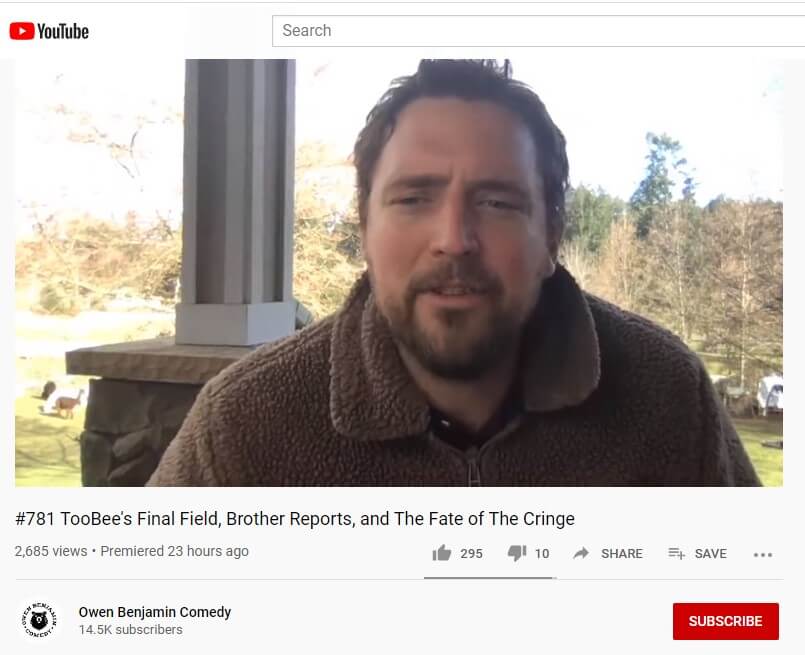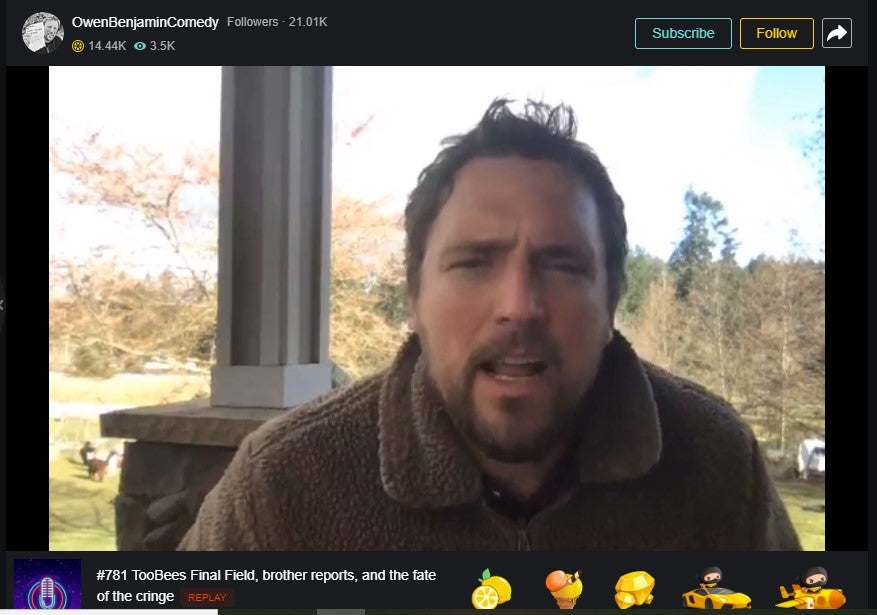 The Twitter account @owen_comedy was formed in February 2018, two months before his permanent suspension on his main account.
The first tweet on its timeline was on January 8. Its first four tweets urged followers to subscribe to various YouTube channels that appear to belong to Benjamin. The seventh thumbed its nose at Twitter.
The account purported to be a place "for all Owen Benjamin's updates," but numerous tweets were written in first person, and the tone was distinctly Benjamin. On Friday, he tweeted, "Per request, here's that time I got banned. … Bannings are funny & not to be taken serious."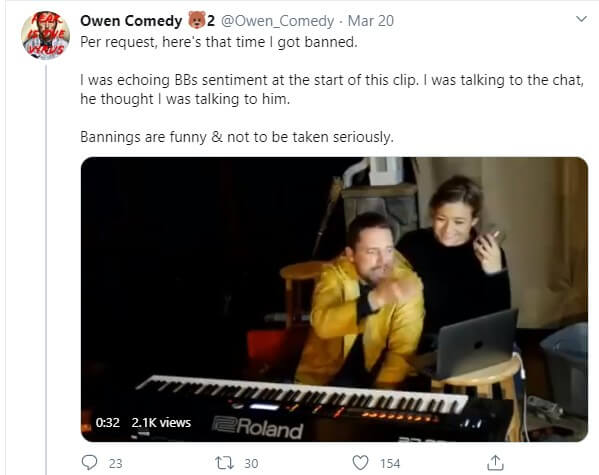 The Instagram account @owencomedy appears to belong to him, too. The page, which has more than 9,000 followers, promotes Benjamin's channels and videos and posts content that appears on other platforms, sometimes with identical captions with identical typos. It's possible that the @mountainbear_ Instagram account is also his.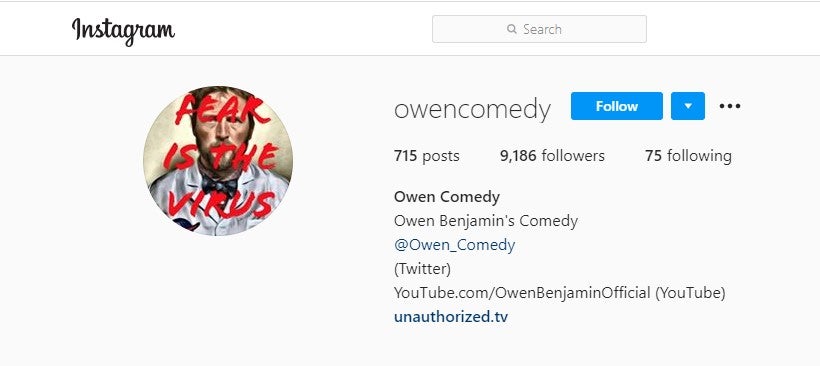 Even if these accounts get suspended, it's not likely that Benjamin will pay that much mind.
On a recent livestream, he said, "If you want to follow me it's owen_comedy. It's like my fifth one. Because I crush."
READ MORE: