Update 6:23pm CT, July 8: PayPal deleted both accounts associated with Owen Benjamin. "We regularly assess activity against our Acceptable Use Policy and carefully review actions reported to us, and will discontinue our relationship with account holders who are found to violate our policies," a company spokesperson told the Daily Dot in a statement.
Update #2 8:41am CT, July 9: On Thursday, a YouTube spokesperson said that the company had begun deleting the accounts. Only one of the seven— which was inadvertently left out of an inquiry to the company—remains live. A YouTube spokesperson said in a statement, "All users agree to comply with our Terms of Service and Community Guidelines when they sign up to use YouTube. When users violate these policies repeatedly, like our policies against hate speech and harassment or our terms prohibiting circumvention of our enforcement measures, we terminate their accounts."
The original post follows below.
Owen Benjamin has called internet bans a joke. Yet he seems unwilling to accept them.
Last year, Benjamin, an alt-right comedian, was banned by the major platforms. In short order, YouTube, Twitter, Facebook, PayPal, and Patreon permanently booted him for violating their policies against hate speech. He's suing Patreon for $3.5 million over its ban.
The alt-right is a loose collection of conservatives that harbor white supremacists.
In March, the Daily Dot reported that he'd apparently launched at least seven YouTube channels in an attempt to circumvent the ban. All seven were subsequently removed by the platform.
Now it looks like he's back.
The Daily Dot has found seven new channels that seem to belong to him, though they also may have been launched by fans doing his bidding. Benjamin is never shy about asking his followers, whom he calls "Bears" (he calls himself Big Bear), for favors and cash.
There's Owen Benjamin Big Bear (21,000 subscribers), Owen Benjamin Big Bear v1 (1,400 subscribers), Owen Benjamin Big Bear v2 (80 subscribers) Mountain Bear 2.0 (2,600 subscribers), Anchor Bear (4,800 subscribers), and Big Bear Music Reconbear (560 subscribers), and I'm Not Owen Benjamin v5 (7,400 subscribers).
Previous mirror channels, as the duplicates are known, were named I'm Not Owen Benjamin v3 and v4, respectively.
Most launched after the Daily Dot reported on the seven mirror channels. Big Bear Music Reconbear is an exception; it launched in 2013. Videos on the channel date back just 10 months to shortly before Benjamin was banned from YouTube last December.
Benjamin did not respond to an email inquiry sent to an address listed on his DLive channel this afternoon.
As before, the content on these channels looks to be exclusively Benjamin's.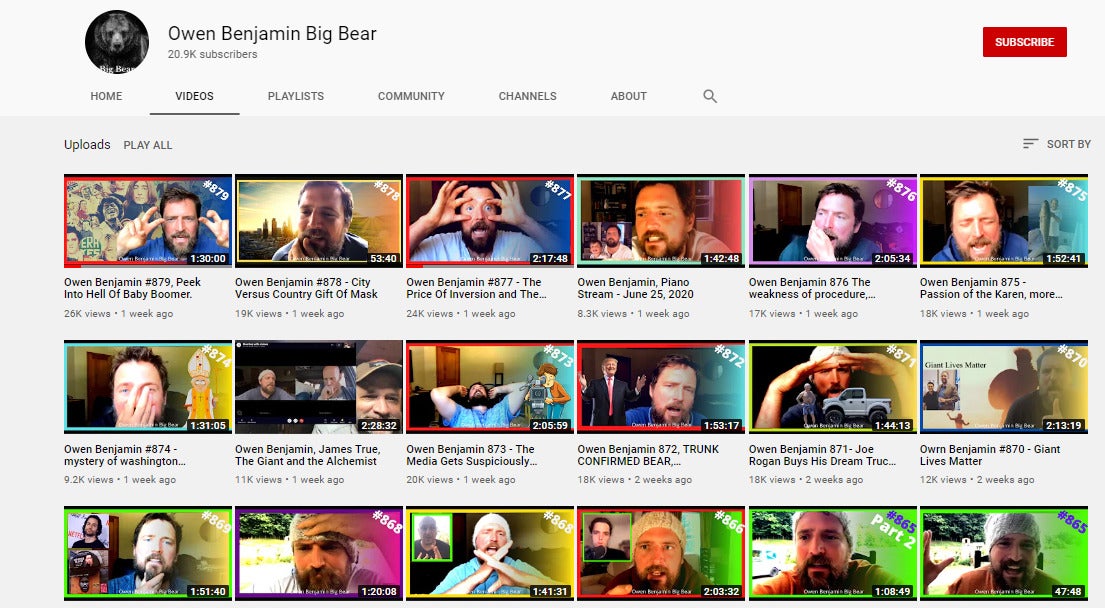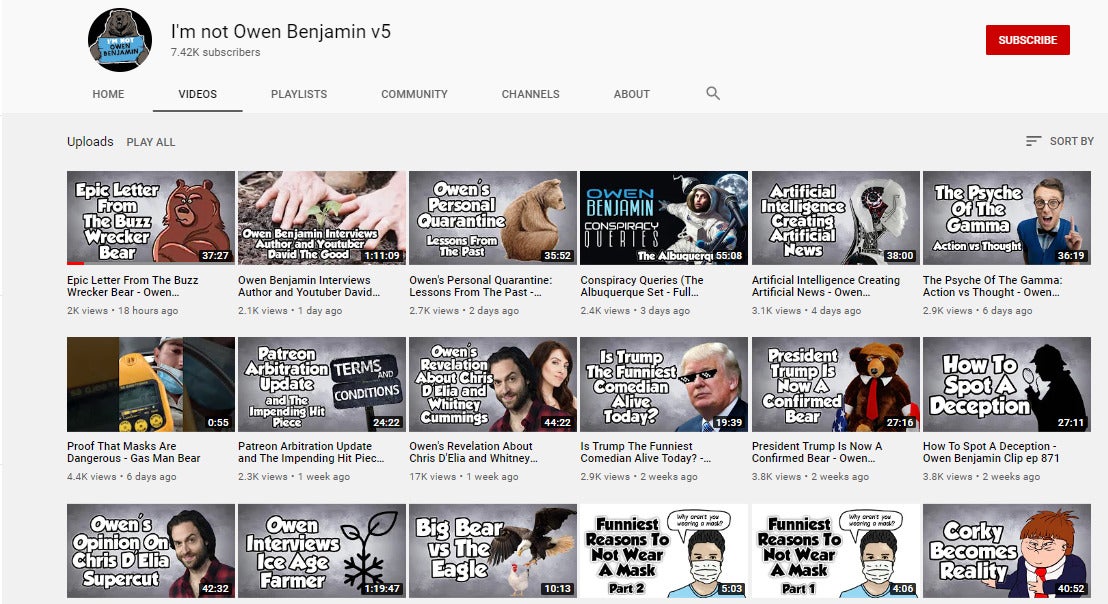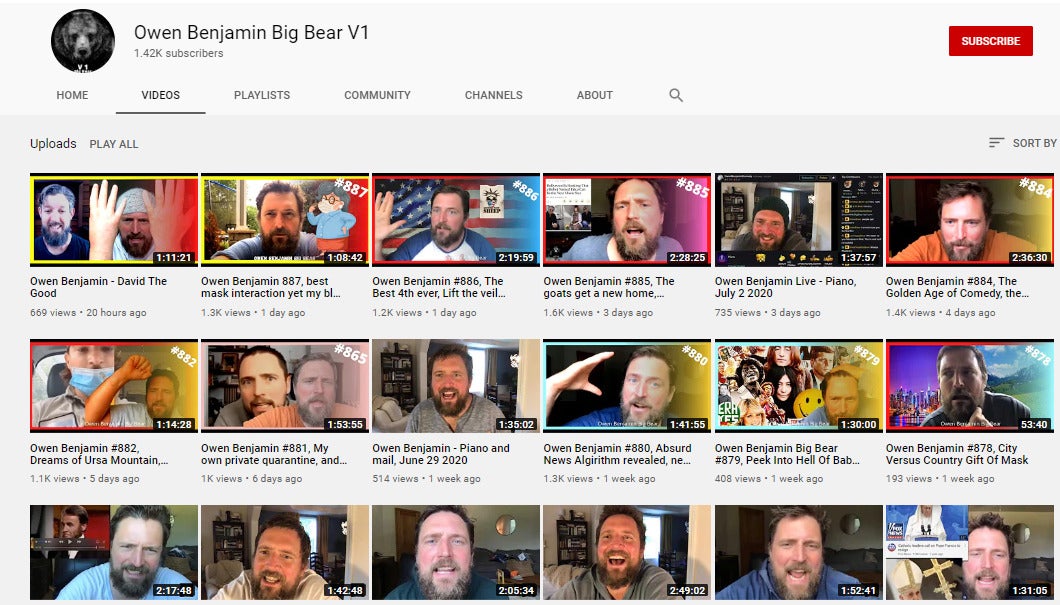 YouTube did not immediately respond to a request for comment about whether these channels violate the ban, or if it would violate Benjamin's ban if they were created the channels by others.
YouTube's community guidelines broadly prohibit channels and content that impersonates others or "is intended to look like someone else is posting it."
"Channels claiming to be a 'fan account,' but actually posing as another's channel and reuploading their content," are specifically prohibited.
So even if these channels were created by Benjamin's fans, they could still be in violation of YouTube's rules.
The channels could also violate other policies. Benjamin has a track record of repeatedly making anti-Semitic and other bigoted statements, as well as spreading conspiracy theories and lies.
In a June 28 video Benjamin calls it "preposterous" to say the Union freed slaves in the Civil War, and implies that Black slaves supported the Confederacy.
"Why were so many Blacks fighting for the Confederacy you might ask yourself," Benjamin said.
"Have you ever tried to shoot a gun in chains? Have you ever tried to pick cotton in chains? The lies are becoming absurd."
In other videos he speaks pejoratively about "grabblers," a derogatory term for Jewish people that he invented in part to avoid getting flagged for hate speech.
The three versions of the Owen Benjamin Big Bear channels include a contingency plan in case YouTube shuts them down.
One says, "Youtube try to shut down our channel. Please, Subscribe to our second channel. [sic]"
The main channel describes itself as "Owen Benjamin Channel."
All three use the same icon for an avatar.
Two of the channels link to a Facebook group also called Owen Benjamin Big Bear. In a video from June 15, he says that his Instagram is "now closed."
"I will be not adding any more people."
The three Big Bear channels and the I'm Not Owen Benjmain v5 link to PayPal accounts named Owen Benjamin Big Bear and Papa J. Bear, respectively.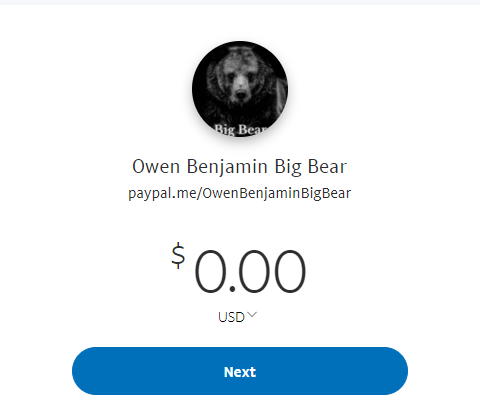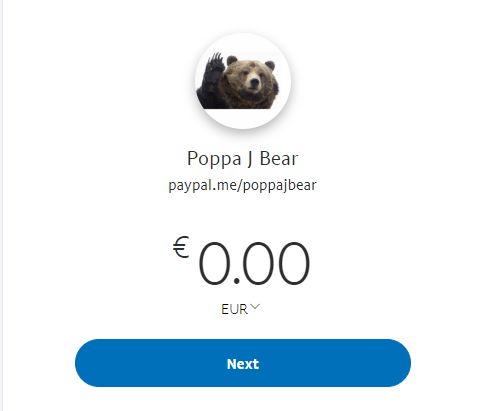 In a recent video, Benjamin bragged, "PayPal takes a few months before they figure out who's doing it."
PayPal is among the companies that banned him. In response to the Daily Dot's inquiry, a PayPal spokesperson said that the company will look into whether the accounts are linked to Benjamin.
Given that Benjamin has joked that being kicked off platforms doesn't bother him, that he thinks it's funny, it may seem strange that he—or his fans—would bother to circumvent bans, never mind sue over them, especially considering that he still has other platforms to post content and fundraising streams available.
But money doesn't make itself, and Benjamin's preferred way of making money is having his fans give it to him. The more ways he can reach them, the more money he presumably makes.
As the Daily Dot reported earlier this week, lately he's been begging followers to give him millions to buy a ranch in northern Idaho, which he's calling "BearTaria." On DLive, a video hosting platform with more permissive terms of service than YouTube, he directs people to a fundraising page set up specifically for this purpose.
Donors are promised access to the campground, space permitting, of course.
All donations are non-refundable.
READ MORE: