Over the weekend, several outlets broke the news that, after nearly a month of social media silence, former President Donald Trump had joined Gab. They were wrong.
The story was based on Trump allegedly posting a letter on the account that Gab has been keeping as a placeholder for him, as Vice reported last May. That account had mirrored Trump's Twitter account; as such, it went dark when he was permanently suspended on Jan. 8. Late last week, seemingly out of nowhere, the Gab account posted a letter to Rep. Jamie Raskin (D-Md.) from the attorneys representing Trump in his impending Senate trial.
Thousands of users took that to mean Trump had finally taken the reins, as Gab CEO Andrew Torba has long desired. Users of the platform that's a notorious haven for extremists unwelcome on other sites were thrilled. "Welcome back, Mr. President!" reads the most liked comment on the post.
Multiple outlets, ranging from Newsweek to Sky News to Business Insider, swiftly reported news of Trump's return to social media.



It isn't true. As Vice reports, it was Torba, not Trump, who posted the letter.
Torba told Vice last May that he was holding the verified account for Trump. Internet Archive records show that at the time, the account, which has the same handle Trump had on Twitter—@realdonaldtrump—hadn't posted at all.
Within days of the Vice story, someone, presumably Torba or someone working at his behest, began reposting Trump's tweets. They also wrote and pinned a post conceding that the account was reserved for Trump and urging people to send him messages asking him to join.

Internet Archive records show that the account's description then read, "Account Reserved for Donald Trump. Tweets are mirrored here and uncensored." It later changed to "Uncensored Posts From @realdonaldtrump Feed." This weekend, the description was again altered to note that it's an archive of Trump's Twitter and will share "email statements sent by The Office of Donald J. Trump."
Records show that the Gab account swiftly built a following after it began posting Trump's tweets. In May, it had fewer than 30,000 followers. Six months later, it was approaching 150,000. Now it has 1.4 million. It gained nearly 1 million of those followers in the month since Twitter banned Trump, per the Internet Archive.
On Sunday, Torba mocked media outlets for reporting that Trump had joined Gab without confirming it, Vice reports.
Torba also said that the reason Trump hasn't joined his network is simple: "dopey advisers like Jared Kushner" won't let him.
Gab isn't the only platform keeping an account in case Trump decides to join. Now that he's indefinitely banned from Facebook, Twitter and YouTube, Telegram is also hoping to make it onto Trump's social media dance card.
Telegram has a "real" Donald Trump channel.
The account is described as the "official channel of DONALD TRUMP." It's not clear who runs it, but it doesn't appear to be Trump. It's unverified, has nearly 1 million subscribers, and used to repost Trump's tweets, much like Gab.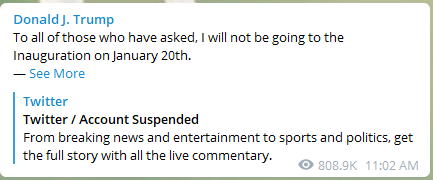 Gab may have actually borrowed Telegram's strategy to try to convince Trump to take over his reserved account.
On Jan. 10, the Telegram account started reposting Trump's proclamations, letters, and statements, as well as YouTube videos of him. Every few days, it posts a list of account to subscribe to curated by "Conservatives on Telegram."
The account also posted his attorneys' letter to Raskin late last week. It's not clear which platform posted it first.
While both Telegram and Gab have benefited greatly from Trump's social media suspensions, as well as those of other, high-profile far-right figures, hate groups, and conspiracy theorists, without Trump, the legions are arguably without their leader, who happens to drive engagement in a big way.
If, as many believe, Trump will eventually tire of merely sharing his unfiltered thoughts with whoever's handy at Mar-a-Lago, Gab and Telegram are clearly hoping to be the chosen one. By maintaining these accounts, each is trying to demonstrate that they're ready, willing, and able.
---
Read more of the Daily Dot's tech and politics coverage