Sen. Ed Markey (D-Mass.) said that his campaign reported a "suspicious" Twitter account to the FBI that was making "negative comments" about Rep. Joe Kennedy (D-Mass.) amid their Senate primary battle.
Markey's reporting of the tweeter comes after the Kennedy campaign called on the senator to denounce some vitriolic tweets made by people who purportedly support his re-election.
The Massachusetts senator has amassed a large amount of support online during his fight to hold off Kennedy's primary challenge, with hundreds of accounts on TikTok and Twitter openly supporting the senator. The primary has become one of the most closely-watched races, with progressives like Rep. Alexandria Ocasio-Cortez (D-N.Y.) backing Markey and more moderate Democrats like House Speaker Nancy Pelosi endorsing Kennedy.
Kennedy's team highlighted some tweets that referenced assassinations of Kennedy family members in an email sent to the Markey campaign and members of the media.
However, within that email, the campaign also flagged an "Ed Markey Reply Guys" account—an account supporting the senator that is unaffiliated with the campaign—retweeting a cartoon of a dinosaur saying "Fuck Joe Kennedy."
The cartoon was posted by a "Dinosaurs Saying Fuck" Twitter account and the inclusion of it within the Kennedy campaign's email sparked a wave of mockery.
On Tuesday evening, Markey tweeted that his campaign had reported the account @Markeychusetts to the FBI. The account had 0 followers and did not follow anyone, but quote-retweeted Kennedy and made "negative comments," the senator said.
"In order to raise awareness of and protect against election interference, we have reported to the FBI a suspicious Twitter account that made negative comments against the Kennedy campaign under the pretense of being one of our supporters," Markey tweeted.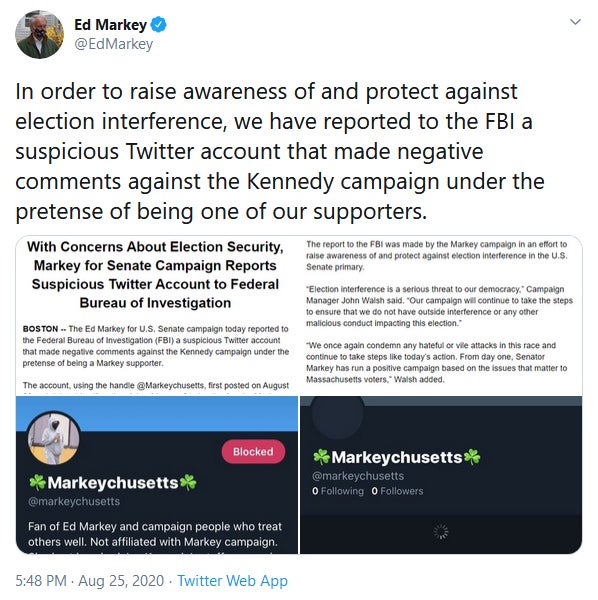 The @Markeychusetts account is no longer active and was deactivated.
Twitter did not immediately respond to a request for comment by the Daily Dot. We'll update this story if we hear back.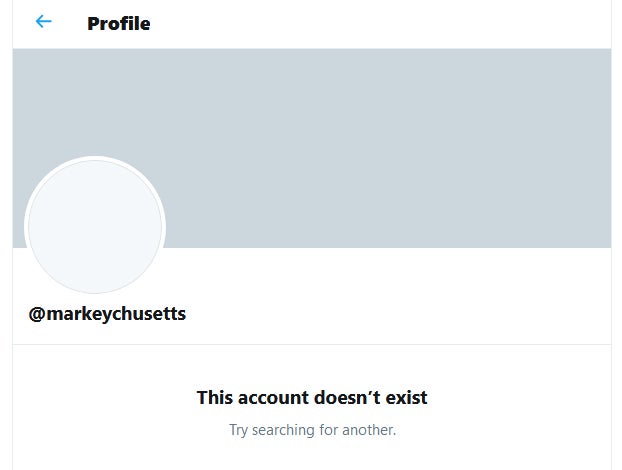 Kennedy has brought up Markey's massive online support on numerous occasions. The congressman complained at two debates that one account supporting Markey said that "bullying works."
Supporters of the senator expressed concerns with Broadway stars about them appearing in a fundraiser for Kennedy, eventually leading to the event being canceled.
The band Dropkick Murphys also faced a wave of scorn for having a campaign event with the congressman.
During a debate last week, Markey said that he didn't want any of his supporters to "be engaging in any of that negative conduct."
He reiterated that at a campaign event on Tuesday, according to the Boston Herald.
"Threats online, against any person, is completely and totally unacceptable and intolerable," he said, according to the newspaper. "This kind of harmful language should not be a part of any campaign."
The Massachusetts Senate primary is on Sept. 1.