Conservative radio personality Mark Levin on Tuesday got duped by a fake tweet allegedly from Rep. Alexandria Ocasio-Cortez (D-N.Y).
The fictitious message, shared by Levin to his more than two million followers, purported to show the politician calling for sacrificing U.S. businesses in order to harm President Donald Trump's re-election prospects.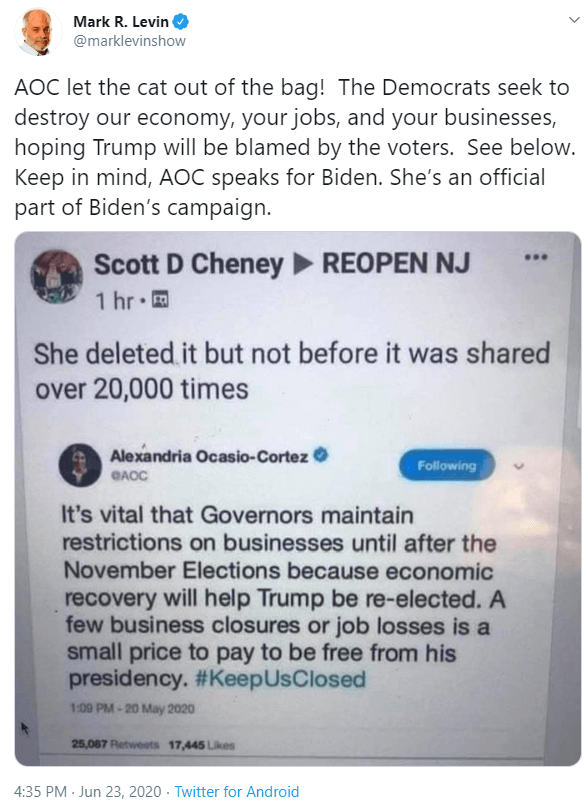 Ocasio-Cortez, commonly referred to as AOC, is made to state in the hoax tweet that business should remain on lockdown amid the coronavirus pandemic "until after the November Elections because economic recovery will help Trump be re-elected."
"A few business closures or job losses is a small price to pay to be free from his presidency," the fake tweet added alongside a #KeepUsClosed hashtag.
Levin, an unflinching defender of the president, used the faux statement as proof of Democrats' insidious plans for the American public.
"AOC let the cat out of the bag! The Democrats seek to destroy our economy, your jobs, and your businesses, hoping Trump will be blamed by the voters," Levin breathlessly said.
The right-wing pundit went on to cite the fake tweet as evidence that Biden holds the same radical views as well.
"AOC speaks for Biden," he added. "She's an official part of Biden's campaign."
While Biden last month chose AOC to chair his climate change task force, the move does not prove that "AOC speaks for Biden." Even so, the entire premise of Levin's argument is false given that the tweet was never real.
An archive of all deleted tweets from politicians hosted by ProPublica verifies that such a tweet never came from AOC.
It appears Levin eventually figured out that sharing unverified screenshots of unverified tweets is not the smartest move. The Republican radio host deleted his tweet shortly after, providing no correction or clarification to his followers.
Levin wasn't the only one to fall for it. Actor James Woods shared it as well.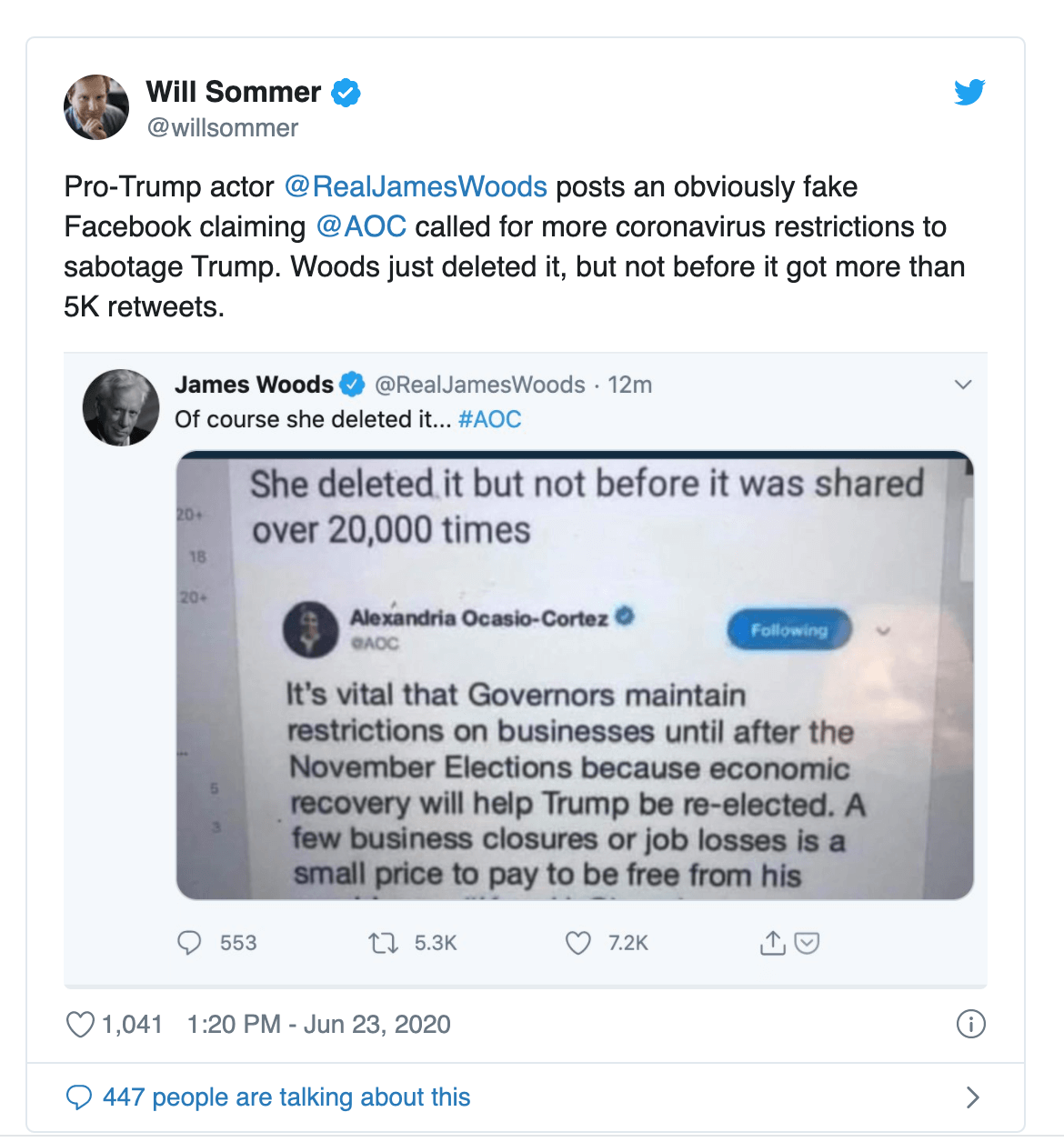 Levin and Woods are just some of many to fall for fake tweets that confirm their political biases.
Earlier this year, a hoax tweet which purported to show Rep. Ilhan Omar (D-Minn.) calling for violence against the president was also shared widely online.
READ MORE: