Over the past few years, conspiracy theory QAnon has emerged as a growing force in national politics, and it's potentially bringing its deranged mythology of sex trafficking rings, Twitter numerology, and Hillary Clinton eating babies to the chambers of Congress.
In the 2020 national cycle, nearly 60 candidates (virtually all Republicans) have acknowledged or favorably mentioned QAnon on social media, on video, or in person. Some have just used a few Q hashtags in a tweet, while others are full-blown evangelists for rounding up and hanging deep state traitors.
Just this week, a QAnon-supporting candidate in Colorado upset an entrenched incumbent.
Lauren Boebert joins three others who have won their primary, including Jo Rae Perkins, who won her Republican Senate primary in Oregon, a safely Democratic seat. There's also Majorie Taylor Greene, who made it to the primary runoff for a deep red House seat in Georgia—only to see the state GOP turn on her for her conspiracy-mongering.
QAnon candidates
QAnon is a conspiracy theory that expressly believes in the violent purge of the enemies of President Donald Trump.
It holds up extra-judicial field tribunals and executions as the solution to America's problems—all of which are caused by a cabal of wealthy Jews and Democrats. And some Q believers have taken matters into their own hands, committing a slew of crimes—including multiple murders, arson, attempted kidnappings, and many others.
None of this seems like something that should hold any sway in the federal government. And other than Greene, it doesn't seem likely that any Q believers will win in November. But while pundits and conspiracy watchers concern themselves with the potential of a QAnon believer holding office, the truth is that there already are Q believers holding office at the state and local level.
There are over a dozen QAnon-following candidates who either already hold office in state legislatures or city governments, or are currently running to do so. While many of these are too obscure to make national news, they're positions that hold power and influence in their state legislature or city government.
These seats are much easier to win than a House or Senate seat, as many either run unopposed or need only a few thousand votes to win.
And while these candidates won't pass legislation to aid Trump's supposed war against the deep state, that doesn't mean they can't leverage their beliefs on behalf of Q.
State legislatures are where some of the most conservative laws in the country have started. Anti-trans bathroom bills, hard-line abortion bans, and loosened gun laws all start in state legislatures, hardline conservative beliefs that are entirely in line with QAnon's philosophy of regarding liberalism in all forms as the enemy.
As of now, there are at least four QAnon believers who hold office in a state house.
One is Susan Lynn, a member of the Tennessee House of Representatives for District 57. Lynn is running for another term in November, and has also made several favorable references to QAnon on social media—changing her Facebook cover page to a QAnon flag, sharing a post by QAnon "guru" Praying Medic, and retweeting a short video of a man taking an "oath of enlistment" to be a "QAnon digital soldier."
Another Q-believing current state house member is Cord Byrd, a two-term Florida House member representing District 11, and who is currently on the ballot for a third.
In May, Byrd and his wife Esther were photographed on a boat in a Florida yacht flotilla that was flying a QAnon flag right alongside a Trump 2020 flag.
Byrd didn't respond to Daily Dot's request for comment, but Byrd's Democratic opponent in the upcoming election, Joshua Hicks, told the Daily Dot, "Why is my opponent palling around with QAnon believers and does he share their dangerous views? The people of Florida's 11th District deserve answers on what he believes. We need to elect leaders who believe in facts and not dangerous conspiracy theories."
Joining Byrd in the Florida House/QAnon nexus is Anthony Sabatini, who represents District 32, and is running for another term in November. Like Byrd, Sabatini is a public QAnon believer and has shared a link to the Q drop aggregator site Qmap. Sabatini is also likely the only state House member in any state to have been mentioned in a Q drop, with a tweet of his used in drop 4085.
Finally, there's Lin Bennett, a current South Carolina House member running for re-election in 2020 who had previously expressed sentiments that QAnon and Q drops are "legit" and "interesting"—but now disavows the movement, according to an interview she gave with the Charleston Post and Courier paper.
And there might be more QAnon followers on the way to state legislatures.
The most well-known is probably Kevin Bushey, who is in the midst of making his second run for Maine House of Representatives District 151. Bushey has become a major figure in the QAnon "home church" movement, going online every Sunday morning to join Omega Kingdom Ministries services and decode the latest Q drops and Q news.
Bushey doesn't mention his political ambitions during Omega services, and doesn't mention Q on his campaign website, but he does make numerous references to Q, conspiracy theories in general, the deep state, spiritual warfare, and memes in his church videos. Bushey blocked Daily Dot on Twitter when asked for comment during a previous story, and his opponent in the election, current District 151 rep John L. Martin, did not return a request for comment.
Amber Krabach is another candidate with Q leanings, running for election to the Washington House of Representatives to represent the heavily Democratic-leaning District 45, east of Seattle. She's an avowed QAnon believer on Twitter, where she routinely shares Q hashtags, as well conspiracy theories about coronavirus, masks, and the actions of Black Lives Matter activists.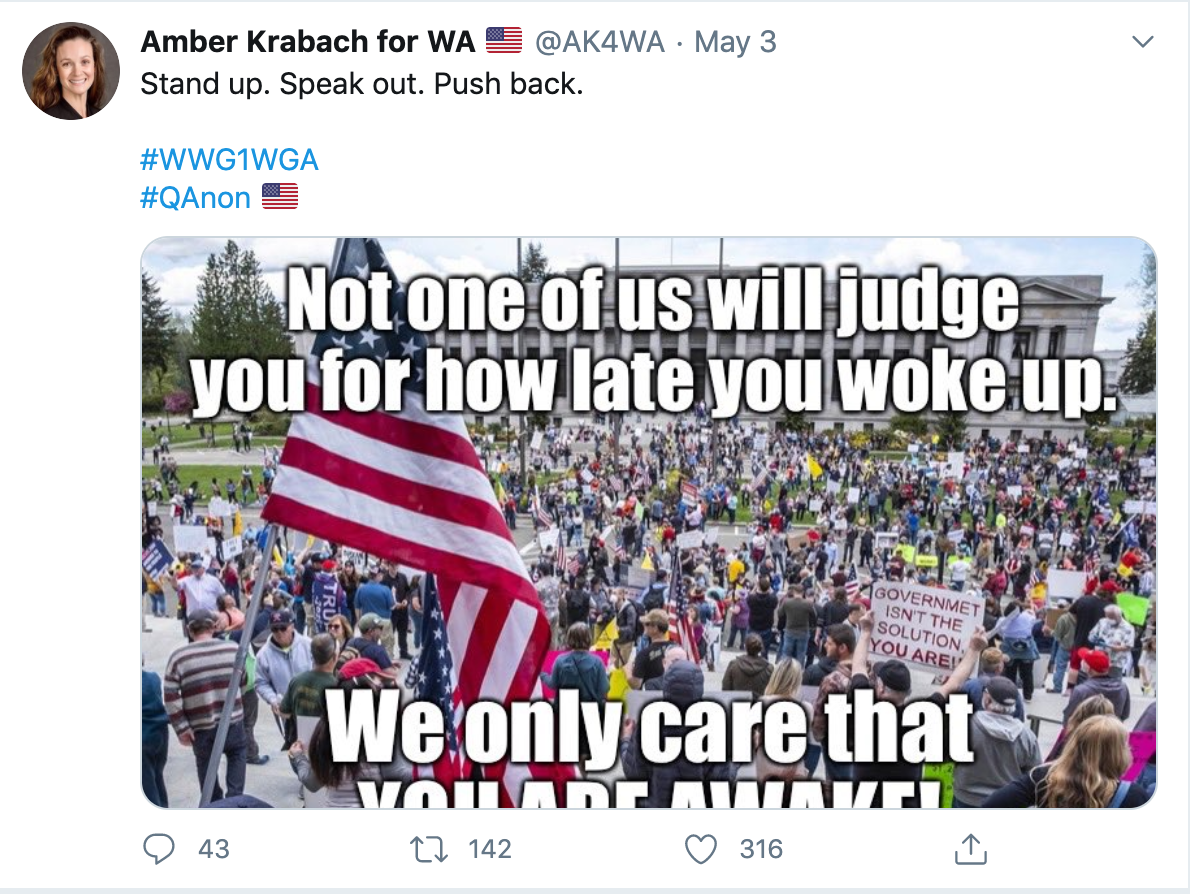 Then there's John Cardiff Gerhardt, an independent candidate for Nevada state assembly District 12.
As a third-party candidate, Gerhardt has little chance of winning, but he is an out-and-proud QAnon follower, telling Ballotpedia's candidate survey: "I stand with Q. I go 1 with all. We respect [Trump] as a family unit. Trump is perfect mentor whose relentless work ethic has earned a great karma from the American People."
And Tucson resident Justine Wadsack is running unopposed for the Republican nomination in the Democratic-leaning District 10 of the Arizona State Senate.
Wadsack has tweeted QAnon slogans on several occasions, and she told Tucson.com that the state's Department of Child Safety should be disbanded because it's "behind medical kidnapping that leads to child trafficking."
It's not just state houses and assemblies drawing QAnon's faithful. William Stowell was an independent candidate for Botetourt County Sheriff in Virginia in 2019 and has also recorded dozens of QAnon videos for a YouTube channel called "Fincastle Underground," which has over 17,000 subscribers. Stowell lost his election bid by a large margin, but he continues to make videos.
There's also at least one QAnon believer running for governor. Leon Lawson is a Republican running for Washington State's open primary for governor in August. Lawson is a public QAnon believer, and includes the QAnon catchphrase "WWG1WGA" (meaning "where we go one, we go all") in his candidate statement to Ballotpedia.
And Dan Johnston was already a member of the North Dakota House when he made a run for the Republican nomination for state treasurer in 2020.
His Facebook page was full of QAnon posts, and Johnston confirmed to a local paper that he's a follower of the movement. Despite an endorsement from President Trump himself—one of the only QAnon candidates Trump has publicly touted—Johnston lost his primary. He had dropped out of the race for another House term when he ran for state treasurer, so he won't be representing Q for the people of North Dakota.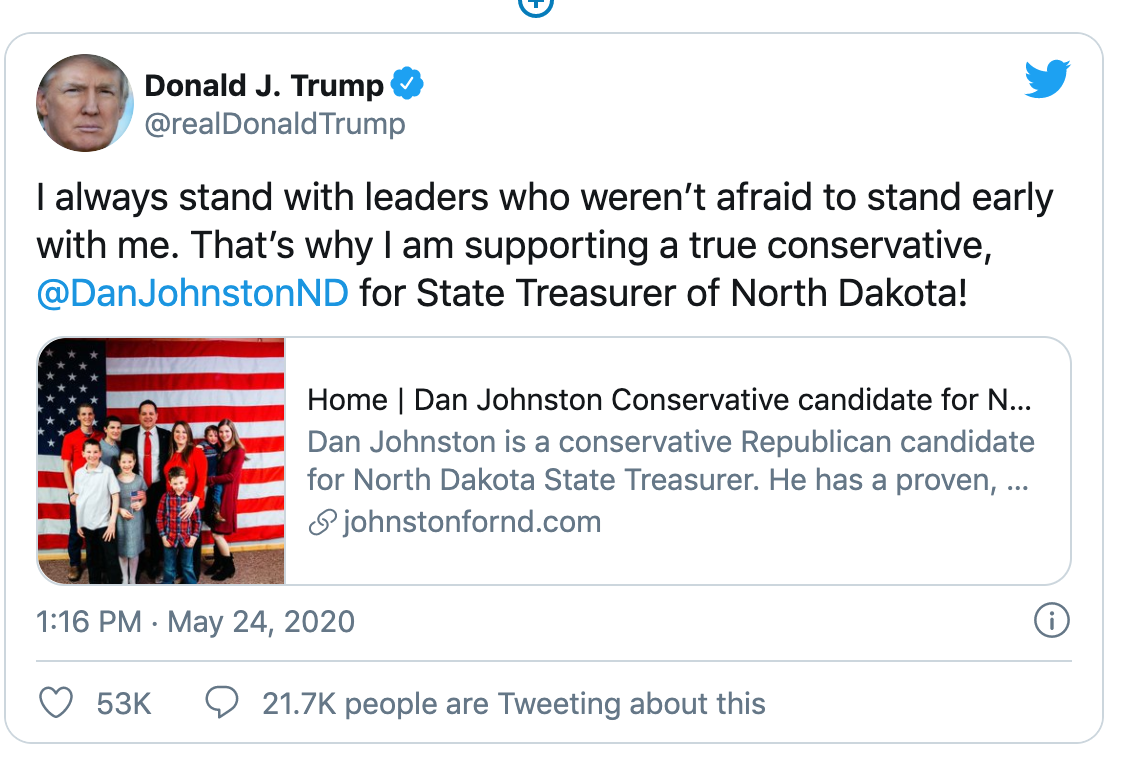 Beyond these current or recent candidates, there are other politicians not in an election cycle that have actually been given power by a voting bloc, who have tipped their hats to QAnon, generating notoriety and unwanted attention for communities that don't seem to want anything to do with the conspiracy theory.
One is Bobby Lindamood, a city council member and mayor pro tempore of the wealthy Dallas suburb Colleyville, Texas. Lindamood is also a QAnon acolyte, who posted a giant red white and blue Q on his Facebook page with the caption "Some Know."
When reached for comment about the post by a reporter in Fort Worth, Lindamood (whose term expires in 2022) didn't confirm or deny that he's a Q believer, only asking the reporter to "write something nice about [him.]"
And former city San Juan Capistrano, California city councilwoman Pam Patterson made national headlines in 2018 when she quoted "Q No. 2436," during her farewell speech, pontificating "for far too long, we have been silent and allowed our bands of strength that we once formed to defend freedom and liberty to deteriorate. We became divided. We became weak. We elected traitors to govern us."
Patterson lost her election in 2018 and is not currently involved in politics.
These positions hold little, if any, sway over national events. But all of them indicate the inroads that QAnon has made into politics. A conspiracy theory that started with anonymous posts about Hillary Clinton being extradited rose to a level where it was being quoted in city council meetings, being endorsed by people who actually won elections, and driving the actions of people who have power over others.
These are Q believers who might not be executing a vast purge of the deep state or a midnight roundup of the Clintons, but who do things that matter with their smaller levers of power.
So while the national media digs into the QAnon candidates possibly on the verge of national office, it's also wise to watch the state-level candidates who are throwing their lot in with Q.
They've already proven they can win elections, and take their beliefs with them. And they give legitimacy to a movement that's desperate to be taken seriously as a political force.
READ MORE: