In a Sunday night Clubhouse room crowded with conspiracy theorists, a Republican communications director blamed Capitol Police for the death of one of their own at the Capitol riot, saying officer Brian Sicknick died because of their actions.
Lisa Barbounis, who is director of communications for Rep. Randy Weber (R-Texas), said, "It really looks like [Officer Sicknick] had a stroke or some respiratory issue from police spraying mace and stuff. It wasn't that he got hit over the head with a fire extinguisher, and yet no one is covering that."
It turns out it wasn't that at all, with authorities today arresting two suspects on charges surrounding Sicknick's death.
The remarks are part of the conspiracy theory formed in real-time by the far-right to reframe the Jan. 6 insurrection as something more palatable to their worldviews. The theory that Sicknick's death was unrelated to any of his confrontations with rioters at the Capitol but instead was caused by Capitol Hill police helped come from botched reporting that initially blamed Sicknick's death on being hit with a fire extinguisher. The New York Times originally reported that, "with a bloody gash in his head, Mr. Sicknick was rushed to the hospital and placed on life support." After further reporting that Sicknick died from a stroke, the Times later corrected its story with a note saying "new information has emerged regarding the death of the Capitol Police officer Brian Sicknick that questions the initial cause of his death provided by officials close to the Capitol Police."
It helped spawn a conspiracy that Capitol rioters had nothing to do with Sicknick's death.
But Barbounis' comments about police being to blame for Sicknick's death are wrong, according to authorities. Two men were charged today with assaulting Sicknick and the government says that the men are on video spraying Sicknick and other officers in the face from close range with a chemical irritant.
The Clubhouse room in which Barbounis was a speaker was titled "Qanon Meetup!" though most of the speakers distanced themselves from the QAnon theory, that Democrats are a gang of Satanic pedophiles who were being rounded up by former President Donald Trump.
Barbounis has boasted about using Clubhouse before and shared her account name, which matched the Clubhouse user ID making the comments about Sicknick.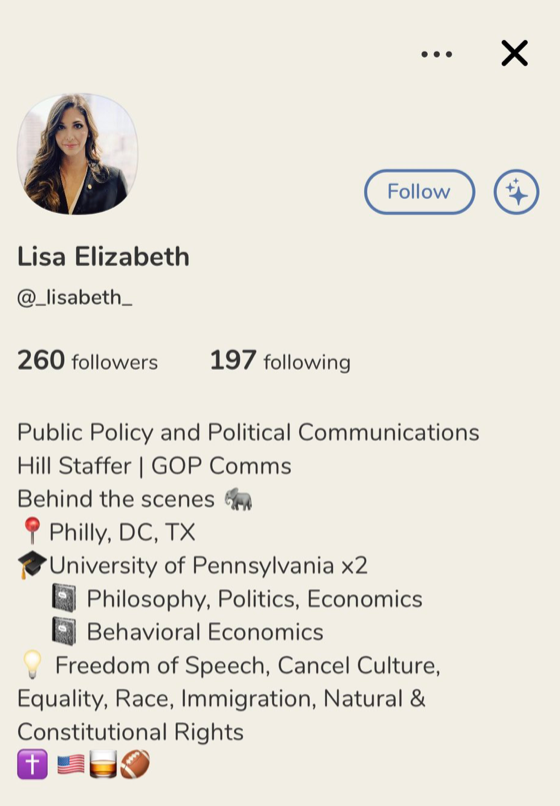 While the QAnon theory has mostly shattered, conspiracy theories among the right have only continued to fester around the insurrection. The goal of those conspiracies is to prove that Trump supporters were not responsible for the violence on Jan. 6 that left Sicknick dead and Trump a pariah.
Barbounis represents an similar strain in GOP politics to that of Rep. Marjorie Taylor Greene (R-Ga.), showing conspiracy theorists are no longer lingering on blogs, they are working on Capitol Hill.
Barbounis did not respond to a request for comment from the Daily Dot.
At another point in the chat, the GOP comms director repeated the widely disproven conspiracy theory that antifa, not Trump supporters, stormed the Capitol. She told the group, there were "definitely, without a doubt, BLM, antifa people there that were at the gates that were some of the first people to go over … I think that like some mob mentality came in and Trump supporters went with."
Barbounis also claimed that she has seen footage of another angle of the fatal shooting of Ashli Babbit, telling the chat that additional footage shows "the gun pointed like directly at the phone camera. Crazytown stuff."
Moments later, Barbounis invited into the chat a man named Tayler Hansen, a writer for Gateway Pundit, who went on to continue to push the theory that the insurrection was the work of antifa rather than Trump supporters.
---
Read more of the Daily Dot's tech and politics coverage