Congressional candidate Lauren Boebert accidentally got horny on main Friday when talking about her Christianity.
"I'm a Christian. So they may try to drive me to my knees, but that's where I'm the strongest," the Republican tweeted.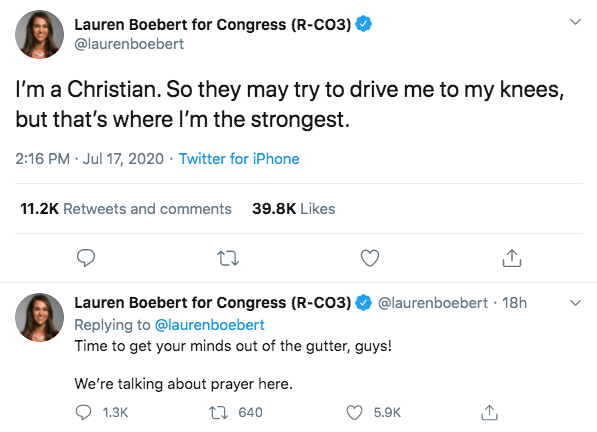 Many quickly pointed out how poorly phrased her tweet is.
One responded with a meme, joking about how "Now all of Twitter knows you're horny," with another pleading with her to chill because "this is a family website."
"My husband says the same thing about me," writer Lindsey Ellis tweeted.
One pointed to a quote from season 2 of Arrested Development, in which Michael Bluth tells Tobias Fünke, "You buy yourself a tape recorder, you just record yourself for a whole day. I think you're going to be surprised at some of your phrasing."
Boebert later had to clarify that she was talking about praying, not a sex act.
"Time to get your minds out of the gutter, guys! We're talking about prayer here," she wrote in a follow-up.
Boebert is an ardent supporter of the QAnon conspiracy theory, which alleges that the "deep state" is working against President Donald Trump, and, in turn, Trump is working to expose the deep state's elite members as the alleged pedophiles they are. Boebert recently, shockingly defeated Trump-backed incumbent Rep. Scott Tipton in the Republican primary for Colorado's 3rd district. She is also known for her restaurant, Shooter's Grill, which encourages its staff to open-carry while on the clock.
READ MORE: