Lauren Boebert, the congressional candidate who just won Colorado's Republican primary, is making headlines once again for her political views.
The conservative figure first shot to prominence last year after crashing an event for then-Democratic presidential candidate Beto O'Rourke to denounce his stance on gun control.
Boebert's other claim to fame is Shooters Grill, a restaurant that encourages its employees to open-carry firearms while on the job. The restaurant had its food license suspended in May after refusing to close amid the coronavirus pandemic.
The Twitter account for Shooters Grill has been bombarded by critics as of late, but not due to the establishment's stance against social distancing.
Shooters Grill and Boebert, who has also shown support for the QAnon conspiracy theory, are instead being ridiculed after a meme criticizing handouts was discovered.
"I would rather earn one dollar than be given two," reads a meme posted by the Shooters Grill account.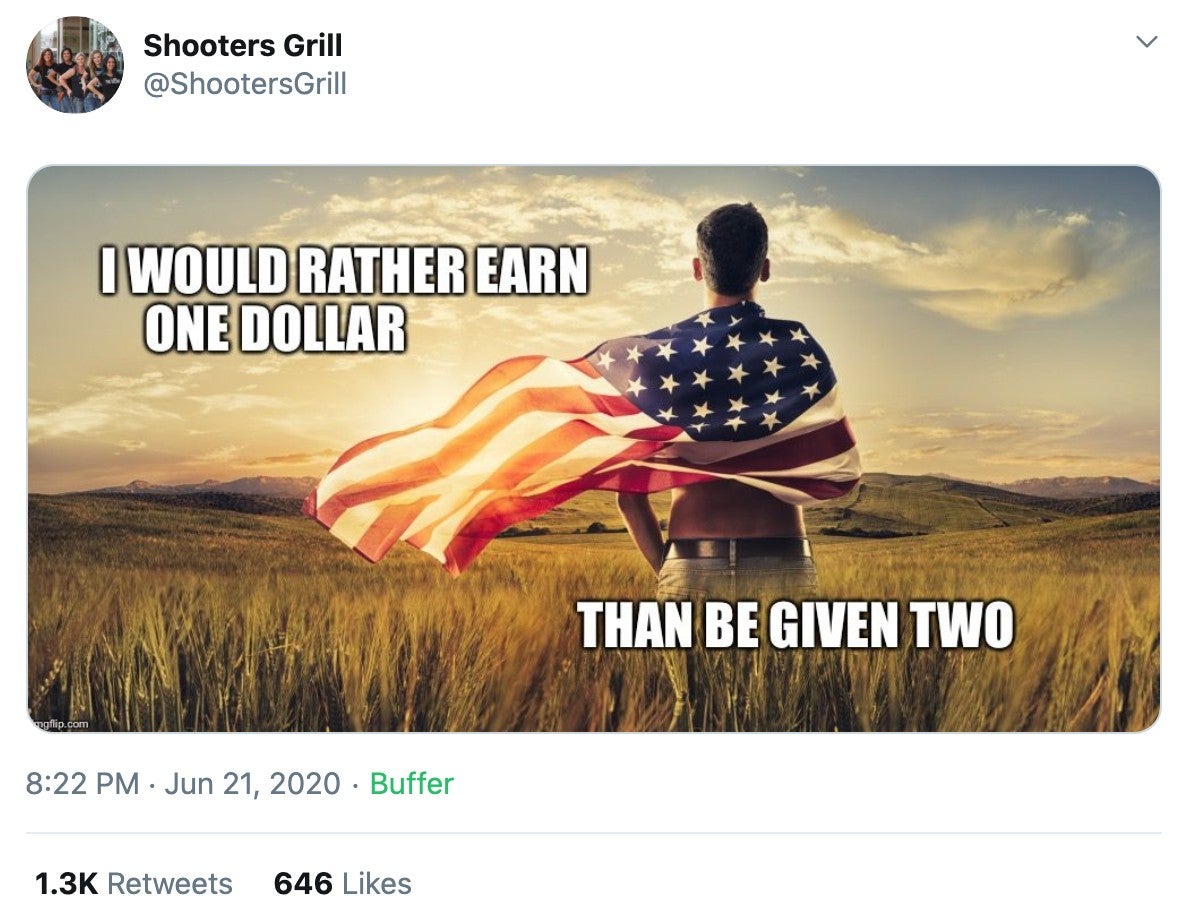 There's just one problem: The restaurant had been asking for handouts for at least a month by the time the meme was posted.
After Shooters Grill was ordered to close its doors in May, a GoFundMe was launched for it and sought $1,776, a reference to the year of the country's founding.
"Shooters Grill Restaurant in Rifle, Colorado is under attack for standing strong… not only for their rights and freedoms… but those that belong to each person and small business here in our nation," a message on the donation page says. "The government has ordered Lauren and her waitresses to lock their doors. Stand with Lauren and Shooters as she tries to defend our cherished liberties."
Not only was Shooters Grill looking for handouts, but the GoFundMe page has remained online even after the restaurant reopened. To date, Boebert's business has received well over $6,000.
Twitter users are now repeatedly referencing the GoFundMe page under the meme posted by Shooters Grill.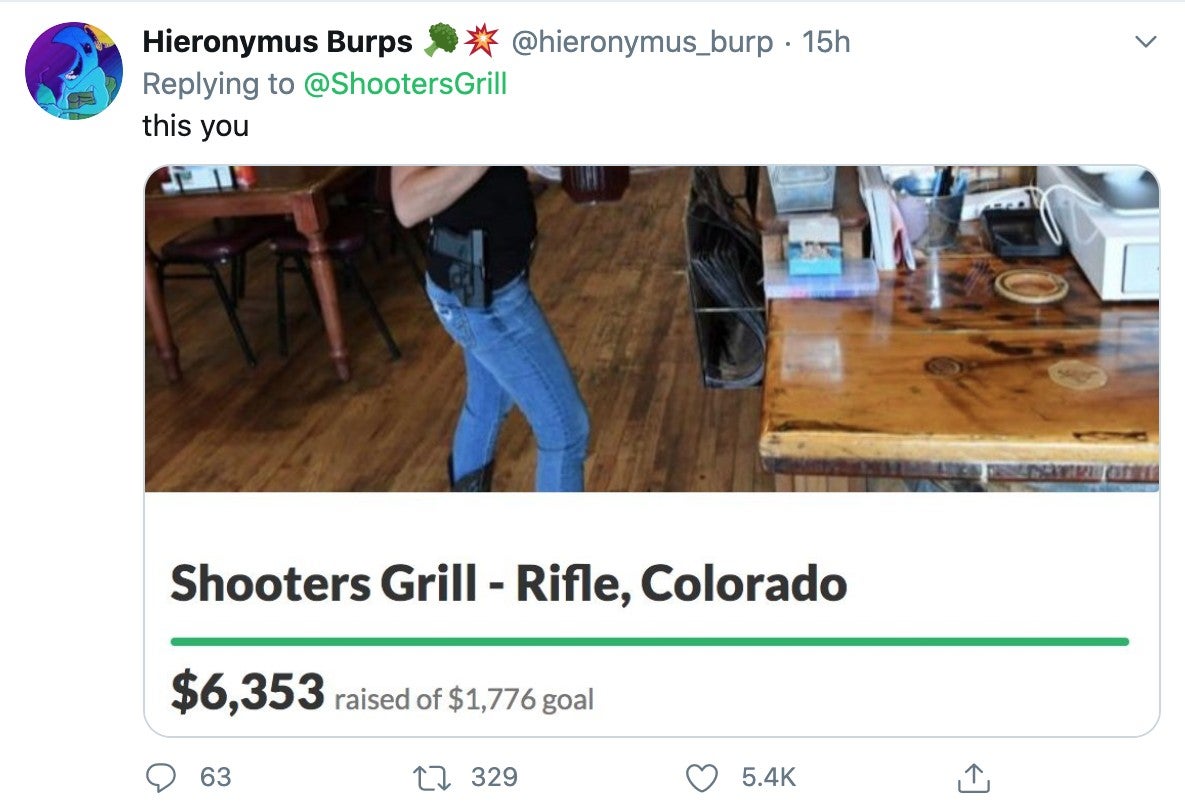 Others mocked the photo accompanying the meme, highlighting the flag and crops in the background.
"The flag should never be used as wearing apparel, bedding, or drapery," one user said, quoting the U.S. Flag Code. "It should never be festooned, drawn back, nor up, in folds, but always allowed to fall free."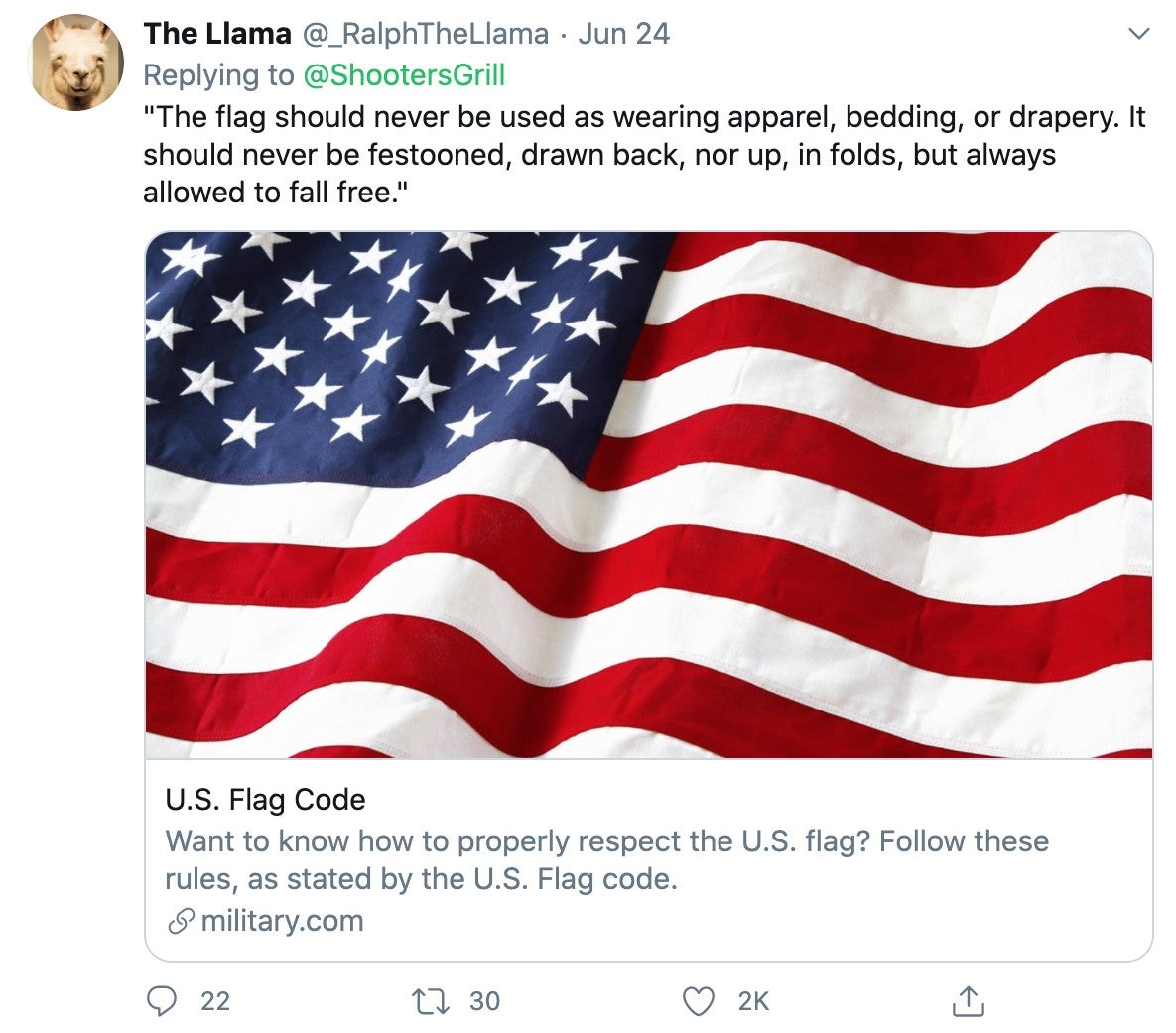 Another user pointed out that not only does Shooters Grill have a GoFundMe page, but a donation page can be found on the company's website as well.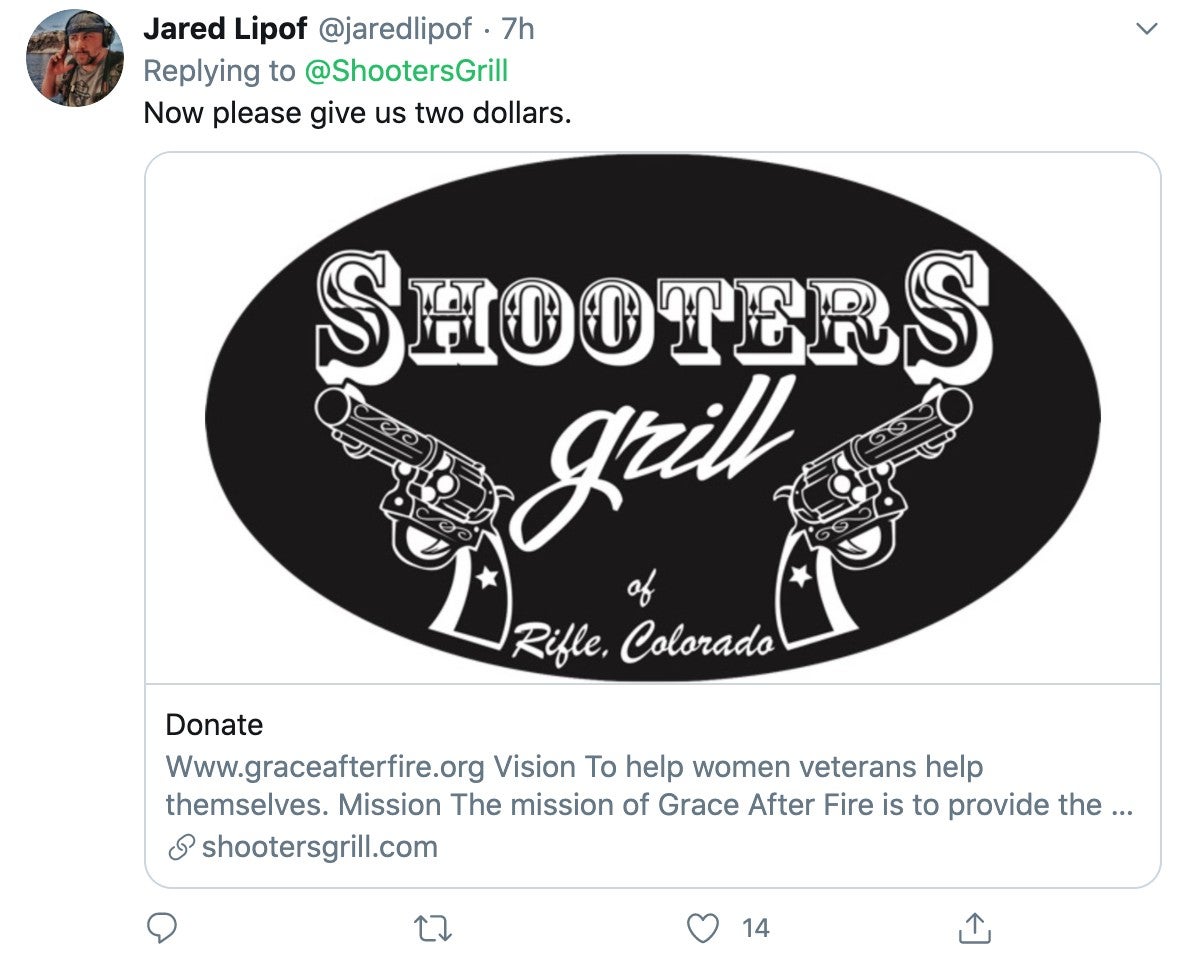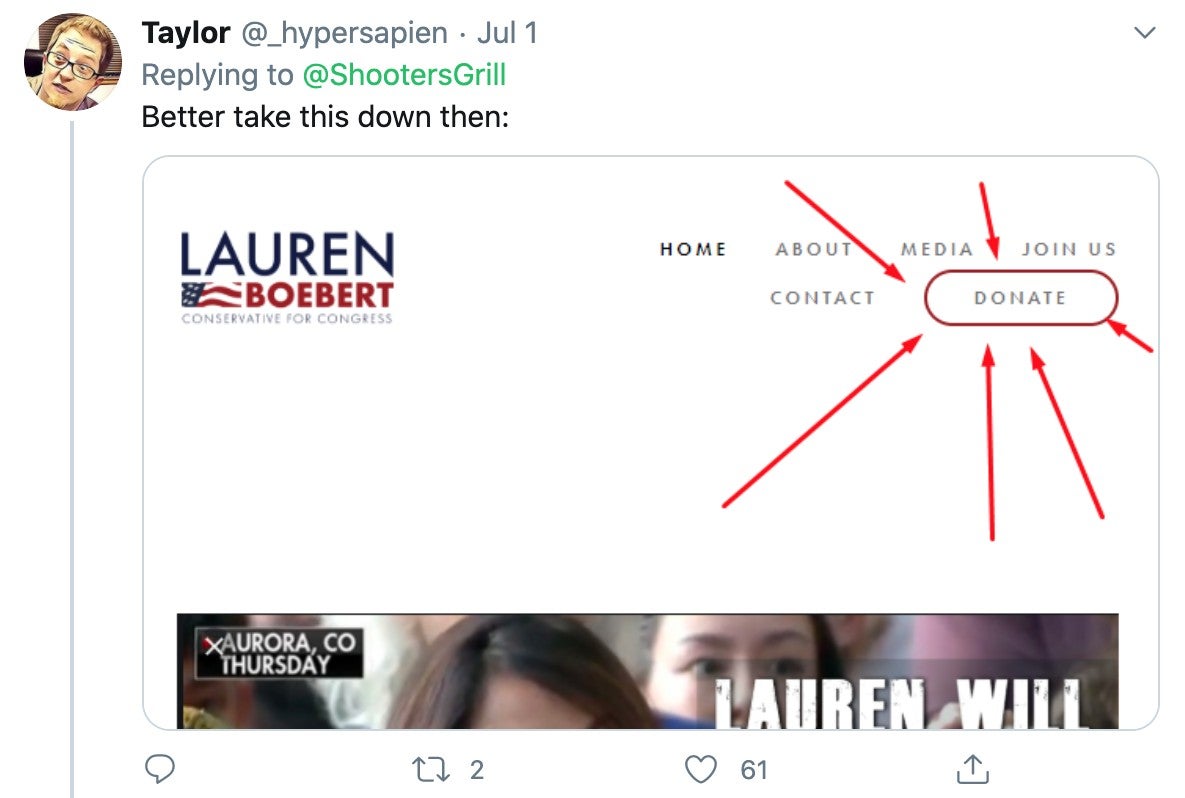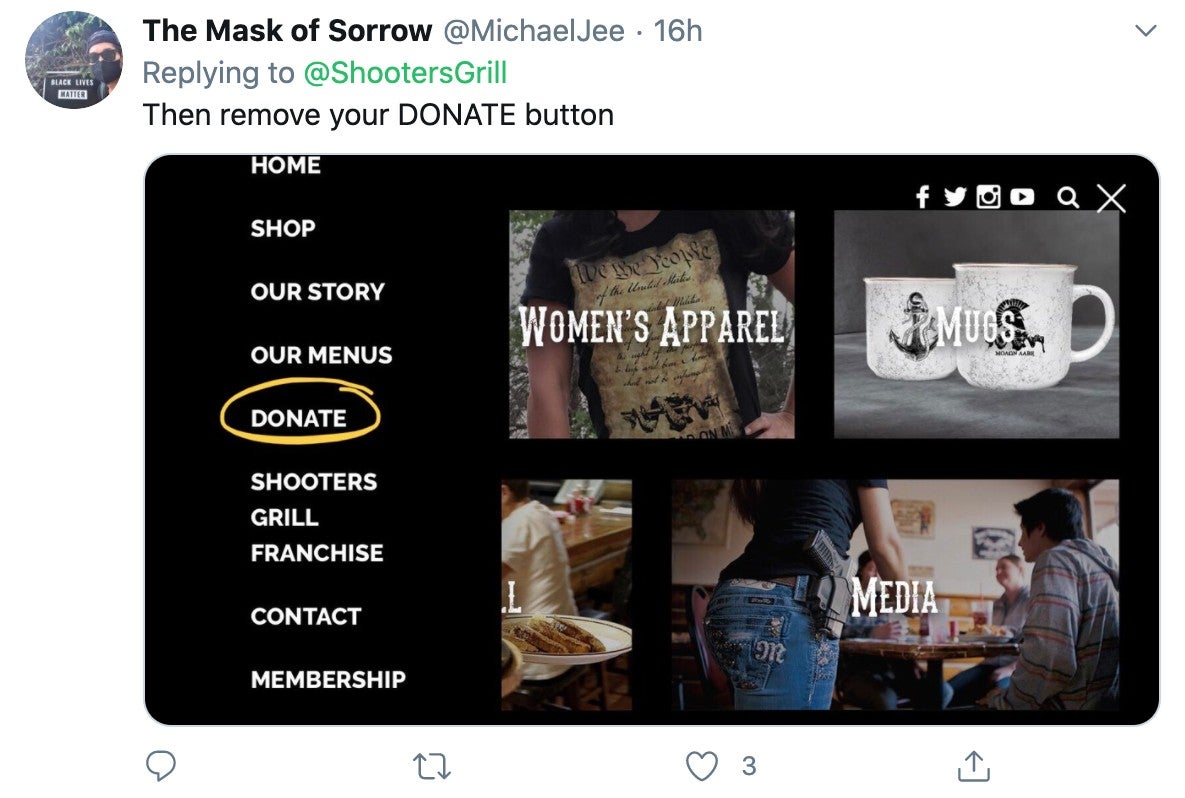 Despite the onslaught of tweets, neither Shooters Grill nor Boebert has responded to the criticism.
READ MORE: