A Kentucky demonstration intended to celebrate the Second Amendment shifted to a protest on coronavirus restrictions as protesters hanged an effigy of Democratic Gov. Andy Beshear from a tree outside the state Capitol.
The Second Amendment rally began to lose steam when supporters reportedly decided to move the protest to the governor's mansion and demand that he resign. Protesters carried signs that read "my rights don't end where your fear begins" as they chanted "resign, Andy" and "come out, Andy." It's still unclear whether the governor was home at the time.
Twitter sleuths quickly uncovered that the man who hanged the effigy is allegedly the president of the Kentucky Three Percenters, an anti-government militia group. According to their Facebook group, they are "a local organization made up of patriots and like minded people banding together to protect our constitution."
The Twitter user who sounded the alarm, Patti M Piatt, wrote, "Y'all, I was not prepared to do this much research this morning, but you know me. The man who hung the effigy of our governor is Terry Bush, President of KY 3%. From video. From his FB page on the right. The tattoo provides the first ID."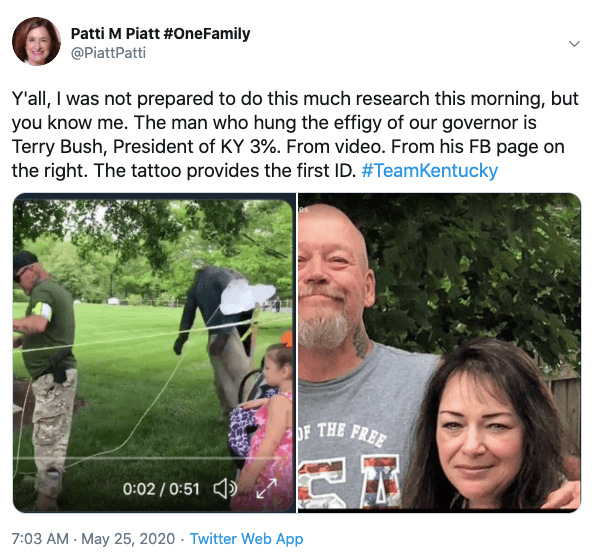 Piatt then included links to the Three Percenters' official website to offer more pictures of Bush.
About 100 people attended the gathering on Sunday in Frankfort, Kentucky, USA Today reports. Some of those in attendance carried guns and waved "don't tread on me" flags.
Kentucky pastor Cliff Christman addressed the crowd.
"This has been one of the biggest shams in world history," he said. "Grown men have been hiding in (their) homes nearly wetting their pants over this invisible enemy that nobody sees. Where is it at? Let it come out and face us. I serve the one true and living God who conquers all enemies. Why should we give our freedom and our liberties up for such fear (and) propaganda and all the garbage that is coming out of Frankfort today?"
Secretary for the Three Percenters Patsy Kays Bush said she was against the hanging of the effigy and felt it would hurt the group's image. But she said, "we're at the point where rallies and shouting and hollering is just not working anymore."
READ MORE:
H/T USA Today