Fox News host Jeanine Pirro has found herself at the center of a bizarre conspiracy theory after seemingly getting caught looking at a topless photo of Chrissy Teigen.
The incident began on Sunday when Pirro, host of the show Justice with Judge Jeanine, tweeted out a photo of herself wearing a face mask.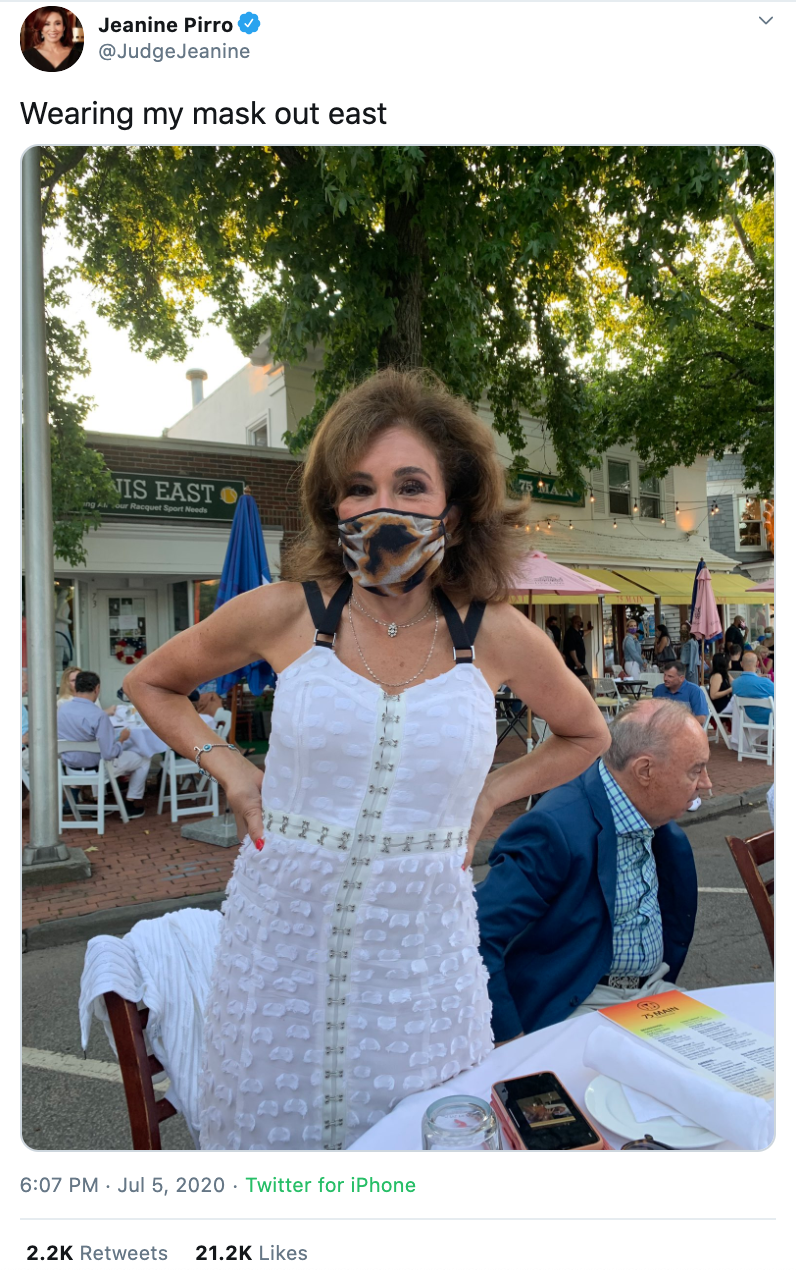 Twitter users soon noticed what appeared to be Pirro's cell phone in the bottom-right corner of the picture. Not only that, the phone appeared to be showing a photo of a topless woman.
The tweet was noticed by celebrity Chrissy Teigen, who immediately recognized the photo in question as one of her own.
"Jeanine why are my boobs up on your phone," Teigen said.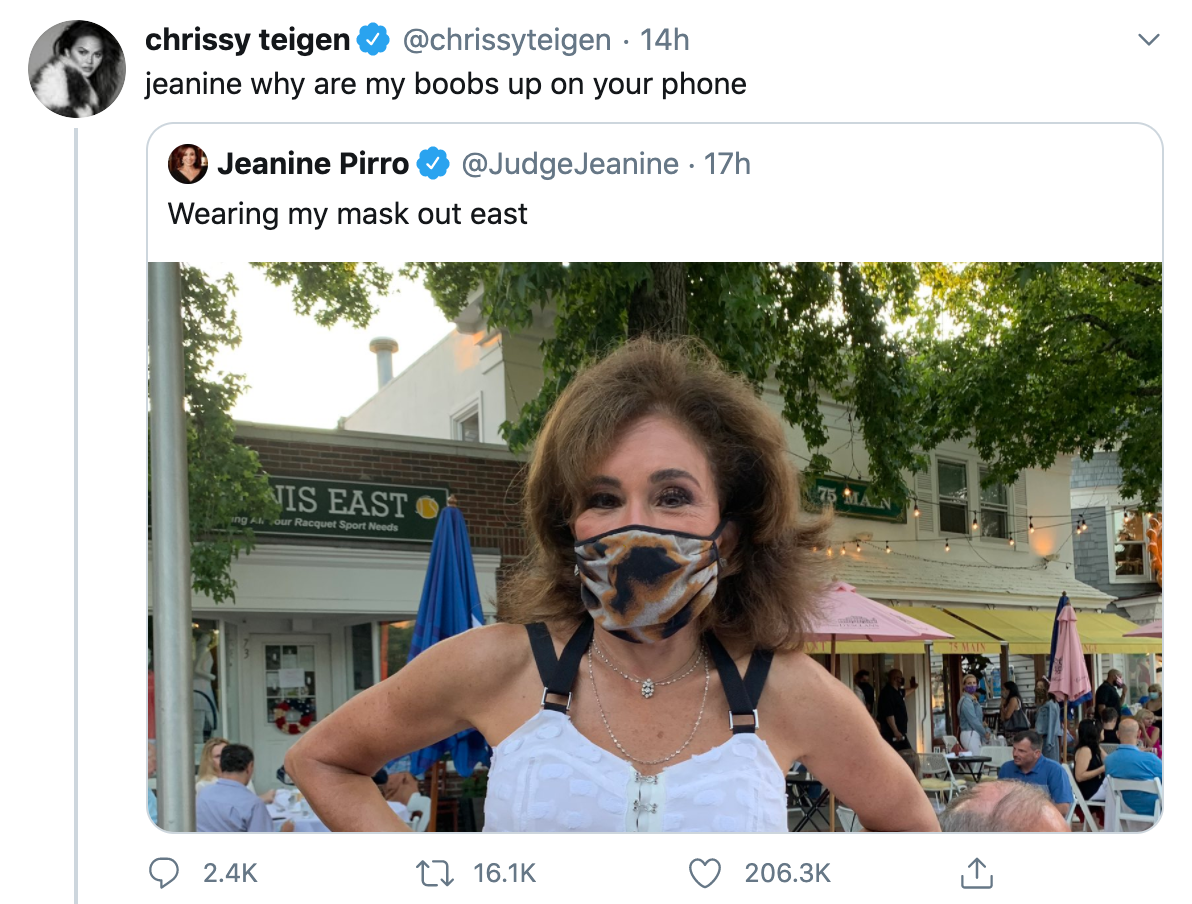 Teigen went on to share her photo side-by-side with Pirro's phone, removing any doubt that the two images were the same.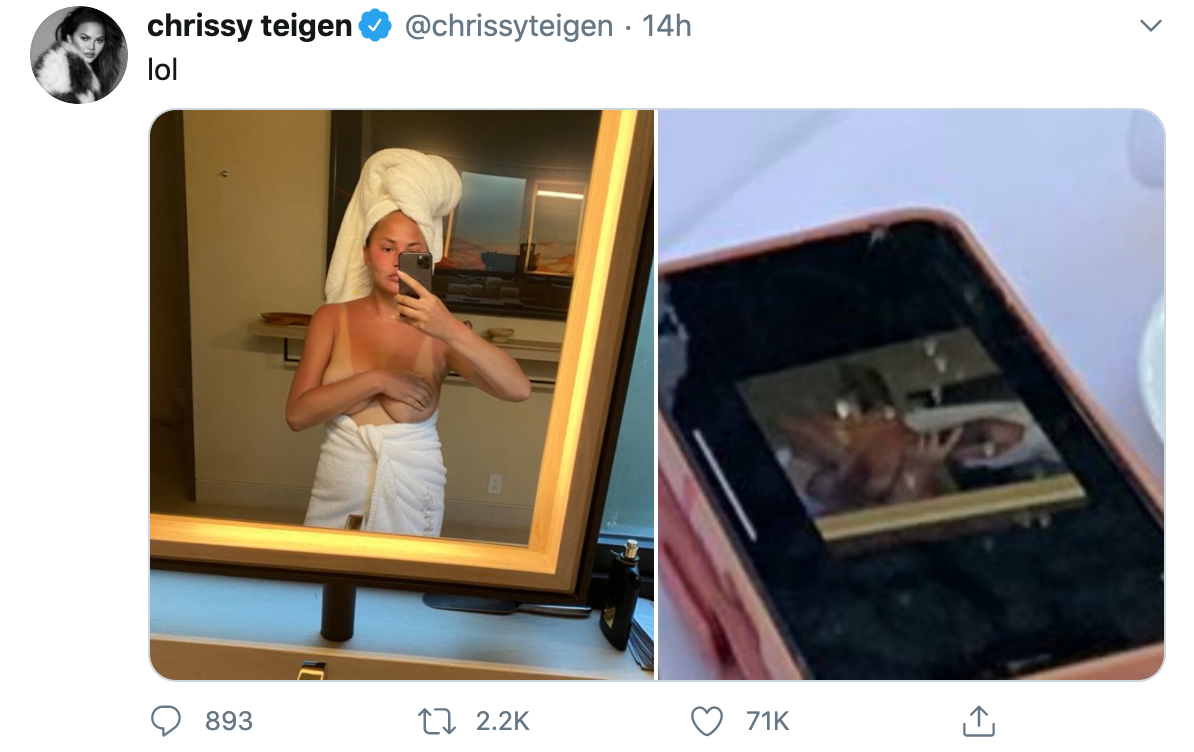 The topic quickly made headlines across the country, with many speculating over why the photo was on the conservative's phone. (Most likely Pirro was reading an article on Teigen' sunburn.)
But the situation wasn't strange enough by itself for believers of the QAnon conspiracy theory. Where everyone else saw a somewhat awkward moment, followers of Q saw a secret signal.
One QAnon adherent known on Twitter as @Beachbum_Ninja argued that Pirro was actually sending a clandestine message to her followers. Not only that, the user asserted that the two pictures weren't even the same.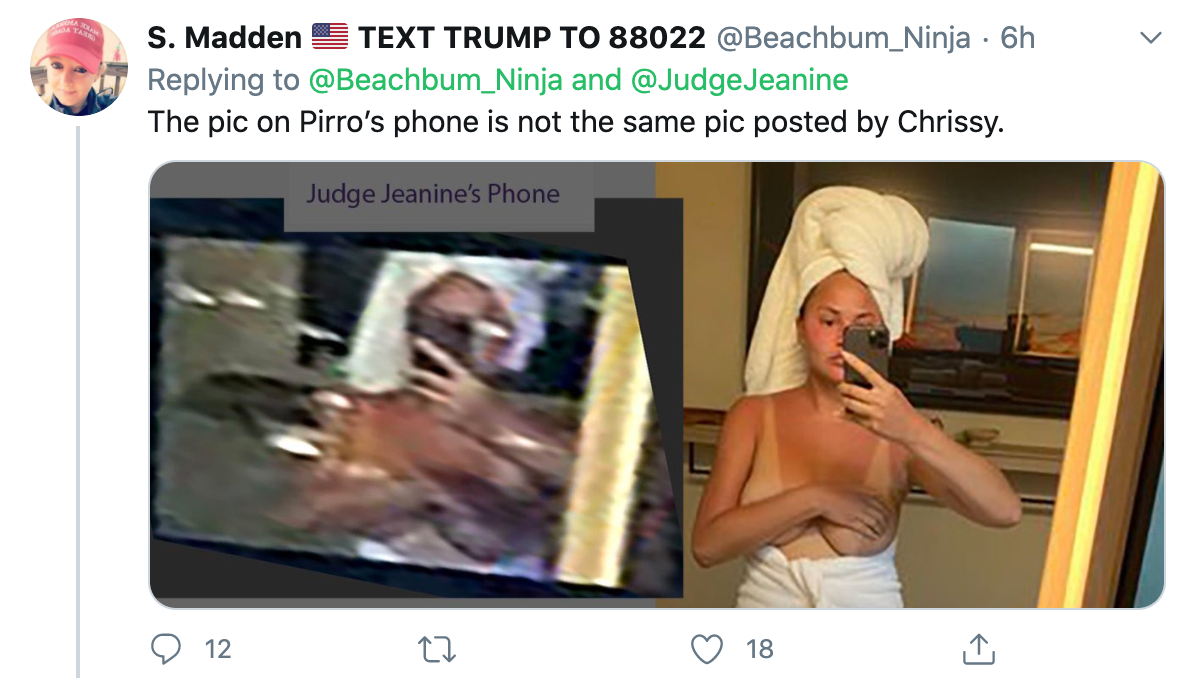 After conceding that the two pics were in fact the same, @Beachbum_Ninja broke down how Pirro's awkward mistake "had to be intentional."
"Once I realized that's who it was, it all makes sense. Her tweet with a mask was no coincidence, neither is the photo on her phone," @Beachbum_Ninja said. "She knew it would bring traffic by wearing a mask. Had to be. Not like Judge Jeanine to make mistakes of this magnitude. Had to be intentional."
Despite the grandiose claims regarding Pirro's phone, most Q followers thus far have been unable to determine what exactly the secret and non-existent message was intended to signify.
Teigen has long been the focus of QAnon followers who love to parse her old tweets.
Another user pointed to a list of names that appear to be from the infamous flight log of deceased convicted pedophile Jeffrey Epstein.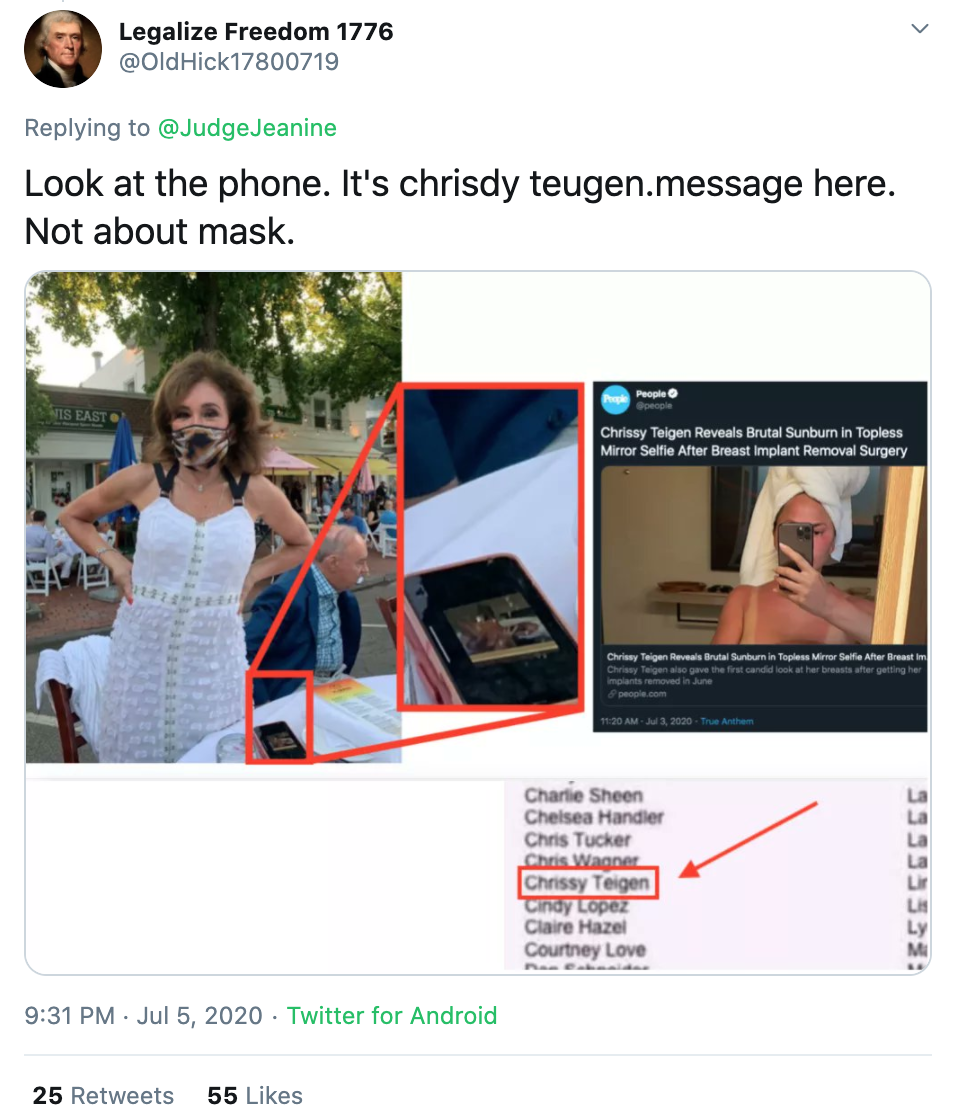 Unsurprisingly, the claim is totally false. Teigen's name was not on the flight logs but has been photoshopped into fake versions online.
While many of the responses to Pirro's tweets were conspiratorial, only a few referenced QAnon. Instead, conservatives either accused Pirro of advancing a tyrannical government conspiracy by wearing a mask or falsely claimed that she was endangering her health by covering her face.
Pirro thus far has not responded to the flurry of attention spurred by her photo.
READ MORE: