A white nationalist "Groyper" will not be expelled from Kansas State University, where he is enrolled as a student at, after making a joke about George Floyd.
"Congratulations to George Floyd on being drug free for an entire month!" the student in question, Jaden McNeil, tweeted. The tweet was followed by university-wide outrage, including KSU's football team threatening to boycott if McNeil wasn't expelled.
In a statement to the Kansas State community on Wednesday morning, President Richard Myers said McNeil couldn't be tossed from the university over his remarks.
"There have been many calls for us to expel a student who posted racist messages on social media, and while these messages are disrespectful and abhorrent, we cannot violate the law," Myers stated.
He added, "What we can do is use these incidents as a catalyst to more crisply define the way we will work to stop hate at K-State and combat racism on our campuses."
McNeil appears to have received help from a college free speech organization, which sent Kansas State a letter threatening legal action should McNeil get expelled.
The Foundation for Individual Rights in Education, more commonly known as FIRE, sent the four-page letter to Kansas State on June 30.
"While McNeil's tweets may be deeply offensive to many, they do not fall into a category of speech unprotected by the First Amendment, which strictly limits public universities like KSU from punishing protected expression," the letter read.
A FIRE spokesperson told the Daily Dot that the athletes and community members speaking out against McNeil's racist remarks have that same constitutionally protected right as McNeil. The FIRE spokesperson urged for "more speech," rather than less.
While McNeil didn't respond to the Daily Dot's request for comment, he did react to Kansas State's statement on Telegram.
"So their response to a joke about Saint Floyd is to increase the number of black students at K-State? Uh okay?" he wrote.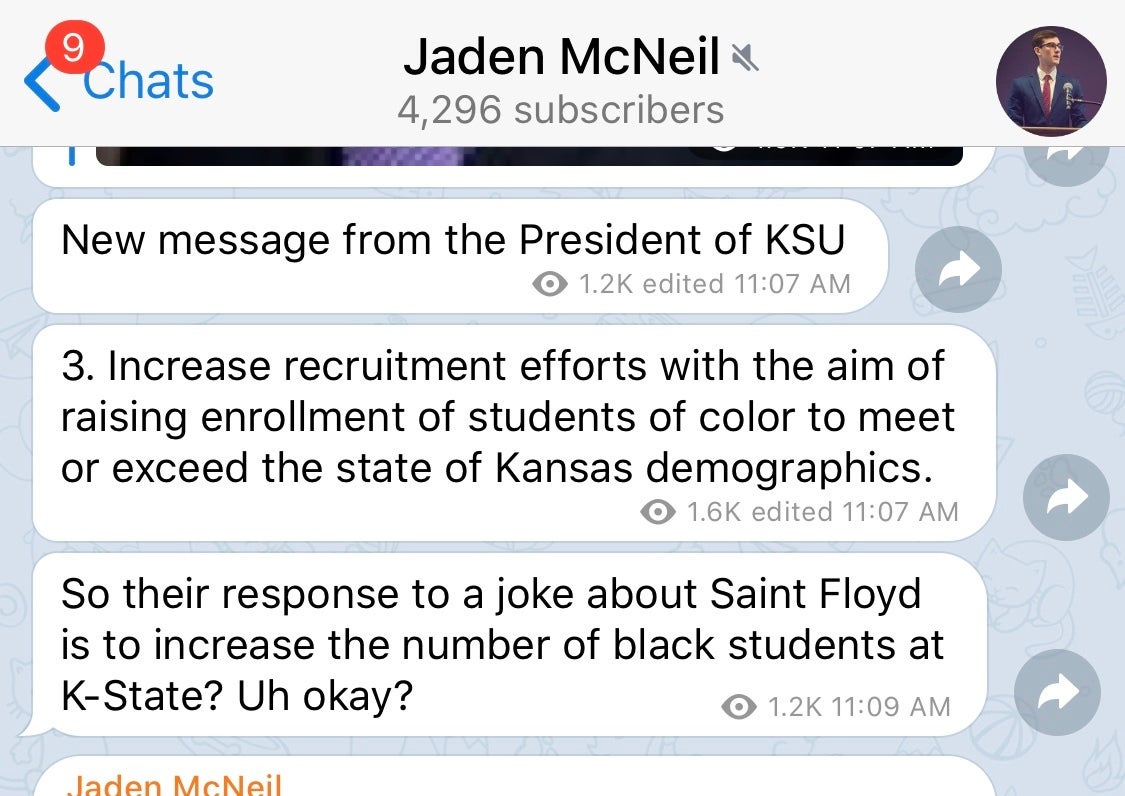 The Daily Dot sent Kansas State multiple requests for comment.
A Kansas State University spokesperson told the Daily Dot on June 26 that Kansas State had planned to review all paths and "options available" regarding McNeil's future enrollment.
Notably, other public universities, such as George Mason University, in recent weeks have taken action against students who've espoused hate online.
READ MORE: