Instagram has two new features that put more emphasis on its massively popular "Stories," the Snapchat clone that lets you share ephemeral videos with your followers.
Another copy-and-paste of Snapchat, "Archives" is Instagram's version of Memories. Now, after a story disappears 24 hours after it's published, it will automatically be placed in a permanent home within the user's main profile page. This lets users revisit and reuse their old video clips.
To access your archived stories, head to your main profile page by tapping on the person icon in the bottom right corner of the app. From there, select the archive icon (the clock with a counterclockwise arrow) in the top right corner. The "Stories Archive" page is where you'll see all your past stories. Just tap on a story to rewatch it or add it to a new story, share it in a post, or add it to a highlight (more on that below).
If you don't want Instagram to save your stories, select the three vertical dots from the archive page, go to Settings, and deselect "Save to Archive." This will make it so that your stories disappear forever 24 hours after they're uploaded. Note: Only you can see your archived stories. To switch from archived stories to archived posts, select the drop-down in the top left corner and choose "Posts Archive."
The Stories Archive enables the second big feature Instagram announced today: Instagram Highlights. You can now bundle your favorite stories together to create individual highlights. For example, if you uploaded a bunch of stories of your dog over the years, you could combine those individual moments into one long dog story. These "highlights" appear as circular icons in a dedicated section on your profile page, just below your bio.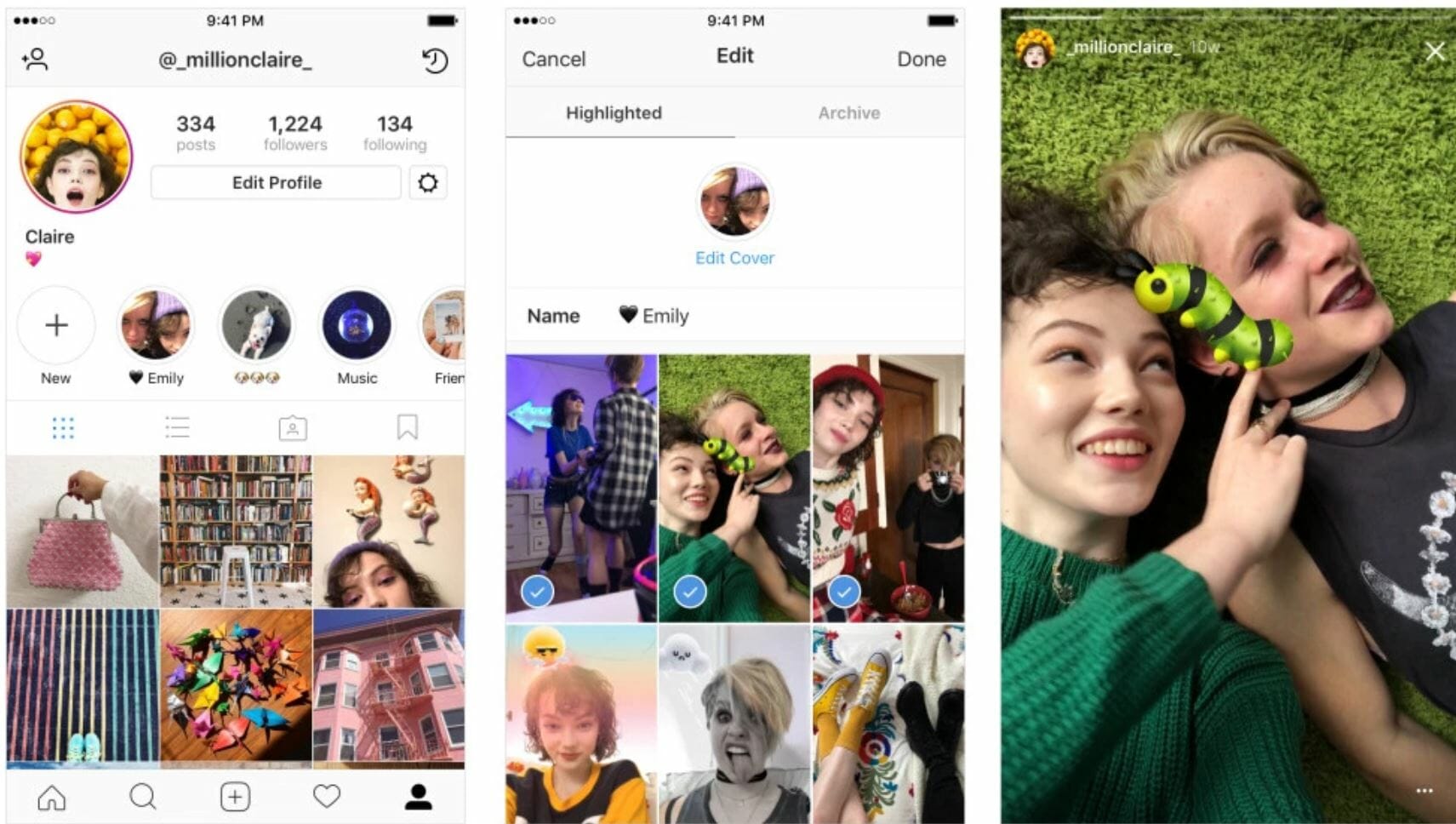 To create a highlight, tap the circular "new" icon under your main profile picture. Then select clips from your archived stories, choose a thumbnail for your story, and give it a name (for example, "puppers" from the previous example). When you're finished, the story highlight will sit on your profile page to the right of the "new" bubble, where users tap to view it. Unlike traditional stories, highlights don't disappear after 24 hours, they only go away after you delete them. To edit or delete a highlight, press and hold its icon. You can add up to 100 photos or videos to a single highlight and there's no limit to how many highlights you can post.
Instagram hopes these two new features will encourage users to build stronger relationships with their followers and start posting more video content, which could be used for advertising. Instagram Stories Highlights and Stories Archives will be rolling out to iOS and Android users on Tuesday. Users will receive a notification when Stories Archives kicks in, letting them opt out of the feature.