Brevard County Commissioner Bryan Lober is facing intense backlash for Facebook comments about running over Trump protesters.
Lober, a Florida Republican, is also being criticized for saying that if Brevard Democratic Chair Stacey Patel got an abortion he'd "look the other way as I can only imagine what a scourge on humanity (and on our economy) her offspring would prove to be."
He additionally referred to her hypothetical children as a "litter."
The Orlando Sentinel reports that Lober made the comments on the Political Voice of Brevard County public Facebook page, under a post by a page admin joking about Patel raising funds to protest Trump. "#socialism can't even fund a protest," it said in part.
One person then commented, "Word of wisdom to the protesters Beware of the Dodge Chargers!"
This is an apparent reference to the car that killed Heather Heyer at a white nationalist rally in Charlottesville, Virginia, in 2017.
The man who made this comment has since reportedly claimed that he was urging protesters to behave due to anticipated heavy police presence in rented Dodge Chargers. Thousands of protesters are expected when Donald Trump launches his 2020 reelection campaign in Orlando tomorrow.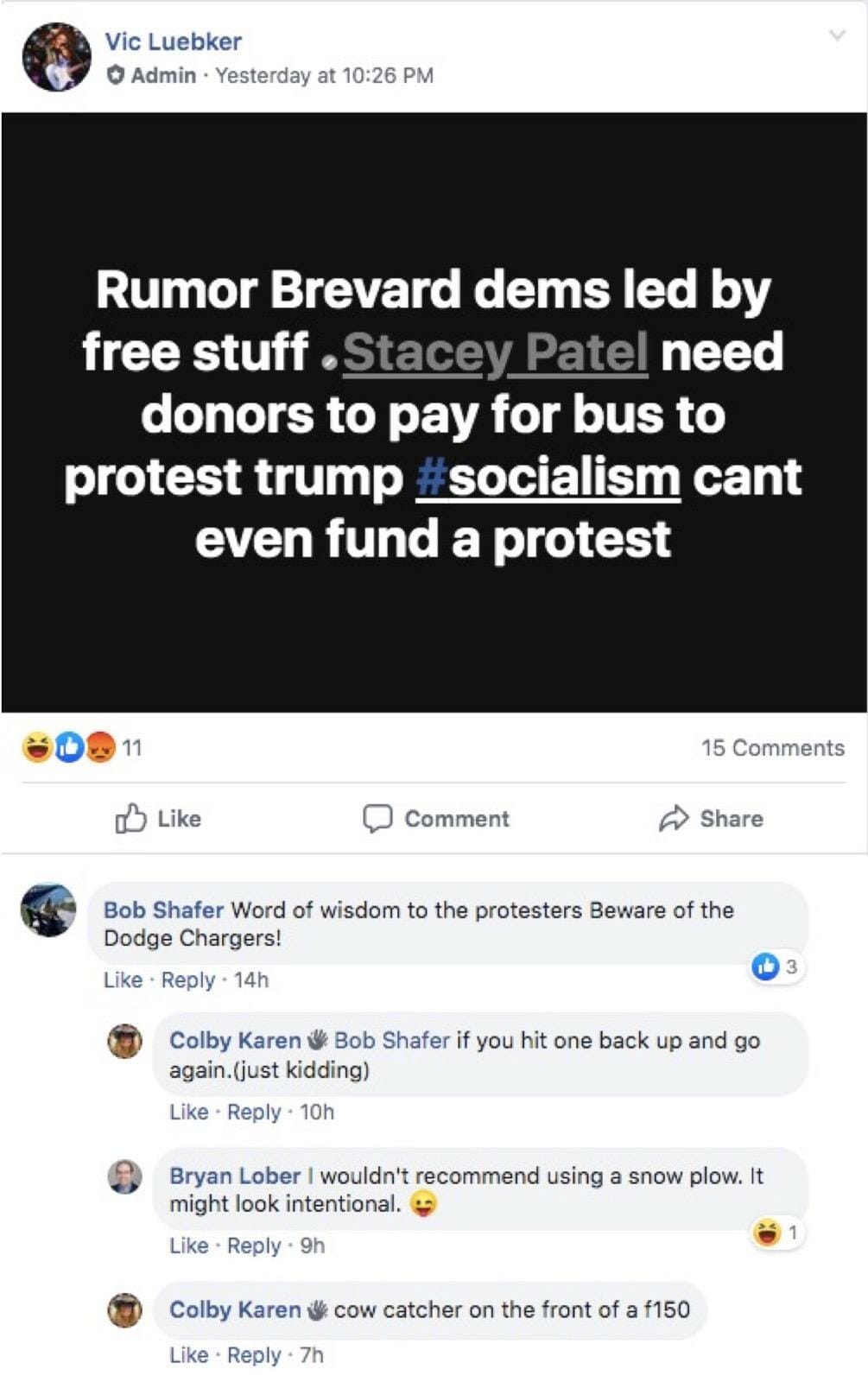 Subsequently, another person commented, "If you hit one back up and go again. (Just kidding.)"
Beneath this comment, Lober wrote, "I wouldn't recommend using a snowplow. It might look intentional [winky face]."
Lober has refused to apologize, releasing the following statement to media, "First and foremost, my comments on Facebook are made in my individual capacity, not in my capacity as an elected official. Moreover, it would be a mischaracterization to claim that either post was intended to be anything but facetious as should be evident by both the content and from the context in which they were written."
He further claims that his reference to snowplows was about Trump supporters getting splashed with slush by a snowplow driver in Massachusetts in February. It is not clear how this casts his statement in a different light.
In addition to piling on a joke about ramming cars into human beings, Lober made stunning comments about Patel's reproductive choices.
In another comment thread beneath a post about the protests, Lober wrote, "I'm not typically a big abortion proponent but in Patel's case, I might look the other way as I can only imagine what a scourge of humanity (and on our economy) her offspring would prove to be given that her litter would likely be raised with an entitlement mentality, zero work ethic and taught the hypocritically racist and sexist position that the white man is evil.
"Unfortunately, those least capable of properly raising children typically procreate without a second thought and society is left dealing with the repercussions."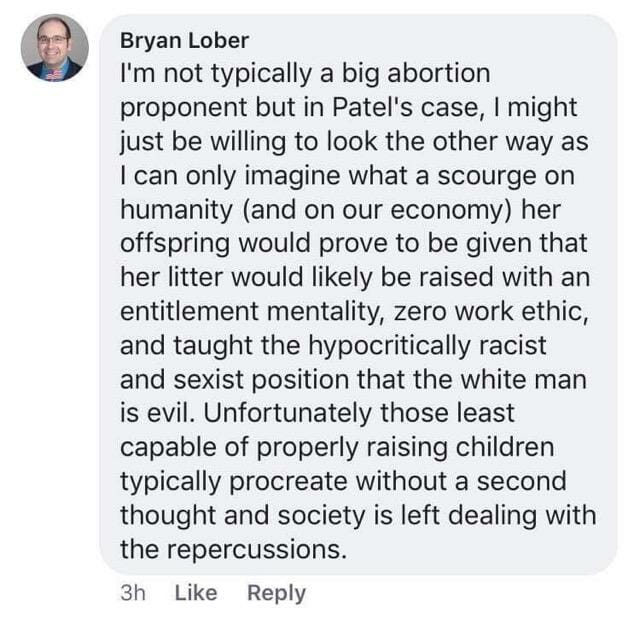 Patel provided screenshots of the since-deleted comments to the Daily Dot.
In a message to the Dot, Patel wrote, "It is entirely inappropriate to dehumanize one's political adversary. To refer to my potential children as a 'litter' and a 'scourge on humanity' is truly beyond the pale. I'm saddened that our national politics has normalized such discourse, and I truly hope that our neighbors, regardless of party, won't stand silent while such poison seeps into our community."
"If Commissioner Lober believed he could prevail on the issues, he wouldn't stoop to cruel, unprovoked personal attacks. Perhaps he's too scared of a powerful woman to fight fair … It's on a whole new level when it's actually a politician talking specifically about my very own uterus. This shouldn't need to be said, but I'd urge Commissioner Lober to refrain from discussing my reproductive organs."
The present conflict, according to Lober, is all Patel's fault.
"It is telling that Patel continues to act as though elected officials have no first amendment protections. Her behavior is an attempt to create unnecessary division between the political parties and to cast an us versus them situation in which she can gain relevance and perpetuate a philosophy of victimhood," he told Florida Politics.
Patel has since called for Lober to resign or for the commission to discipline him.
"I have previously asked the Commission to censure Mr. Lober for his incivility toward local residents, whom he has called 'stupid,' 'rodents,' 'trash,' 'ants' and 'evil,'" she told the Dot.
"After months with no response, their inaction makes them complicit in his abuse."
READ MORE:
Got five minutes? We'd love to hear from you. Help shape our journalism and be entered to win an Amazon gift card by filling out our 2019 reader survey.