An anti-vaccination group founded by Robert F. Kennedy Jr. is suing Facebook and three fact-checking partners for putting a warning label on its page and rejecting ads it wanted to run.
Children's Health Defense filed its complaint in the United States District Court Northern District of California on Monday. It names Facebook CEO Mark Zuckerberg, Science Feedback, the Poynter Institute, and PolitiFact as defendants.
Currently, Children's Health Defense's Facebook page has a large banner at the top that reads "this page posts about vaccines" and links users to the Centers for Disease Control and Prevention's website regarding vaccines. As the CDC notes, vaccinations are imperative to keeping numerous diseases eradicated.
The Children's Health Defense League is steadfastly against vaccinations, and a recent post on its Facebook page says it will sue the University of California over its mandatory flu vaccination policy.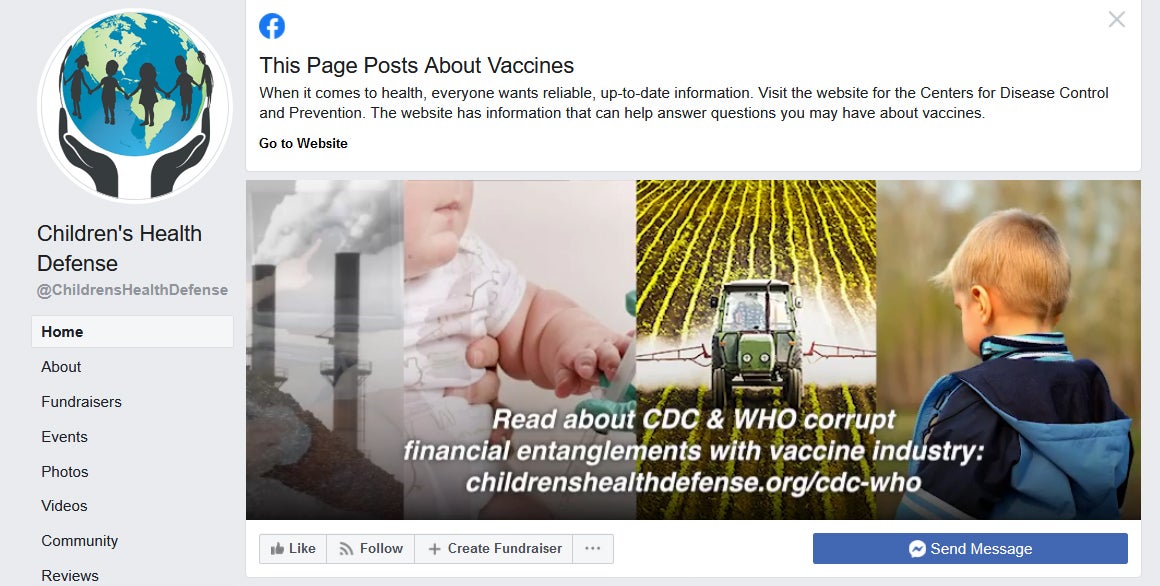 Last year, Facebook said it was limiting anti-vaccination content as a way to "tackle vaccine misinformation." As part of this, the social media giant said anti-vaccine content could not be promoted through ads and it would label pages that share that content.
That decision is at the heart of Children's Health Defense's lawsuit. It claims that its page was "false denigrated" by the label.
The suit also argues that "an officer and an agency within the U.S. government 'privatized' the First Amendment by teaming up with Facebook to censor speech."
Throughout the suit, Children's Health Defense notes numerous times that its posts have also been flagged by fact-checkers and labeled as containing false information and that Facebook rejected ads from them for containing "false information" about vaccines.
---
Read more of the Daily Dot's tech and politics coverage