Facebook is alerting users that it will soon change its terms of service to allow for the social media giant to remove or restrict content that could land it in legal trouble.
Facebook says the change is related to an Australian law that would force the social media giant to share ad revenue with news publishers.
The company on Monday said if that law goes through, it would "reluctantly stop allowing publishers and people in Australia from sharing local and international news on Facebook and Instagram."
"This global update provides more flexibility for us to change our services, including in Australia, to continue to operate and support our users in response to potential regulation or legal action," a Facebook spokesperson told the Daily Dot.
On Monday, Facebook users were sent a notification about the upcoming change for the social media giant's terms of service.
Specifically, the pop up says, effective October 1, it will add the following line to its terms: "We also can remove or restrict access to your content, services or information if we determine that doing so is reasonably necessary to avoid or mitigate adverse legal or regulatory impacts to Facebook."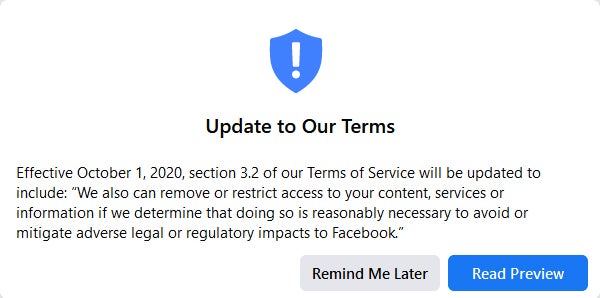 However, the move also comes around the same time as an executive order signed by President Donald Trump that targets Section 230 of the Communications Decency Act continues to move forward.
Section 230 shields websites for being liable for what is posted on them by third-parties. It's been called "one of the most valuable tools for protecting freedom of expression and innovation on the internet."
Critics of Trump's order have warned that without Section 230 it could lead to more content moderation, with websites needing to aggressively crack down on posts that could put them in legal jeopardy.
Trump's social media executive order has faced fierce criticism—and is already facing several legal challenges—especially because without Section 230, websites would have to be come aggressive in moderating messages.
As the Electronic Frontier Foundation explains:
"Given the sheer size of user-generated websites (for example, Facebook alone has more than 1 billion users, and YouTube users upload 100 hours of video every minute), it would be infeasible for online intermediaries to prevent objectionable content from cropping up on their site. Rather than face potential liability for their users' actions, most would likely not host any user content at all or would need to protect themselves by being actively engaged in censoring what we say, what we see, and what we do online. In short, CDA 230 is perhaps the most influential law to protect the kind of innovation that has allowed the Internet to thrive since 1996."
While Facebook mentioned Australia, some people online seem to think Section 230 is in the back of its mind.
Despite the challenges to it, the executive order has been moving through the process.
The National Telecommunications and Information Administration (NTIA), a part of the executive branch, filed a petition for rulemaking with the Federal Communications Commission (FCC) in July.
As part of that, the FCC is now collecting public comments on the executive order, many of which have been from conservatives who believe social media companies have a bias against them.
The period for public comments to be submitted is closing this month.
---
Read more of the Daily Dot's tech and politics coverage