A viral video purporting to show an individual in California filling out seven ballots for Democratic candidate Joe Biden is fake.
The footage, which was originally posted to TikTok but has since been deleted, circulated on Twitter Friday and was used as evidence of widespread voter fraud.
But the TikTok user who first posted the video, Weston Sparrow, has admitted that the video didn't feature real ballots. And it turns out that the footage is actually weeks old as well.
Speaking with the Daily Dot, Sparrow stated that he filmed himself on Oct. 12 filling out sample ballots as part of a joke.
"The TikTok video was political satire using sample ballots anyone can print at home," Sparrow said. "This video blowing up all over Twitter has just proven that people will believe whatever they want to believe."
The footage caught the attention of Eric Trump last month, who threatened to contact law enforcement in a now-deleted tweet.
"Absolutely infuriating," Eric said. "This is California. The Campaign will be notifying Law Enforcement and will be taking immediate legal action…"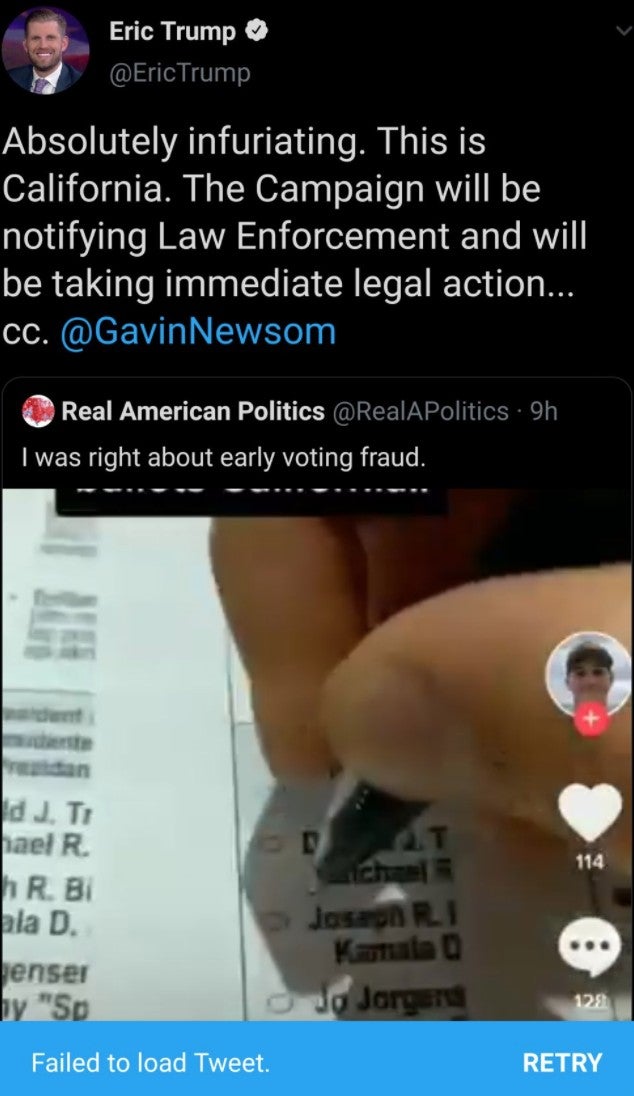 Eric's remarks were picked up by a small handful of right-wing media outlets at the time, although none appeared to challenge the claim. Interestingly enough, the Russian state-run media outlet RT also ran with the story and later included an update noting that Sparrow had admitted to using sample ballots on his TikTok profile.
Sparrow, who says the Daily Dot is the first media outlet to contact him, also noted that the video had been removed last month by TikTok. The Daily Dot reached out to TikTok and was told by a company spokesperson that the video was removed for violating its community guidelines on election misinformation.
Sparrow also added that he was never contacted by law enforcement over the footage.
Numerous videos involving sample ballots have led to widespread conspiracies since the election began.
Footage of a man burning a stack of ballots allegedly filled out by supporters of President Donald Trump also went viral this week but turned out to be fake. The clip, which was also shared by Eric Trump, utilized sample ballots as well.
More election 2020 coverage