President Donald Trump shared a screenshot of a graphic that inaccurately depicted what a Georgetown Politics poll found his approval rating to be.
Early Thursday, the president shared a screenshot of a Fox Business show's graphic that showed his approval rating at 55 percent and his approval rating for handling the economy at 58 percent.
Trump captioned the screenshot with: "Great news! #MAGA"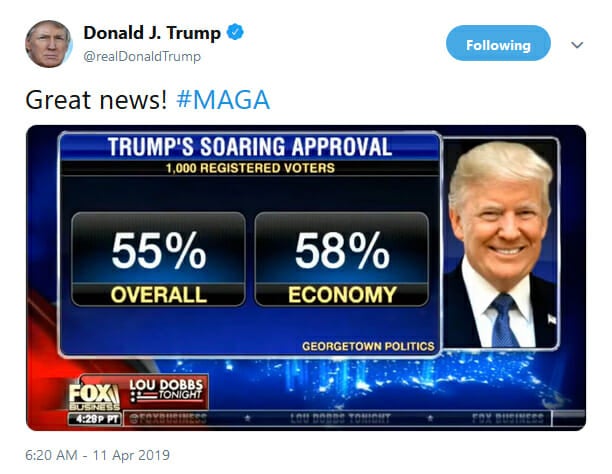 However, the graphic does not represent what was found in the poll.
The Georgetown poll actually found that Trump's approval rating was 43 percent and his disapproval rating was 52 percent.
The 58 percent approval rating on the economy shown in the graphic does accurately show what the poll found.
The discrepancy between the graphic shared by Trump and the actual findings were pointed out by people on Twitter–including Mo Elleithee, the director of Georgetown's Institute of Politics & Public Service, which released the poll.
I'm the Director of @GUPolitics & this graphic is incorrect.

The Battleground Poll shows 58% approval on the economy.

But it shows only 43% overall approval, & 52% disapproval.

The 55% number is the President's unfavorable rating. (Only 40% favorable.)https://t.co/a00b6ljiJl https://t.co/nntXuHaUKj

— Mo Elleithee (@MoElleithee) April 11, 2019
Have to fact check this graphic

Yes, the @GUPolitics poll found a 58% approval for Pres Trump on the economy

BUT…that # on the LEFT is not correct.

Overall approval:
-43% approval
-52% disapproval

Also:
-40% favorable view
-55% unfavorable

Poll: https://t.co/90eH2X3rz5 https://t.co/4APPsFCSSq

— Karen Travers (@karentravers) April 11, 2019
This graphic is only half right.

The GU battleground poll DID find Trump's approval on the economy at 58%

But his overall approval rating was at 43% (31% strongly approve, 12% approve)

You can see the full poll here: https://t.co/ZednvLVyXP https://t.co/yemCAZgKa8

— Carrie Dann (@CarrieNBCNews) April 11, 2019
Real Clear Politics, which takes an average of a number of polls, shows the president with a 43.2 approval rating and 52.7 disapproval rating.
READ MORE: