You recently may have come across a deceptively convincing viral video on TikTok featuring what looked like actor Tom Cruise. Those videos may have seemed real, but they were actually made with deepfake technology.
While the Cruise videos got a lot of attention, they aren't the only deepfakes on TikTok.
Deepfakes are synthesized media created with artificial intelligence to use one person's face on top of someone else's in a video. Now, with the rise in popularity of TikTok, deepfakes are in a perfect position to spread and potentially trick people. Experts think the fake Cruise videos are just the tip of the iceberg.
Last week, the TikTok account Deep Tom Cruise took the internet by storm because of the quality of its deepfake Cruise videos.
"Deep fakes are getting scary good and taking over TikTok. Every public figure should just be on there with a verified account – even if they don't want to make content – to make it easier to identify their fakes. Here's Tom Cruise:" one person tweeted.
Others who have been following deepfake technology are less surprised.
"Here's the crazy thing about this Tom Cruise deepfake…. This isn't even a super high quality deepfake and I'm willing to bet that it could fool most people. Now imagine the quality of deepfake a government agency could produce," reporter Yashar Ali tweeted.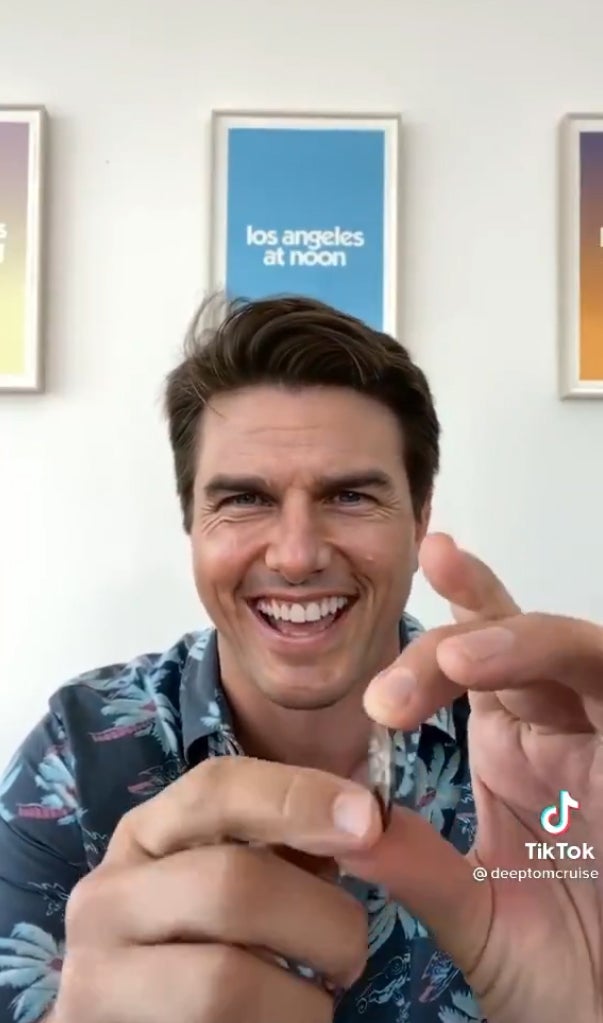 While the Cruise video went viral recently, deepfakes are nothing new. Several other deepfake videos have gone viral in the past few years including one of former President Barack Obama calling Trump a "total and complete dipshit."
The Obama deepfake circulated in 2018, but when compared to the recent Cruise ones, it shows the fairly stark jump in quality that deepfakes have today.
Here's what we know about deepfakes on TikTok and how to spot one.
What is a deepfake?
Put simply, a deepfake is like a photoshopped video. It takes the face of one person, not in the video, and puts it on another person so they can speak and appear as the original person.
Deepfakes became widely known in 2017, but blew up in 2019 primarily on pornographic websites, according to AI firm Deeptrace.
Some of the more popular deepfakes have been putting president's faces on actors from Saturday Night Live impersonating them. The deepfakes make it look like the president actually said the whatever ridiculous thing was said in the SNL skit.
This video shows former President Donald Trump's face on top of actor Alec Baldwin.
Deepfake videos like the one of Trump have several identifying factors. The first cue is if the face appears misplaced on the head. Or, if the mouth, nose and eyes move awkwardly when the person talks.
In addition, if something, like a hand, moves in front of the face, the deepfake typically pauses to relocate the head placement.
But as the quality of deepfakes increase, finding the telling cues can become more difficult.
Is TikTok the place for deepfakes?
It's clear that deepfakes are exploding on TikTok, with apps advertising ways to change their videos to include the faces of celebrities.
Some TikTok users are turning themselves into celebrities and having conversations with them that appear to be real.
Take singer Harry Styles. This TikTok received 5.6 million likes. However, unlike the viral Tom Cruise TikToks, it's pretty clear this video didn't actually have Styles in it.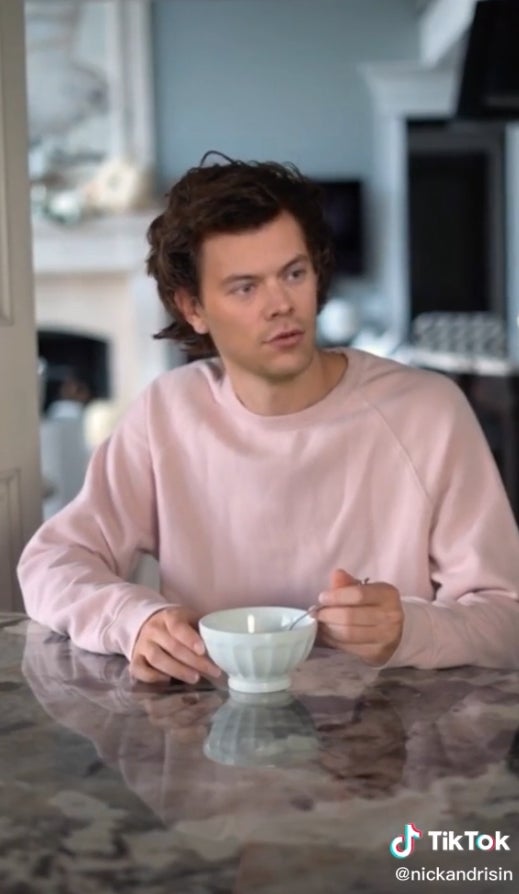 Meanwhile, entire accounts are dedictaed to deepfakes. The account impressions.app posts deepfakes of famous figures from former presidents to singer Billie Eilish.
In one recent video, the account posted someone dressed as the character Wanda Maximoff from WandaVision with the voice of Thanos from the Marvel universe. As the person's face changes in the video to the actress Elizabeth Olsen, Thanos' voice says "Now, reality can be whatever I want."
Given the rise of deepfakes on TikTok, the message is quite prescient.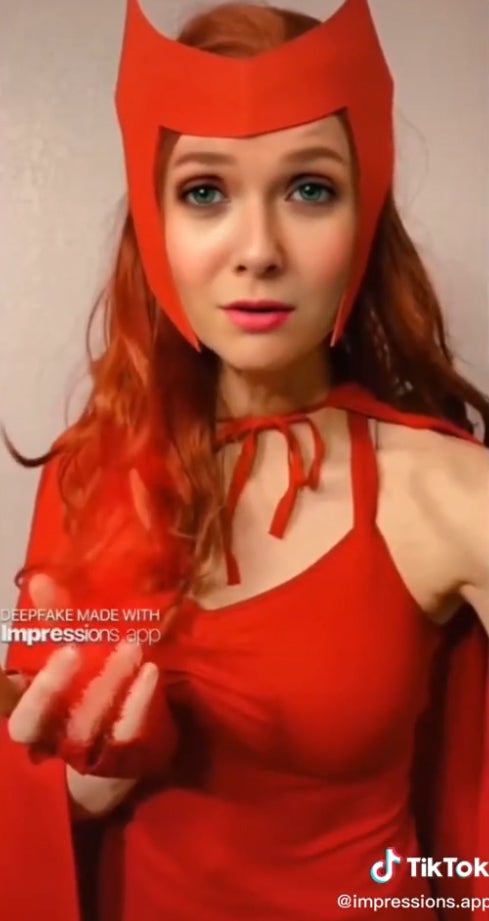 If that wasn't enough, impressions.app says it has over 100 celebrities to choose from, including Eilish.
While TikTok insists that certain deepfakes and "manipulated content" are against it's policies, it may not seem that way to an average user. The popular app seemingly has advertising deals with deepfake applications, with one deepfake app being advertised on the "For You" page.
REFACE, like impressions app, is an application where users can put celebrities faces on their own videos.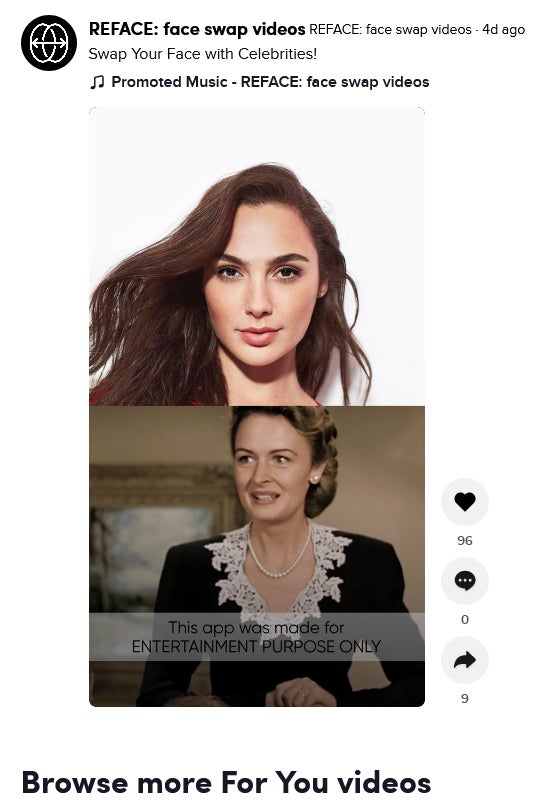 The deepfake videos, accounts, and advertisements seem to skirt the line of TikTok's policy against deepfakes and manipulated videos that it updated last year.
"We're adding a policy which prohibits synthetic or manipulated content that misleads users by distorting the truth of events in a way that could cause harm," TikTok wrote in a blog post. "Our intent is to protect users from things like shallow or deep fakes, so while this kind of content was broadly covered by our guidelines already, this update makes the policy clearer for our users."
In the app's terms of service, it also says users may not: "impersonate any person or entity, or falsely state or otherwise misrepresent you or your affiliation with any person or entity, including giving the impression that any content you upload, post, transmit, distribute or otherwise make available emanates from the Services."
Shortly after the Deep Tom Cruise account went viral for its videos, the videos appeared to be taken down from its page.
It could be argued that deepfakes about Marvel movies or other celebrities may not "cause harm" like the policy says, but other videos including politicians certainly could under certain circumstances.
TikTok did not respond to a request for comment from the Daily Dot.
Are deepfakes on TikTok dangerous?
Deepfake apps market themselves as harmless face swapping tools. But, there are ethical implications of taking someone's face and quite literally putting words into their mouth.
By nature, deepfakes are a violation of privacy because they typically never earn consent from the celebrity (or average person) to use their face on other people's bodies.
That sentiment has been noted by numerous people online.
"not sure why deep fakes are seen as a quirkly [sic] lil funny internet tool and not a digital weapon that'll start ruining people's lives soon, systemically and interpersonally," one person tweeted.
Now, deepfake videos are rapidly increasing in quality so it is harder to tell what's real from fake.
"In January 2019, deep fakes were buggy and flickery," Hany Farid, a UC Berkeley professor and deepfake expert, told Forbes last year. "Nine months later, I've never seen anything like how fast they're going. This is the tip of the iceberg."
Meanwhile, Rachel Tobac, the CEO of online security company SocialProof Security, said the Tom Cruise deepfakes showed that there was a need for "synthetic media detection + labels ASAP."
"Deepfakes will impact public trust, provide cover & plausible deniability for criminals/abusers caught on video or audio, and will be (and are) used to manipulate, humiliate, & hurt people," Tobac said in a Twitter thread. "If you're building manipulated/synthetic media detection technology, get it moving."
There have already been high profile instances of people trying to use deepfakes as an excuse for something they didn't like. When Trump posted a video condemning the violence at the Capitol on Jan. 6., his supporters could not believe that Trump would disavow their actions after he endorsed doing so for weeks.
So, a conspiracy theory quickly popped up, trying to say that Trump's video had to be a deepfake (despite the fact that the video was posted to an official Trump administration YouTube account).
Meanwhile, on TikTok users rapidly view videos with the swipe of a finger. It leaves little time to decipher if that was actually Tom Cruise or not.
To help fans, Cruise made an official account on TikTok with no videos posted yet. It is something celebrities are encouraged to do to protect another accounts from using their face and posing as the real deal.
---
Read more of the Daily Dot's tech and politics coverage