Claudia Conway is saying her mother, Kellyanne Conway, had her arrested and is also seemingly accusing her parents of abuse.
The teen said on TikTok she was arrested for allegedly making false statements about the White House senior counselor online, according to Heavy. Conway also reportedly accused her mom of physical and emotional abuse on TikTok Live.
Conway is now seeking a pro bono lawyer, and, in one video, she tells her followers via her comments section that she is "safe for now and staying with a friend in a different state."

Conway, who is memeing the alleged arrest on TikTok, is also saying her mom is threatening to have her allegedly arrested again for making "false allegations." In a video posted at the beginning of August, Conway recapped her "2020 so far." In it, she says there have been "non-stop CPS investigations because (her) parents are abusive" and that her "mom got (her) arrested."
She also retweeted a tweet that reads: "claudia conway just went live on tiktok and talked about how her mother has physically and emotionally abused her for years and had her arrested for fake assault charges a few weeks ago…….someone get this girl emancipated STAT."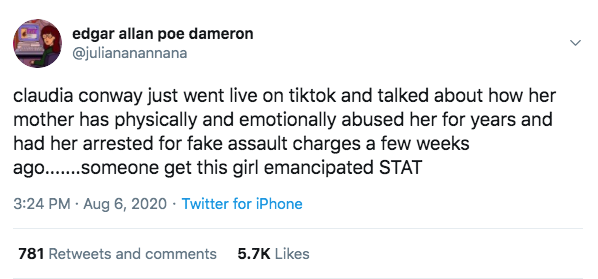 In another TikTok video, the 15-year-old says she felt like she was being sexually harassed by an authority figure at boarding school and that he came into her room "every night." She claims her mom dismissed the allegations as him "just looking out for" Conway when Conway brought it to her attention.
After going public with her allegations on TikTok, where she boasts nearly half a million followers, Conway put out a PSA to members of the media. "DO NOT USE MY TRAUMA AS A MEANS FOR PUBLICITY OR PROFIT. IT'S SICKENING. I AM 15 YEARS OLD. EXPLOITING A MINOR PUBLICLY IS DISGUSTING," she tweeted.
She has also responded to people who are criticizing her for how she portrays her mom. "Can you all stop telling me how to live my life and portray my mother? i respect her to the extent she deserves. the woman got me ARE$$TED. ruined my life. i'm doing what i can. mind your business," she wrote in one TikTok video.
In June, it was discovered Conway was a vocal Trump-hating leftist on the platform. Since then, Conway has been in a public struggle with both her parents—especially her mother—regarding her online presence.
READ MORE: