Over the weekend, New York City Mayor Bill de Blasio's daughter, Chiara, was arrested while participating in one of the many protests that erupted across the city and the county in response to the police killing of George Floyd.
And on Twitter, the Sergeants Benevolent Association (SBA), one of the city's most vocal police unions, posted the arrest sheet, essentially taunting the mayor over it.
"How can the NYPD protect the city of NYfrom rioting anarchist when the Mayors object throwing daughter it one of them," it wrote. "Now we know why he is forbidding Mounted Units to be mobilized and keeping the NYPD from doing their jobs."
The tweet the SBA sent out did not black out the identifying information, including the age and address of de Blasio's daughter.
The SBA has long been at "war" with de Blasio over the mayor's handling of the city's police. It has bristled at even the mildest pushback from the mayor, who has frequently discussed how he handles discussing policing with his children, who are biracial.
NYPD officers also infamously turned their backs on de Blasio at funeral for a slain police officer.
Over the course of the protests and riots in New York City, however, de Blasio has been supportive of the police, saying at one point that officers have been showing "a lot of restraint" over the weekend.
Twitter locked the account of the SBA until it deleted the tweet, Gizmodo reports, which likely violated its policies on posting revealing information.
But online, the SBA has continued to tweet attacks against the mayor as well as the city's chief of police.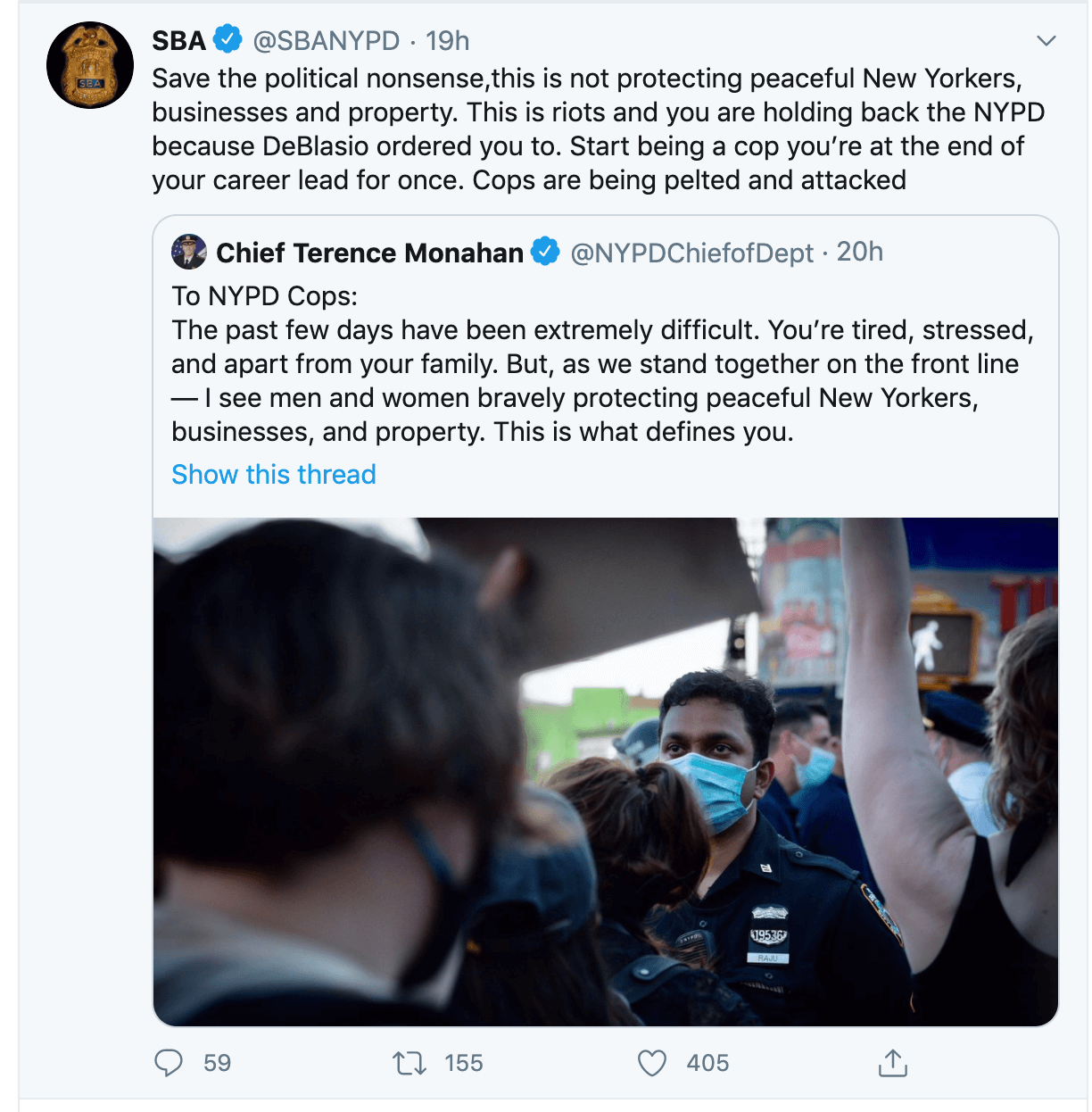 READ MORE:
H/T Dell Cameron/Gizmodo