Conspiracy theorists are convinced that President-elect Joe Biden has been using a body double during certain public events.
In numerous examples across social media, users allege that Biden's earlobes reveal whether he is the real politician or the secret lookalike.
As noted by Snopes, accounts on sites such as Twitter and TikTok are analyzing photographs of Biden and pointing out what they believe to be inconsistencies in his appearance.
One popular conspiracy theorist on Twitter, a user known as @AwakenedOutlaw who boasts nearly 115,000 followers, amplified the claim when comparing a years-old video of Biden to a current picture.
"Note the earlobes on the video...they dangle," the user wrote. "And for some odd reason Biden's earlobes now connect directly to his neck. Do with that information what you will."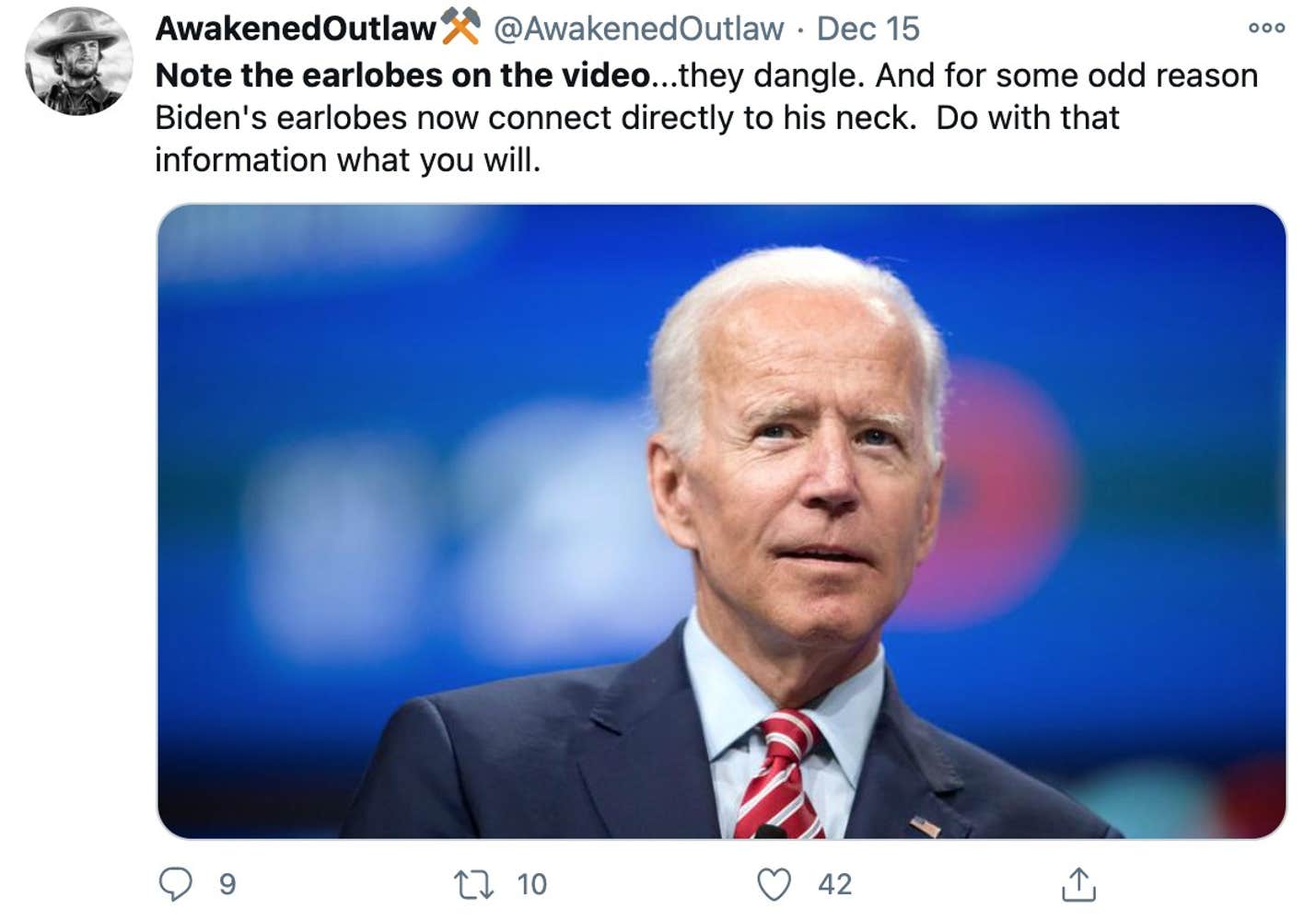 The claim has been spreading online since Biden announced his intentions to run for the presidency. Body double allegations have been popular among conspiracy theorists for years.
In a video on TikTok, another conspiracy theorist asserted that there were "clearly two Joe Bidens" based again on his earlobes.
"OK, that's a detached earlobe if I ever saw one. There's clearly two Joe Bidens because when you see this one he has an earlobe that is detached," @dannycardenasxiv said. "The other Joe Biden has an earlobe that is straight, it is attached. There's something funky going on here."
Another example pointed out by Snopes comes in the form of a Reddit post, in which a user asks if Biden has a "clone."
Links to photos of Biden from 2008 and 2020 are cited as proof of the conspiracy.
"It's not even just the earlobes, the main focus is the structure of his face like his eyes, head shape," another user says of the post. "The new Biden looks more sculpted than his older version, more enhanced feature?"
As should be obvious to most, the images shared online aren't proof of anything. Countless pictures of Biden across the web show that there are no irregularities in his appearance and that he is merely aging.
Biden is far from the first high-profile individual to have his earlobes scrutinized by conspiracy theorists. Internet users have also claimed that photos featuring deceased sex offender Jeffrey Epstein's ears prove that he has a body double as well.
Aside from his allegedly nefarious ears, Biden was also accused of having a secret earpiece and contact lens during the 2020 presidential debates in order to be fed answers to questions. Neither claim was true.
---
This week's top technology stories
H/T Snopes