Twitter has crowned Barbara Walters a new champion of "the resistance" thanks to a resurfaced 1990 interview with Donald Trump.
In the popular video, tweeted by @BLONDIE_007_, Walters grilled Trump about his then-recent business failures and flirtations with bankruptcy.
"I've never seen press reporting as I have in regards to me," Trump says, going on the defensive with a line that sounds quite familiar today. "And I hope the general public understands how inherently dishonest the press in this country is."
"As a member of the press, let me try to clear up some of the things that you say aren't true," Walters counters, reading back to Trump some of his own quotes about making a "terrific deal" with bankers that would be a "great victory" for him .
"Being on the verge of bankruptcy, being bailed out by the banks," Walters responds, holding a hand up when he attempts to interrupt. "What, skating on thin ice and almost drowning, that's a businessman to be admired?"
Walters' swift shut-downs when Trump tried to deflect quickly won over the president's critics on Twitter, who shared the clip thousands of times.
"Barbara Walters SKEWERED trump here. He was as full of lies then as he is now," tweeted Martina Navratilova.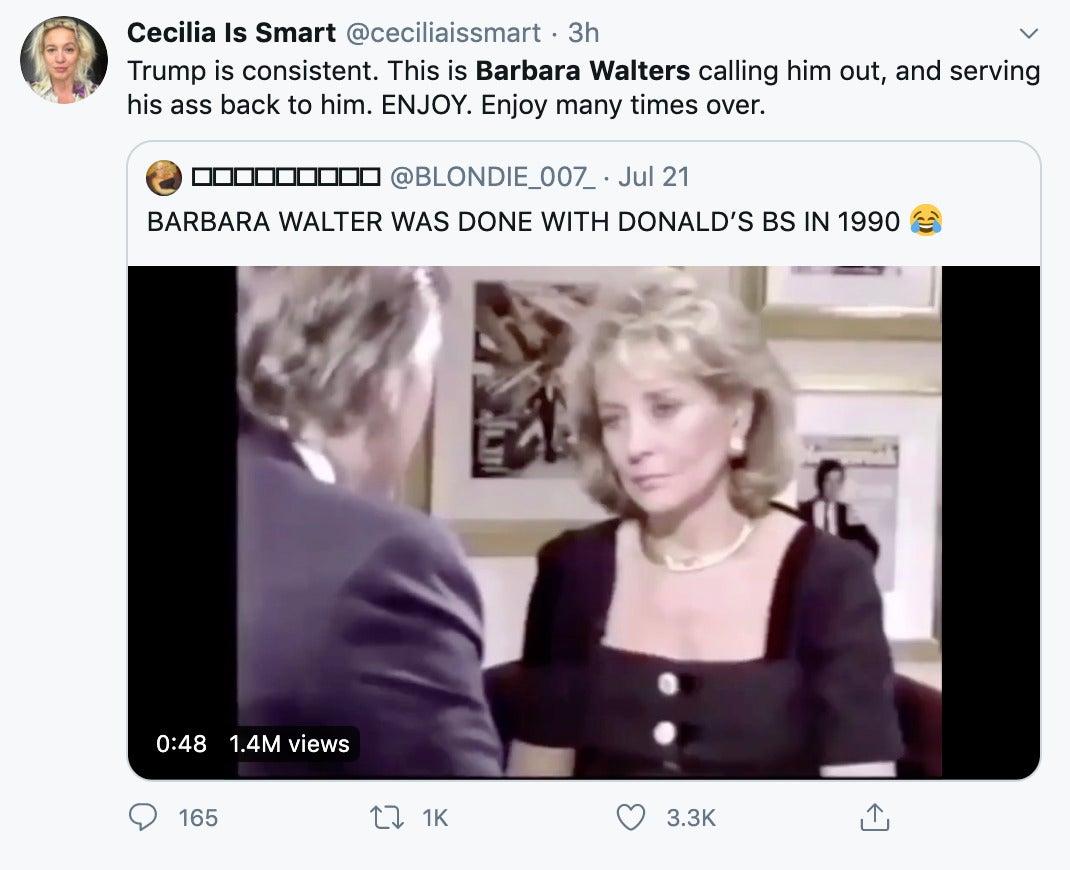 "This is Barbara Walters. This is called journalism. Idk wtf we got today," wrote another user.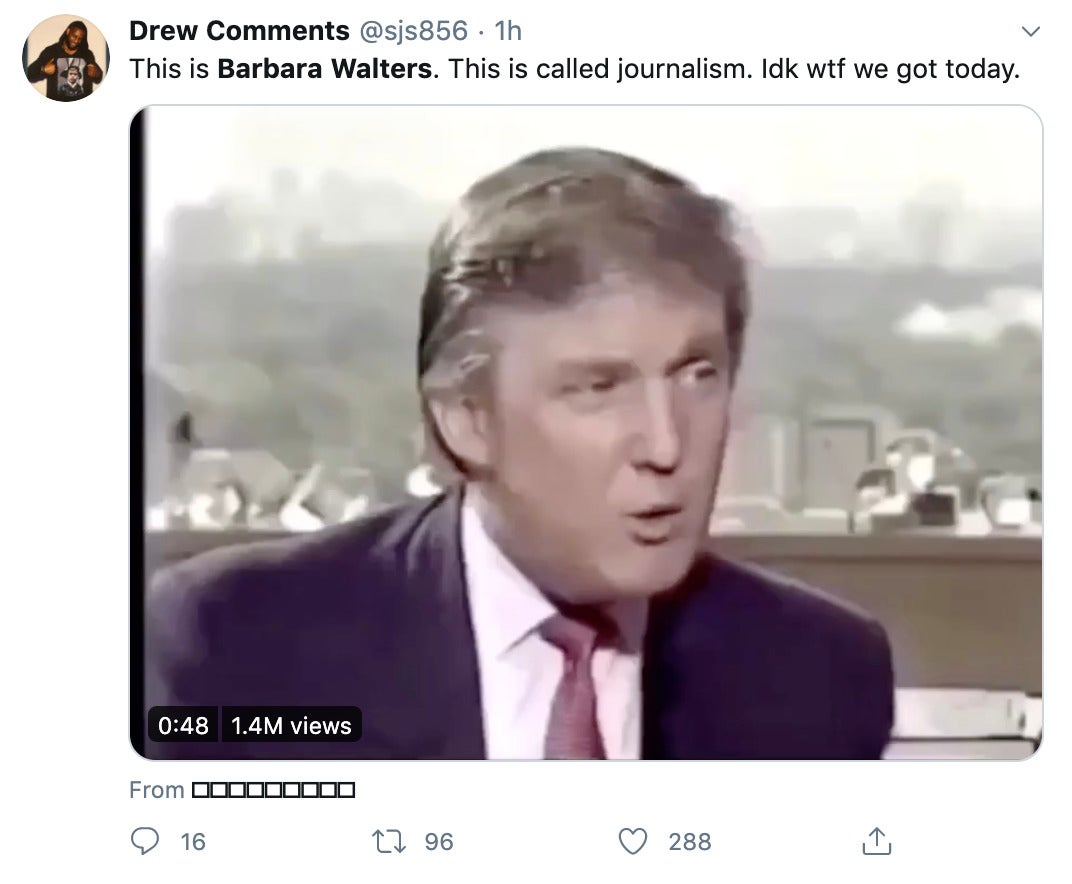 But some, including writer Yashar Ali, criticized the rush to praise Walters for the quick clip, considering her multiple interviews and interactions with Trump over the years.
"SOME members of resistance Twitter are going wild over this clip saying things like 'I wish Barbara Walters could interview him today!' Ali tweeted. "This is one short clip. Barbara was a friend of Trump's, frequently protected him, and was scared of him. SMH at your resistance fan fic."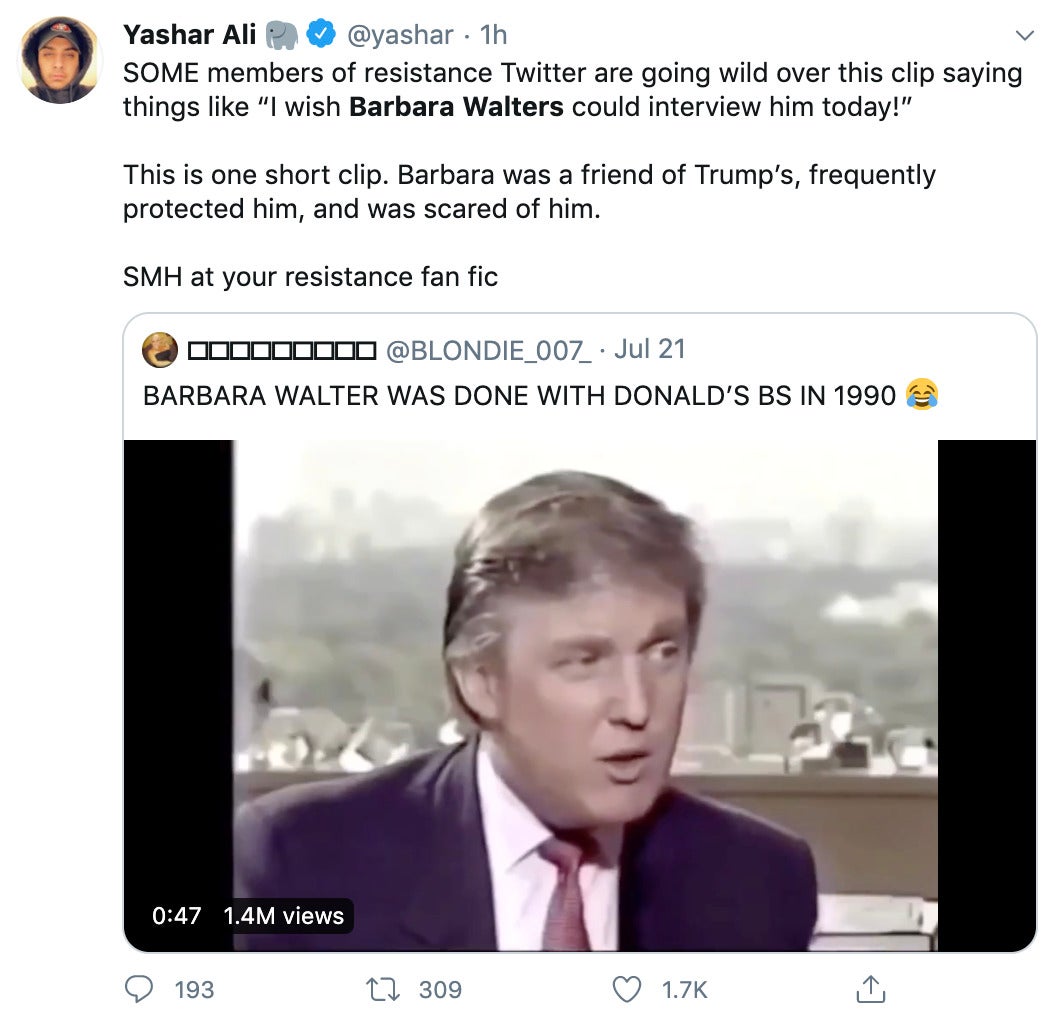 According to ABC 20/20, Walters did her first interview with Trump in 1987, which included riding in a helicopter with him over New York City. Nearly 30 years later, she was still on the Trump beat, profiling him in a multi-part series during the 2016 election.
As for the trending clip from 1990, users have uploaded the full 18-minute-long feature on YouTube, so you can be the judge of Walters' resistance chops.
READ MORE: