Today is Holocaust Remembrance Day, which occurs on the anniversary of the liberation of Auschwitz, the infamous concentration camp in Poland where 1.1 million people, the vast majority Jewish, were murdered by Nazi Germany. Auschwitz was the Nazi's largest extermination camp.
In honor of the occasion today, the Auschwitz-Birkenau State Museum is calling on Facebook to ban Holocaust denial on its platform.
This morning, the museum tweeted a link to an editorial in USA Today by American Defamation League CEO and National Director Jonathan A. Greenblatt, "@Facebook should ban #Holocaust denial to mark the 75th anniversary of #Auschwitz liberation."
'@Facebook should ban #Holocaust denial to mark 75th anniversary of #Auschwitz liberation' https://t.co/vM3JeQ6YJc | @usatoday

— Auschwitz Memorial (@AuschwitzMuseum) January 27, 2020
Greenblatt accuses Facebook of knowingly allowing people on its platform to deny the Holocaust, which he equates with anti-Semitism.
Facebook, he writes, has chosen to view Holocaust denial as mere "misinformation," rather than hate speech, and thus, in spite of public pressure, refused to ban it.
Others echoed Greenblatt's criticisms, though some opined that banning such speech on the platform would merely drive it underground.
MotherZucker only cares about imprints and information to sell. His ethics are as situational as a chameleon's skin colour. He's the Robo-Trudeau of silicone valley.

— Rex (@TheNorthSignal) January 27, 2020
Although rhetoric is clearly more extreme on darknet platforms the population of users is less. When Milo Yiannopoulous was de-platformed from YT (Or some other platform? Can't remember) his Telegram following was much smaller. Not saying tg is darknet, just illustrating my point

— Drone, the Quarantined Qabalist (@DronestruckSec) January 27, 2020
Greenblatt goes on to applaud the efforts of other social media platforms, writing of YouTube and TikTok's decisions to ban Holocaust denial.
"Addressing these problems will take a concerted effort by the tech industry," Greenblatt writes. "For that to happen, though, there needs to be a full recognition of a basic reality: Holocaust denial is anti-Semitism and therefore hate speech."
He also acknowledges internet companies' struggles at policing such material.
While others at least attempt to crack down on Holocaust denial, Facebook chooses to allow it.
Greenblatt writes of a Facebook group called "Holocaust Revision" where members promote "a 'Holocaust Deprogramming Course,' which claims it will free readers 'from a lifetime of Holo-brainwashing.'"
In its description, the private Facebook group claims it isn't a Holocaust denier.
"This group is for actual research into what really happened during the Holocaust…" Holocaust Revisionism states, "how many people died, and how many people were transferred to Palestine."
The 1933 Havaara Agreement between Nazi Germany and Zionist Jews secured the transfer of 60,000 Jews to Palestine. This was the only such agreement; it is often falsely cited as evidence of Hitler's Zionism.
As Greenblatt notes, it doesn't take much effort to find other examples of Holocaust denialism on Facebook.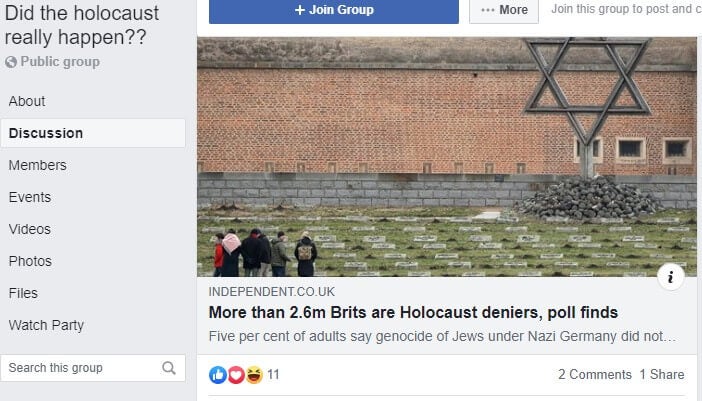 Beneath posts like the one above, comments include, "People start to waking up.!!!!" and "We gotta boost those numbers up!"
Such content, Greenblatt asserts, is contributing to the proliferation of anti-Semitism and hate crimes against Jews, such as the mass shootings in Pittsburgh, Jersey City, and others.
The editorial concludes with this plea: "Social media companies can play a unique role in helping preserve that history by adopting policies that explicitly forbid Holocaust denial. In light of the wave of anti-Semitic violence that has plagued our country over the past year, it's time for these companies to step up."
In 2018, Mark Zuckerberg, who is Jewish, told Recode that while he finds Holocaust denialism "deeply offensive," Facebook shouldn't regulate such speech. "I don't believe that our platform should take that down because I think there are things that different people get wrong," he said.
READ MORE: