Have you ever wanted one way to subscribe to several of Apple's services for one price? Well, Apple One is your answer.
Apple One, which is coming "this fall," includes all kinds of services from the tech giant including: Arcade, Apple Music, Apple TV Plus, Apple News Plus, Apple Fitness Plus, and iCloud. The bundle offers several paid plans for individuals and families. It is the company's latest move in the paid-subscription industry.
Last November, Apple TV Plus launched as a competitor to Netflix, Hulu, and Amazon Prime. Although the company has yet to release the number of paid subscribers to their streaming service, Bloomberg reported that it had 5 million active users in February, compared to Netflix's 192,950,000 million active subscribers, as of the first quarter of 2020.
Apple One is not the first bundle the company has offered. Right now, users can bundle iCloud and Apple Music. When Apple TV Plus first launched, buyers received a full year of the service with the purchase of any Apple device.
That free year is approaching its end and it is likely that the tech giant does not want the streaming service to lose subscribers especially after the company increased their content budget from $1 billion to $6 billion.
So, it makes sense that the company would launch a mega-bundle, hoping to wrap up more subscribers.
Ultimately, if you are an Apple enthusiast, Apple One almost has it all (if it could only prevent iPhone screens from cracking).
What is Apple One?
Apple One is the company's largest bundle plan. Instead of charging costumers for each monthly subscription, users can use up to six applications for one price.
The plans offered range from "Individual" at $14.95 per month to the "Premier" plan at $29.95 per month. Single users can purchase the lowest costing plan in order to bundle Music, TV Plus, Arcade, and 50 gigabytes of iCloud.
Next, the new subscription package offers families a plan with the same services as the "Individual" plan but with 200 gigabytes of iCloud for $19.95 per month. The "Family" offer permits up to five members on one plan.
Finally, for Apple fanatics, the "Premier" plan offers all of the services for $29.95. That means Music, TV Plus, Arcade, two terabytes of iCloud, News Plus, and Fitness Plus all for about $30 a month. The "Premier" plan also allows up to five users on one plan.
For those who want to try it out, the company is also offering a one-month free trial for the services that a user is not currently paying for if you sign up for Apple One.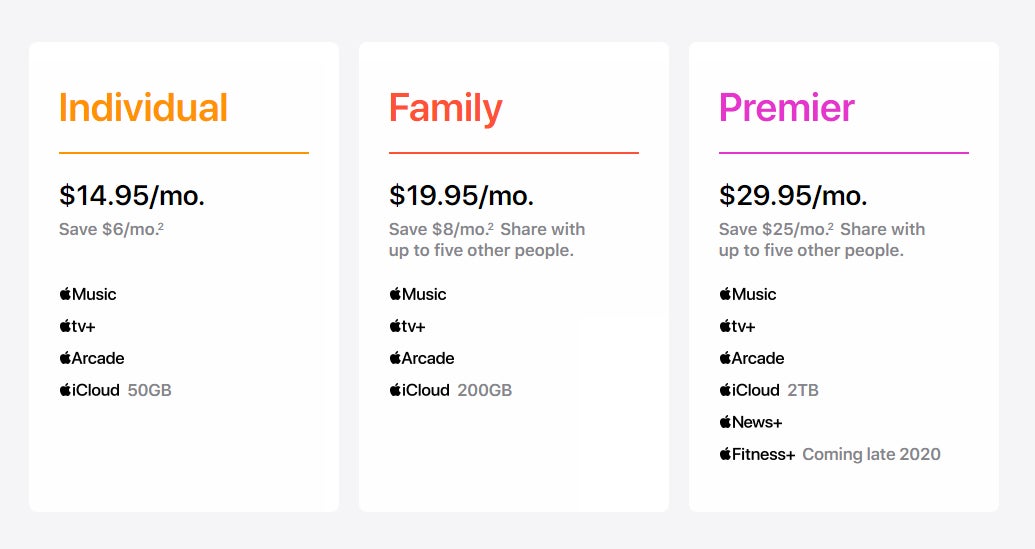 What is included in Apple One?
While some of the services on Apple One are staples to the average user like iCloud and Music, the bundle plan features new services like Fitness Plus.
Here's a look at what is included in the subscription bundle.
Apple Arcade
The game platform, launched in September of last year, contains more than 100 games available to play on mobile devices, computers, and Apple TV.
Games can be played on-the-go and users can download games to play offline. Arcade without the new subscription package is $4.99 per month.
Apple Music
Most people who listen to music on mobile devices have debated what is the best audio app. Spotify, SoundCloud, and Apple Music compete for those kinds of users.
Apple Music provides its own set of music plans for the student, individual, and family. The standard price for individuals is $9.99 per month.
Like Arcade, Music can be downloaded for listening offline. The service has over 70 million available songs along with curated playlists and radio for every listener.
Apple TV Plus
Apple TV Plus is the company's TV and movie streaming platform. It has access to classics while also providing original Apple content.
One Apple original, The Morning Show, featuring Jennifer Anniston was nominated for an Emmy.
The service by itself is $4.99 per month or free for one year with the purchase of a device.
Apple promises new originals every month, according to its home page. The platform is streamable on any Apple device as well.
Apple News Plus
Apple News Plus is a mobile app that aggregates top news stories. It is essentially an add on to its original free news app.
The subscription cost, $9.99 per month, provides buyers with access to hundreds of magazines and newspapers like the Wall Street Journal, the Miami Herald, and others who have a paywall. Podcasts are also featured in the app.
Apple Fitness Plus
Apple Fitness plus is one of the new features included with the new subscription package. Coming in late 2020, the exercise app compiles weekly workouts and tracks metrics.
It is offered separately for $9.99 per month, or free for three months with the purchase of the Apple Watch One.
iCloud
The iCloud service has become an essential storage space for Apple users. Instead of keeping everything on one device, iCloud saves photos, messages, and files all under one account. It ended the days of losing content with a drop of the phone.
Prices range from free to $9.99 per month depending on storage amounts.
Is Apple One worth it?
Apple lays out how much money a user could save per plan as compared to standard, individual service plans.
The company says the individual plans saves users $6 per month, $8 per month for the family plan, and $25 per month saved under the premier plan. All savings are based on the standard prices for each service, the website states.
But, it all depends how the buyer uses the content. If a user only typically frequents on Music and uses iCloud, then it would probably not be cost effective to buy the bundle.
It is a different story if a user is already subscribing to the pricier services from the company. Then, bundling would lower the costs and add in some other features that a user may not already be using.
What about the iPhone?
One major item missing from Apple One is the iPhone. In the past, the tech giant has bundled some subscriptions like TV to the purchase of a device.
There is a monthly plan relating to device called the iPhone Upgrade Program. It is $35.99 per month for the newest iPhone each year. It also comes with insurance coverage for cracked screens and other problems.
But, this mega-bundle does not include any device plan.
Instead, the tech giant brought attention back to their devices with the latest iOS 14 update. The new software changed the iPhone interface shaking users everywhere.
---
Read more of the Daily Dot's tech and politics coverage