Thousands of people online have rallied around a boycott of Amazon to show solidarity with a strike among employees occurring in Europe.
The #AmazonStrike hashtag on Twitter, and numerous posts on Tumblr have led the charge among internet users who are supporting employees who have held strikes against the retail giant in the past.
Employees in Spain launched a strike on Tuesday, according to the Observer—ahead of Amazon's Prime Day sales next week. Workers in other countries have also joined in on the strike.
The news outlet reports that employees are seeking "health and decent jobs" and benefits for all employees that work for the company.
"We are promoting the idea of a European general strike in the second week of July," the workers said in a statement. "That is when Prime Day is, a day during which Amazon aims to sell millions of products in what is one of its most important days of sales. The idea is that if no concessions to the workers are made, that day will not take place."
The word seems to have reached the internet, who are rallying behind the workers.
hey guys remember today is the transnational #amazonstrike (called for by workers in Spain!). even though it's a big sale day, show your solidarity and don't use the site today! help end worker exploitation by one of the richest companies worldwide!

— mathias (@mat_gnesium) July 10, 2018
https://twitter.com/blankieblankety/status/1016710243970113538
https://twitter.com/importantclaire/status/1016708723136454656
I'm supporting the #amazonstrike because labor rights are essential and @amazon as a company is terrible and treats their workers like garbage https://t.co/iaZwB5ulaG

— Sharona Ginsberg (@linguomancer) July 10, 2018
https://twitter.com/paigeshier/status/1016703236651343873
Avoiding eveything @amazon today and for the forseeable future, in solidarity with the transnational strike. Until you can reliably treat your workers like actual human beings, you'll recieve no buisness from me. @JeffBezos #amazonstrike #amazonboycott

— Caro Marks (@SEtheENBY) July 10, 2018
I'm tired if how @amazon treats it's workers. I'm not renewing my prime subscription or buying from them today in support of the #amazonstrike

— Violets (@shieldmaiden21) July 10, 2018
The sentiments on Tumblr were similar.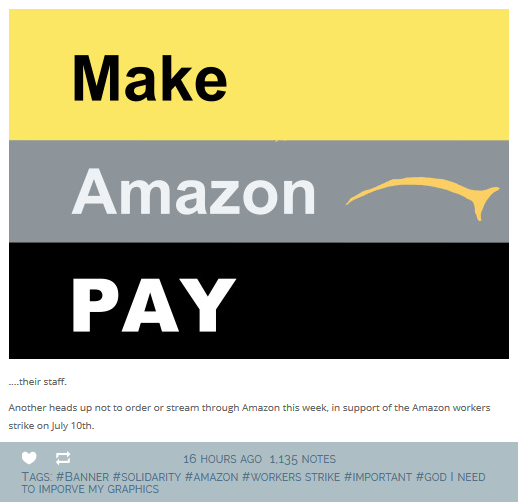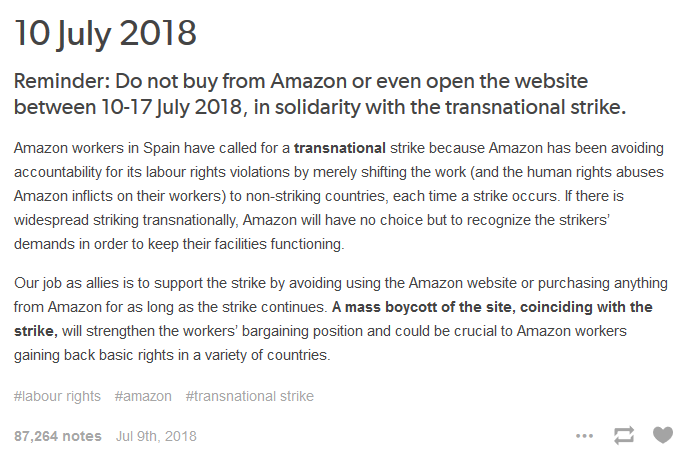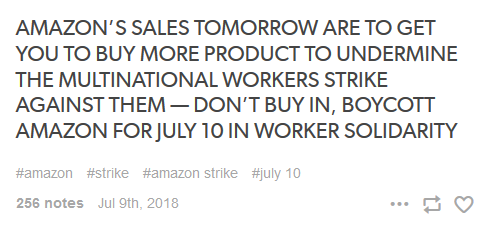 As the Observer notes, the boycott comes ahead of Prime Day, a sales event that has become bigger than Black Friday.
READ MORE: