Retired congressman Ron Paul, known for his libertarianism, three presidential bids, and looking like a friendly grandpa, isn't exactly a fan of the current economic system in the U.S. Paul's political agenda centered on economic shakeups like returning to the gold standard. And even though he retired from Congress, Paul still regularly chimes in on U.S. economic policy. 
Paul's status as the Fezziwig of Libertarianism and a high-profile supporter of alternative currencies has won him supporters in the cryptocurrency world. So the fact that there's now a cryptocurrency called RonPaulCoin shouldn't be too surprising. As reported by Vice, which has been impressively on the ball when it comes to identifying celebrity-themed cryptocurrencies, RonPaulCoin (or RPC) debuted on Dec. 29, and the digital currency, which uses Litecoin's SCRYPT-based protocol, is off to a very strong start.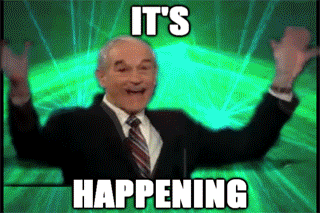 In the past day, since receiving some press, RonPaulCoin has moved from the 56th most popular cryptocurrency to the 47th, according to cryptomarket tracker Coinmarketcap. 
Ron Paul Coin's scope is more constrained than Bitcoin or some of the other larger cryptocurrencies: RPC has capped its maximum number of coins at 2.1 million, a substantially smaller number than Bitcoin's 21 million or Litecoin's 82 million (and way, way smaller than Dogecoin's insane theoretical max of 100 billion dogecoins). 
This smaller coin pool is a deliberate choice. As the RonPaulCoin website explains, "scarcity creates value—not abundance. RonPaulCoin is built on this quality of scarcity, like gold, which Ron Paul so commonly speaks in support of. Because of this, RPC has one tenth of the total coin supply that Bitcoin will ever have." Since they're scarce and have attracted fans of Paul's economic philosophy, each RPC is valued at more than $40 right now. It's an impressive showing for such a young cryptocurrency.  
I got in touch with the founder of RonPaulCoin, who goes by Colin, and he assured me that even though the coin pool is limited, his ambitions are not. "In 10 years I would like to see RonPaulCoin at the top of its league—one of the top performing alternate currencies next to Bitcoin," he wrote in an email. 
I asked Colin where he came up with the idea for RonPaulCoin. Appropriately, he was inspired by Ron Paul. 
"First, because I believe in what Ron Paul stands for and his viewpoint on economics," he wrote. "I wanted to incorporate these things into a cryptocurrency. Second, because I disagree with the government's control of people using money and the government's frivolous and irresponsible use of money (printing it on a whim and devaluing people's hard-earned money). And third, because digital currencies are the future and there is no escaping that now that it has begun." 
If you want to buy RonPaulCoin, you first need to have Bitcoin, and Colin suggests that the two currencies are complementary. "They both support each other," he writes. "For example, RonPaulCoin is introducing new people to Bitcoin because of their interest in Ron Paul. These people come to me and want to know how to get ahold of RonPaulCoin. To do this (without mining), you must buy Bitcoin first. So it's a symbiotic relationship." 
The RonPaulCoin team may have trouble swaying Paul to use his namesake currency. Yes, he's expressed interest in Bitcoin, but he isn't without reservations. "In my mind, I have trouble believing that this will be the money of the future. It may be an interim money, it may work better than I think, and who knows what will happen," Paul told Fox News. 
Ron Paul Coin is one of many seemingly niche coins to crop up in the news recently. The surprisingly robust adoption of Dogecoin and the media anticipation surrounding upcoming Kanye-themed Coinye West might make you think we've achieved Peak Novelty Cryptocurrency. But I hope that's not true. These currencies might not individually make much of an impact on the market, but they introduce tweaks to the original Bitcoin setup that encourage innovation. They each bring attention to the dynamic, flexible side of cryptocurrency, and they bring a set of evangelists into the cryptocurrency fold. Bitcoin will be healthier with many alternate digital currencies complementing it. 
H/T Vice | Photo via RonPaulCoin.com