With September only two weeks away, fashionistas everywhere are anticipating the arrival of their favorite retailers' fall catalogs. Receiving these sneak peeks into upcoming fall fashions is always exciting. But this year, things are a little different for J.Crew's snail mail subscribers. 
For the first time, they won't be getting the initial look at J.Crew's collection—that honor is going to the company's Pinterest followers.
On August 19, the fashion retailer exclusively released its "September Style Guide" via a Pinterest board. Not only can consumers get a sneak peek at upcoming fashions on the board but J.Crew also gives pinners first dibs on preordering the new styles.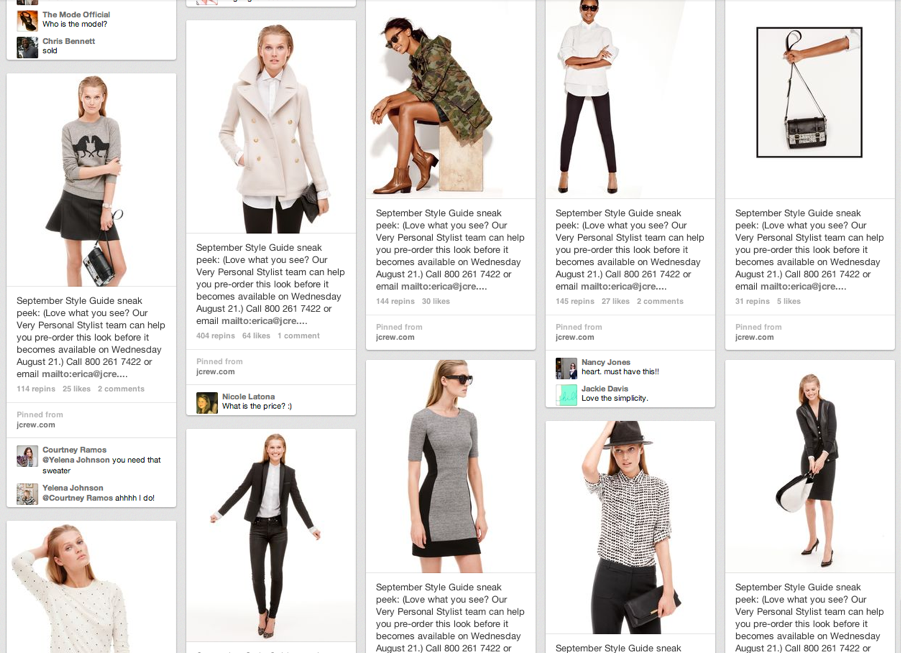 The brand is the first to debut its catalog on the virtual pinboard site, but it's hardly surprising that they decided to take their snail mail book digital. Images of fashion are some of the most popular on Pinterest, making the site a great way to directly reach out to customers. The move has also generated a good deal of press for the company so far, with mentions of the digital guide appearing on Mashable, Refinery29, and Fashionista. 
While J.Crew declined to comment on the board and what role it may play in its current social media strategy, the company certainly seems to be increasing efforts to engage customers on social networks. Also taking place this Thursday is a J.Crew initiative on Instagram, where Instagramers can upload photos of themselves with the hashtag #jcrewstylesessions for a chance to be featured in an upcoming "Style Guide."
Whatever the company's future plans, it's certainly fun getting an early look at their fall collection on Pinterest. 
Photos via J. Crew/Pinterest