Facebook is tripling down on its Promoted Posts feature, confirming that it has begun rolling out the option of letting its users pay to to highlight their friends' post.
The feature has been much maligned since it was first introduced in May 2012 for companies and then later for everyone else in October 2012.  
Among the feature's biggest critics are the popular blog Dangerous Minds and actor George Takei, who assert that the company is purposefully throttling the reach of each post in order to force brands (and now, individuals) to pay to maintain the same level of exposure they once enjoyed.
Facebook has contested these accusations, claiming that their EdgeRank algorithm was designed to only show the most compelling content on a user's news feed. They also stated that on average, brands reached 16 percent of their audiences. But a November 2012 study conducted by media investment management group GroupM claimed that the figure was closer to 10 percent.
When asked about the target audience for this feature—in other words, who would pay to promote their friends' content?—a Facebook representative provided us with the following scenarios when this feature would come into play:
"If your friend is running a marathon for charity and has posted that information publicly, you can help that friend by promoting their post to all of your friends. Or if your friend is renting their apartment out and she tells her friends on Facebook, you can share the post with the people you and your friend have in common so that it shows up higher in news feed and more people notice it."
Currently, the option to pay to promote your friends' post is only available to people who have fewer than 5,000 friends or subscribers.
To use the feature, simply go to the top right corner of a given post and click on the drop down menu and click on the "Promote and Share" option.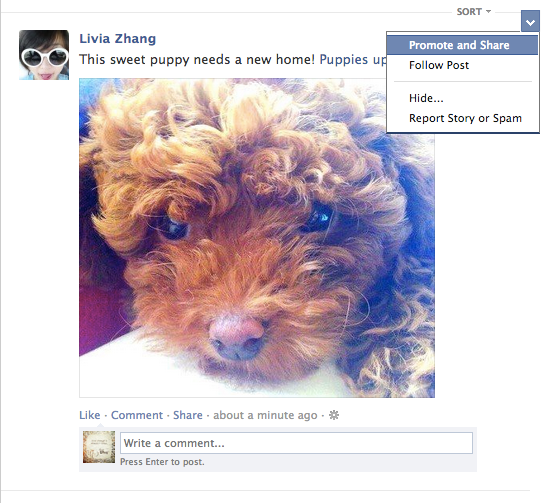 You'll then be able to add your own comment. Just hit publish, and the post will appear on your friends' feeds.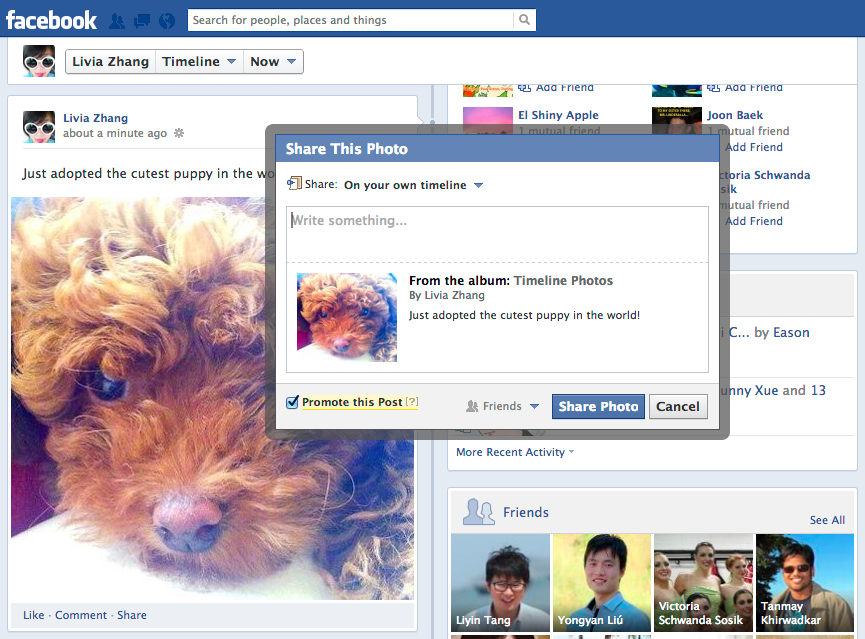 The cost to promote another person's content will be $7, the same amount Facebook charges to push your own posts.
The company also stresses that this new feature will respect the privacy settings of the original poster.
This is the latest in a string of attempts by Facebook to find new sources of revenue amid skepticism about the value of the company's ad business. Since the social network became a publicly traded company in May 2012, it has experimented with various ways of making money from its 1 billion users, including adding the option to pay $1 to send a message to anyone's private inbox.
Photos via Facebook