Shane Dawson is nervous. Dawson is anxious. Dawson is sneaky and tough and funny and not entirely sure he should be here. And he's watchable—binge-worthy even. He's YouTube come to life: A YouTube that also is anxious and back-handed and chuckle-worthy and can't stop questioning itself.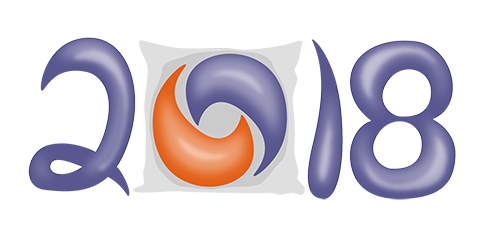 Dawson accomplished amazing tasks in 2018. He recorded, produced, and released three lengthy documentary series on some of YouTube's most popular and controversial stars. He amassed nearly 300 million views on that trio of series. He, in some ways, changed the state of YouTube by fulfilling these quasi-journalistic, quasi-entertainment quests.
But his successes aren't necessarily why he's this year's Daily Dot YouTuber of the year. No, Shane Dawson essentially is YouTube—the good parts and the bad mixed together in a sweet-and-sour concoction that we aren't necessarily sure we should imbibe but that we can't stop wolfing down regardless.
Before this year began, Dawson's channel was a potpourri of content. He had vlogs about confronting family members, he had conspiracy and paranormal vlogs, he had prank vlogs and comedy vlogs and a vlog about him selling his underwear for $100,000. Those videos performed well, racking up millions of views each time he uploaded one.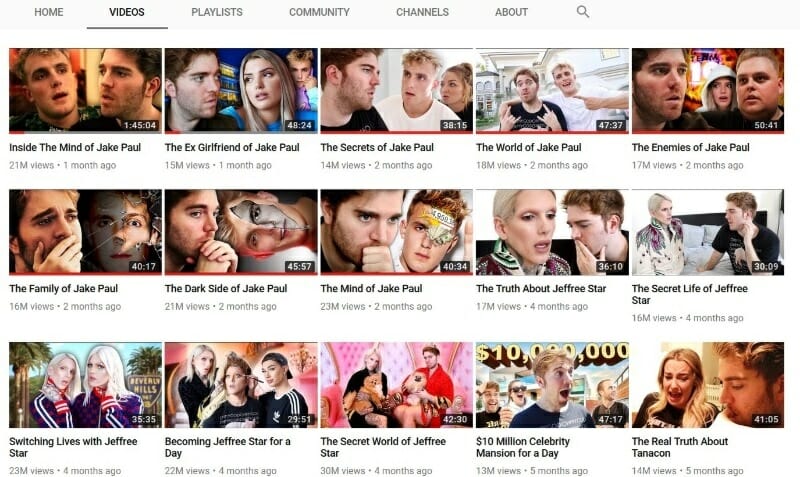 But after the disaster of TanaCon—the conference put on by YouTube star Tana Mongeau that morphed into a failed festival filled with too many fans and not enough security—Dawson filmed a three-part documentary series to explore what had gone wrong. He talked to a sobbing Mongeau and trying to make sense of the fiasco.
It was an immediate YouTube success, and the series eventually crested at more than 45 million views.
Dawson followed that with a five-part exploration into the life of makeup artist Jeffree Star. Dawson and his brand blew up even bigger when he introduced an eight-part series into the mind of Jake Paul.
During those seven hours of content, which racked up about 155 million views, Dawson displayed his anxiety at exploring and potentially causing conflict with Paul, his former friends, and his family. He displayed empathy toward his subject. He showed confusion about the complexity of Paul's life and career. He questioned why he was even filming it in the first place. He missed deadlines to post and went much longer than expected with the final episode.
Dawson also brought part of the controversy on to himself, wondering aloud if Paul was a sociopath and sneaking a psychologist into his house to observe an unaware Paul. Like YouTube itself, all of it felt just a little bit sketchy.
There's little doubt, though, that Dawson is a major influencer on the platform. Just ask Justin Roberts. While in the middle of filming Paul and his ex-girlfriend Erika Costell driving home from a Walmart, Dawson requested that they play Roberts' single "Six Figures" on the car stereo. Then, when Roberts arrived at the Team 10 house to meet Dawson—who proclaimed himself as Roberts' biggest fan—Dawson kissed his hand in awe.
The internet responded by taking a renewed interest in Roberts. Though his song had been released four months earlier, Dawson's ravings about it caused "Six Figures" to rise to the No. 1 spot on Spotify's Global Viral 50 chart.
"He gave me that big plug," Roberts told the Daily Dot.
In doing so, Dawson might have changed the 16-year-old Roberts' career. It was a small moment in the documentary series, but it was also telling. Roberts thought Dawson might be pranking him. Dawson's intentions were apparently pure (though we're not 100 percent sure). That's the dichotomy of YouTube. Nobody knows what's real and what's fake.
Through the entire Paul series, Dawson questioned why, at the age of 30, he's still a major player in a platform for millennials and the generation born after. (Costell, Paul's ex-girlfriend, lovingly called Dawson a YouTube dad.)
And maybe, just maybe—like so many YouTubers around him—he's feeling burned out by the platform and his commitment to making content for it.
https://twitter.com/shanedawson/status/1062091675005202433
He can be the best of YouTube, even though YouTube Rewind completely ignored him. He can be the worst of YouTube (the Jake Paul series was bloated and, at times, awfully self-indulgent). But we couldn't stop watching him in 2018. That, more than anything, makes him YouTube's biggest success story of 2018.
READ MORE: