The streaming market has exploded in the last few years, with everything from premium pay services like HBO Max to a flood of free ad-supported services like Tubi TV. So it's understandable you're asking questions like "what is Tubi TV?"
Don't worry, with so many options you'd be forgiven for not knowing, but fans of free streaming won't want to miss out on this service. Crackle isn't the only game in town, and Tubi TV is coming for the throne. Here's everything you need to know about the service, from the best shows and movies on Tubi TV to how you can watch.
What is Tubi TV?
Tubi is a free ad-supported streaming movie and TV service with thousands of entertainment options spanning every genre. Launching in 2014 as an independent streaming service, Tubi TV was bought by Fox for $440 million in 2020.
Over the years they've licensed content from Lionsgate, Paramount, MGM, Starz, and more. While they still license a ton of content, the company's purchase by Fox in 2020 has pumped up the amount of Fox content on the service.
Today it boasts over 20,000 movies and TV shows spanning Hollywood blockbusters to small indie films, classic sitcoms, anime legends, and more.
Is Tubi TV still free?
Don't let Fox's purchase of Tubi TV give you any worries. Tubi TV is still 100% free. In fact it doesn't even offer a premium option that lets you pay extra to remove ads. Free is baked into the Tubi experience. Of course that means ads are also part of Tubi TV.
Thankfully Tubi's ad experience is one of the least obnoxious in ad-supported free-streaming game. For the vast majority of content on the service you should expect a 30-second commercial to play before a movie or show. During TV shows you should expect an ad-break whenever it would naturally occur on TV, though these ads are never more than 1-minute.
It's a little hard to guess how many ads play during a Tubi TV movie. Some films won't have an ad for the first half of the movie, only to have a break surprise you. Other films, usually bigger name movies, have ads every 20 minutes.
Again, this is about what you would expect from watching a movie on TNT. Only, you aren't paying cable for the service and the movies are uncut. The best things in life aren't free, but the best movies on Tubi TV sure are.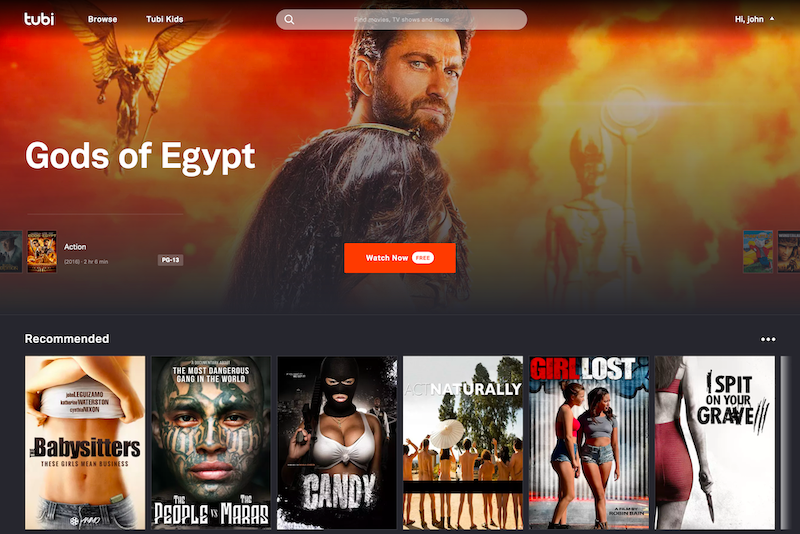 How does it work?
If you've ever used a streaming TV service Tubi will be instantly familiar, with one major difference. You don't need to make a user account to stream Tubi TVs content. Simply go to the app store on your favorite streaming device, download the app, and fire it up. You'll be watching movies in no time.
That isn't to say there aren't benefits from making an account. If you want to stop a movie and pick up where you were watching later, you'll need to make an account first. Tubi also requires you to have an account to build a watch list. It only takes a few minutes, and registering turns Tubi TV into a full featured streaming service. Sacrifice an email that isn't important to you and register.
Upon signing up Tubi will ask you a little bit about your viewing habits. They're probably data mining you, but Tubi is also building a list of viewing recommendations. Given the sheer size of its constantly changing library, you're going to want some help getting started.
Movies and shows are organized exactly like they are on every other service, by genre in browsable rows. Finally, for families, there's the Tubi Kids section. Here you'll find all of the service's family programming under one menu. This makes it easy for parents they're looking for the best movies on Tubi TV for kids in a hurry.
Most content streams in HD, but don't expect 4K picture. For the most part, you should expect is 1080p. However, this quality varies with older content. We rarely experienced a picture below 720p unless it was a very old movie.
What devices can I watch on?
One of Tubi's greatest strengths is its accessibility. If you have a streaming device, it probably supports Tubi. Don't believe us? Here's the company's list of supported streaming devices.
Amazon Fire TV/Stick and Kindle Fire tablet
Amazon Echo Show
Android mobile devices (smartphones/tablets)
Apple TV 4th Generation
Chromecast
Comcast XFinity X1
Cox Contour
Google Nest Hub
Hisense Smart TVs
iOS devices (iPhones/iPads)
Nvidia Shield
Playstation 4 and 5
Roku platforms
Sony Smart TVs & blu-ray disc devices
TiVo
Xbox One, Series S, Series X
Web browsers
Vizio Smart TVs
Seriously. Google Nest Hub support? Tubi TV is ludicrously committed to streaming on every device.
Should you try Tubi TV?
There's no reason you shouldn't add Tubi TV to your library of streaming services. It costs nothing to use, and features a lineup of strange, forgotten, and unrated content that's easily worth charging for. Instead, you just need to give up an email.
But beyond its free price point, Tubi TV delivers where other services don't. There are tons of classic sitcoms from Grounded for Life to The Andy Griffith Show waiting for you on Tubi TV. It's just a matter of discovering them.
Even the movie section is deeper than you'd expect. Sure, there's ton of direct to video picks, but curious users who look will discover hidden treats. Or just look at the "award winning films" section get started there.
Tubi TV isn't a perfect streaming service, but neither are other services that charge users to watch. We can't wait to see where they go next.
Editor's note: This article is regularly updated for relevance.