Tubi TV is an ever-evolving service, with new movies added every month. In many ways Tubi TV feels like uncut late-night cable programming, blending classic movies, lost TV shows, and direct-to-video films.
There are Russian superhero movies living next to Stone Cold Steve Austin movies, and studio comedies like Big Momma's House 3. Catch up on The Masked Dancer, Cosmos, and Storage Wars. Tubi is perfect for lazy sunday afternoon streaming surfing.
The only downside of this is the need to dig. Tubi TV has great recommendations, but there's still a ton of content to explore. More importantly, there can be a lot of clutter and crap that isn't worth your time. The problem is knowing where the gold is.
Direct to video Bruce Willis action movies might seem promising, but your time would be better spent with 1996s Original Gangstas. If something seems interesting, look up its trailer on YouTube. You'll be surprised what you find.
Finally, if you want to make sure you never miss the best movies on Tubi TV, watch things when they pop up. Don't wait a month if something catches your eye. You never know when it will leave.
That's where we, your guides to Tubi's cinematic gold, come in. From classic golden age movies to hidden foreign gems, here are the best movies on Tubi TV right now.
The Best Movies and TV Shows on Tubi TV
Best Movies on Tubi TV
In 2016 Train to Busan made an explosive splash with horror fans thanks to its brilliant action, writing, and riff on the tired zombie genre. This breathless undead masterpiece tells the story of a violent zombie outbreak on a speeding train in South Korea. Turning zombie tropes on their ear while keeping a relentless pace, this is train you won't want to miss.
With an American remake right around the corner, there's never been a better time to catch up with the original. We'll forgive the fact that it's the dubbed version because Tubi is doing the lord's work by telling more people about this film.
Today Adam Wingard is best know for directing 2021s King Kong Vs Godzilla. But in 2014 when The Guest was released, his only real claim to fame was the slasher You're Next. No one saw this John Carpenter-esque action horror hybrid coming.
Set in middle America, The Guest finds the Peterson family opening their doors to an army vet who says he served with their deceased son. When government agents show up asking questions the Petersons learn an explosive lesson is taking trust too far.
Director Werner Herzog brought the true story of Dieter Dengler, a US pilot shot down over Laos during the Vietnam War, to life in this 2006 film. After being captured Dengler was sent to a POW camp, where his fight for survival truly began. Struggling against starvation, torture, and abuse while military bureacracy back home argues about what to do.
Starring Christian Bale as Dengler, Rescue Dawn is a taunt, thrilling, and often harrowing action drama. What might surprise you most is its supporting cast. Steve Zahn was robbed of an Academy Award for his portrayal of Duane, a starving prisoner and Jeremy Davies is a revelation as Gene. Tragic, yet unforgettable, Rescue Dawn is a must watch.
Also known as New Legend of Shaolin, Legend of the Red Dragon is a brilliant oddity from Jet Li's 90s action filmography. Loosely based on Lone Wolf and Cub, viewers follow a father and his young son as they fight through legions of murderous kung fu warriors.
It's easy to know if Legend of the Red Dragon is for you. Simply watch the opening 10 minutes, and if the fight between a spear and baby wielding Jet Li vs a flaming log wielding ninja with spike hands doesn't sell you, move on. Sometimes the best movies on Tubi TV are the ones you don't expect.
Tubi is currently streaming all four installments of The Hunger Games trilogy for free. Inspired by the books of the same name, The Hunger Games tells the story of a dystopian future where teens are forced to play a deadly game. Dropped on an island, they must kill each other to survive.
Towing a careful line between PG-13 action and truly nightmarish horror, this revolutionary series is deeper than you'd expect. Evolving over time from a simple action story into a world shaking political thriller, The Hunger Games is a four movie thrill ride.
6) Signs (2002)
Set aside anything feelings you might have developed about M. Night Shyamalan since his Oscar winning debut The Sixth Sense. If you haven't seen 2002's Signs you're missing out. On its face this is a film about a family of farmers dealing with a world wide crop circle phenomenon.
Beneath its premise lies a remarkable story about the bonds of family in the face of the extraordinary. Mel Gibson, Joaquin Phoenix, and Rory Culkin are brilliant in the film. But the true stars are the aliens, haunting, vile, and hiding with unknown intentions.
Turn off the lights for this one. This isn't just one of the best movies on Tubi TV, it's might be Shyamalan's best film as well.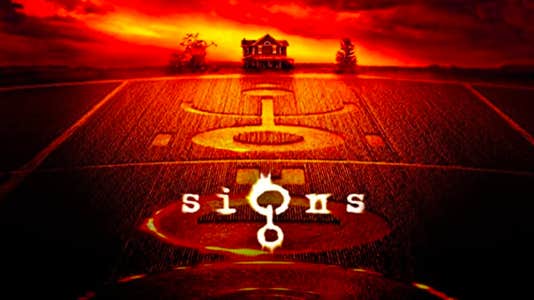 If you're a fan of westerns but haven't seen Quigley Down Under we're here to help you remedy that mistake. Tom Selleck stars in this 1990 cowboy oddity about a sharpshooter who is hired from America for a job on a ranch in Australia. Upon arriving the titular Quigley discovers to his horror the job isn't shooting dingos, but local Aborigines.
Combining late 80s action comedies like Indiana Jones and the darker tone of films like Dances with Wolves, Quigley… is different than most westerns. It uses the comedy of its earlier scenes to enhance the horror of its later violence. Alan Rickman co-stars as the villainous Elliott Marston. You won't want to miss Quigley Down Under.
Jeremy Saulnier hit the big time with Green Room, but it's microbudget revenge film Blue Ruin that won audience's attention. Dwight is a vagrant, living out of his car and dumpster diving for food. When a cop tells him his parent's killer has been released from jail he heads back to his home town for vengeance.
It's a familiar tale, but it turns out vengeance is harder to pull off than Dwight expected. Finding himself on the run with a family of psychotic rednecks after him, Dwight must protect his family from his mistakes. Brutal yet thrilling, Blue Ruin is an indie thriller masterpiece.
Streaming services are woefully barren when it comes to classic movies. So imagine our joyful surprise to discover 12 Angry Men sitting in the drama section. This legendary courtroom drama takes a deceptively simple premise and turns out a cinema landmark.
On a hot summer day, a group of 12 men sit in a jury room debating a murder sentense. Eleven of them think the defendant is guilty, but one is holding out. Over the course of 90 minutes, viewers follow a day's worth of arguing and deliberation. With one location and unending tension, 12 Angry Men is a masterclass in subtlety and drama.
Part of the charm of free streaming services like Tubi TV is discovering strange films from around the world. For example, did you know Russia has a booming film industry and has released its own take on The Avengers? Guardians is a wild ride, taking the scope of Marvel films and building a bombastic original adventure.
The film follows a team of Cold War super soldiers fighting evil. There's Arsus, a machine gun welding man bear, the superfast Khan, Ler who controls the earth, and the invisible Xenia. If the idea of a Russian Avengers that features a giant machine gun welding half man/half bear fighting robots doesn't excite you, that's on you.
Best TV Shows on Tubi TV
As you might expect from a company with TV in its name, Tubi TV has more to offer than just movies. Broadcast fans will discover a wide range of genres represented on Tubi TV, from drama to anime to action to reality. There's a ton of content to draw from, so take some time one afternoon to just browse. In the meantime, here are our five picks for the best TV shows on Tubi TV right now.
You might scoff at the idea of watching early 00s Canadian teen melodrama, but don't write off Degrassi. After all, as its classic tagline promises, it goes there. In the world of Degrassi that means hilarious, yet often compellingly, real stories about the struggles of modern teens twenty years ago.
That's part of the charm of Degrassi: The Next Generation in 2021. For every dated episode about color coded make out bracelets there's a "Time Stands Still," the series incredible school shooting story arch. Starring future rap sensation Drake as a child, Degrassi: The Next Generation deserves rediscovering by adults and teens alike.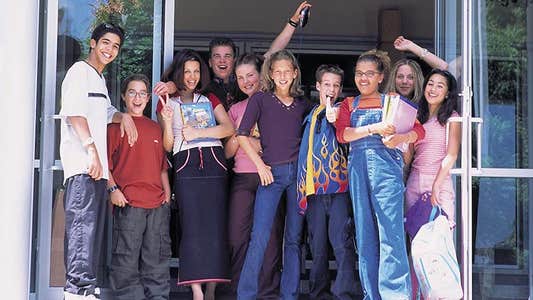 The WWE and AEW might have the American wrestling world on lock, but that doesn't mean they rule the world. Lucha Underground is a popular promotion from Mexico that takes wrestling to high flying extremes.
Blending fantasy with old fashioned wrestling, Lucha Underground is classic wrestling with the occasional story about a demons. If the story feels too much for you there's always bone crunching, back flipping, athletic competition to fall back on.
With four seasons of Lucha Underground waiting on Tubi you're on the verge of discovering your new favorite wrestler. Or discovering you love wrestling in the first place.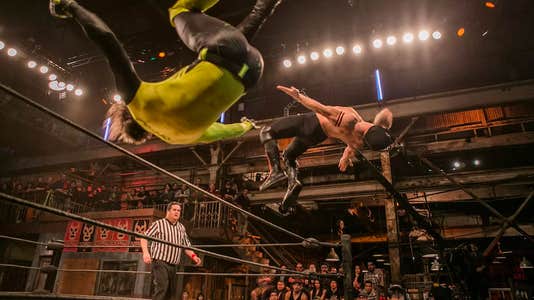 Fox TV is notorious for building up experimental sci-fi shows only to abandon them in weird time slots that ultimately kill the shows. Dollhouse is one of those experiments, but thankfully we got two seasons before it left.
In the near future a secret organization has developed a technology that allows them to reprogram people's minds. These Dolls have their minds replaced and are sent on spying and assassination missions, only to have their brains wiped again upon returning.
Dollhouse tells the story of how everything falls apart, and the nightmarish consequences that follow. Eliza Dushku is a revelation in this tense psychological sci-fi treat.
The USA may be the reigning kings of basic cable drama thanks to shows like Suits and Monk, but TNTs Leverage is a classic worth rediscovering. Working with a "heist of the week" format, Leverage finds a group of former crooks pulling elaborate cons against evildoers. Think Mission Impossible meets Robin Hood, with a healthy dash of smarmy humor to wash it down.
You've seen these style of heist shows before, but Leverage is elevated by the chemistry of its cast. Timothy Hutton, Gina Bellman, Christian Kane, Beth Reisgraf, and Aldis Hodge are a joy to watch together. Equally thrilling and funny, Leverage is a basic cable classic.
Thanks to a recent deal with the legendary Toho Animation, Tubi TV is proud of bring One Piece to its service. Currently only the first two seasons, rough 120 episodes, are streaming. However, the full 900+ episode series will be added to the service in the next year.
Thats over 900 episodes of mystical pirate combat anime coming your way for free. If you've never seen once piece, it's an epic story about Monkey D. Luffy's quest to become the King of the Pirates.
Bright, hilarious, but packed with explosive action sequences, One Piece has spent decades as a beloved anime classic with good reason.