Reddit NBA Streams is an open secret among serious (and seriously broke) basketball fans. The subreddit made it ridiculously easy to find a live stream of every NBA game, no matter where you live or what device you're using.
On June 19, Reddit officially shut down r/NBAStreams for violating its Repeat Copyright Infringement Policy. The policy states:
Our policy is to close the accounts of users, in appropriate circumstances, who have repeatedly been charged with copyright infringement. Sometimes a repeat infringement problem is limited to one user and we close just that user's account. Other times, the problem pervades a whole subreddit community and we close the subreddit.
Here's everything you need to know about the subreddit.
What is Reddit NBA Streams?
As previously noted in its About tab, r/nbastreams was "a subreddit to help you find streams for every NBA game in one place," and it's one of the more popular destinations on the social news site, especially when the playoffs rolled around. According to Reddit List, which tracks the popularity of various subreddits, r/nbastreams had nearly 400,000 subscribers, up from just over 45,000 subscribers before the start of the 2016-17 season.
Here's how it worked: Each NBA game was listed in a separate thread, and each thread typically went live about one hour before tip-off. Users posted links to live streams of that game in the comment section for the thread following a format more strict than your high school curfew. (Seriously, the list of rules for posting runs 25-deep, covering everything from the use of bold to highlighting for HD streams to the need to specify whether a stream is mobile compatible. "Puffin browser DOES NOT count as mobile compatibility," the rules clarified.) Nonactive links were removed by the moderators, who also deleted the threads after each game concludes. The heavy moderation and attention to detail made Reddit NBA Streams an incredibly attractive destination for those looking to watch NBA games online for free. 
READ MORE:
Is Reddit NBA Streams legal?
Let's get one thing straight: I'm not advocating the use of Reddit NBA Streams. I've found an investment in NBA League Pass to be more than worth the monthly fee, especially since I live in a city where I don't have to worry about regional blackouts affecting my ability to watch my favorite team (the Portland Trail Blazers, for the record).
But is Reddit NBA Streams legal? Like any other pirating service, it exists in a gray area, to say the least. As you'll hear at least once during any game, the reproduction, republishing, uploading, posting, transmitting, etc. of any NBA footage without the league's approval is strictly prohibited. But the streaming of copyrighted content, as opposed to downloading, is more challenging for copyright holders to address, in part because of the more ephemeral nature of the content and the rampant use of VPNs (or virtual private networks), which mask the IP address of users and, thus, make it more difficult to track down the individuals responsible.
Why doesn't the NBA try to shut down Reddit NBA Streams? For starters, Reddit historically has been hesitant to take down subreddits over free speech concerns, though it's made some positive progress in recent years. But essentially, forums like Reddit's NBA Streams create a game of Whac-A-Mole for copyright holders: Even if you get the forum shut down, or you get one individual to take down a specific live stream, there's nothing preventing another stream or forum from popping up in its place.
Which teams are most popular on Reddit's NBA Streams?
The consumer site Comparitech did a deep dive into the activity of Reddit NBA Streams over the course of the 2017-18 season to find which teams and matchups were attracting the most attention online. Here's how the site described its methodology:
We collected the text from 1,340 submissions and 25,698 comments on the subreddit from the 2017-2018 season and created a popularity score for each team. We added the total number of comments and the net score (the number of upvotes subtracted by the number of downvotes) for each game submission for the regular season and then for the playoffs. We then broke it down by team and created an average for each over the course of the season and playoffs to determine who the most pirated teams were.
What did the researchers find? The Cleveland Cavaliers had the highest overall pirate-stream rating during the regular season and the most streams per game as well. The team's playoff games were also among the most pirated as well. Other popular teams included the Boston Celtics, defending champions Golden State Warriors, and the Toronto Raptors. Unsurprisingly, smaller-market teams tended to have lower numbers of streams per game, but the Oklahoma City Thunder and Milwaukee Bucks were still in the top tier of popularity for regular-season games.
You can find the complete results on Comparitech.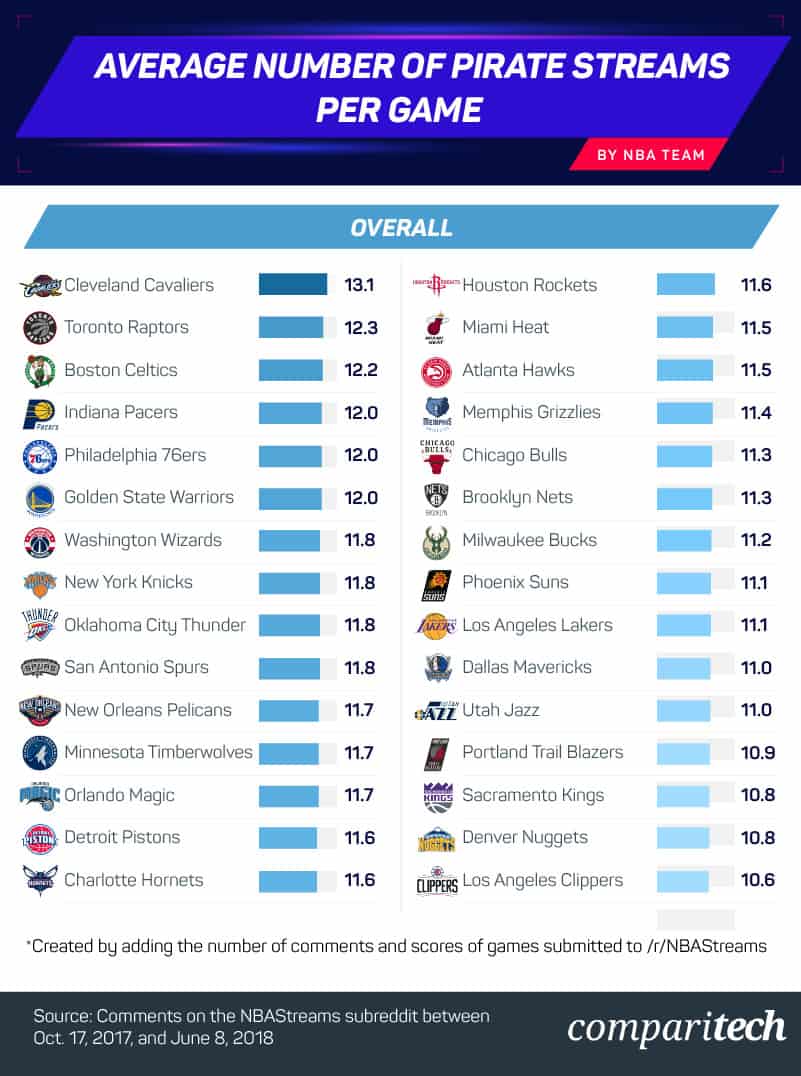 With LeBron James now ushering in a new era of Showtime with the Los Angeles Lakers, I imagine this data would look much different for this season. It would be interesting to see if teams that are having a surprisingly strong start to the season (Los Angeles Clippers, Dallas Mavericks, and Denver Nuggets, and Sacramento Kings all come to mind) are seeing a corresponding uptick in streams on Reddit.
Update June 25, 9:25am: This article has been updated in light of Reddit's ban of r/NBAStreams.