John Mulaney's new hourlong special is not where I anticipated having my picky childhood tastes beamed back to me, but that happened during a musical number about a young boy who only wants to eat a "plain plate of noodles with a little bit of butter."
John Mulaney & the Sack Lunch Bunch
RELEASE DATE:
12/24/2019
DIRECTOR:
Rhys Thomas
STREAMING:
Netflix
The comedian updates children's programming for our existential times.
John Mulaney & the Sack Lunch Bunch excels at amplifying those weird moments of pre-adolescence, when you're trying to assert yourself more but aren't always taken seriously because you're "just a kid." Mulaney, surrounded by his 15-member Sack Lunch Bunch (ranging in age from 8 to 13), explains what the special is up top and that his distaste for current kids' programming made him want to do his own take on the shows he liked as a kid. 
"Is it ironic or do you like doing a children's show?" asks one member of the SLB.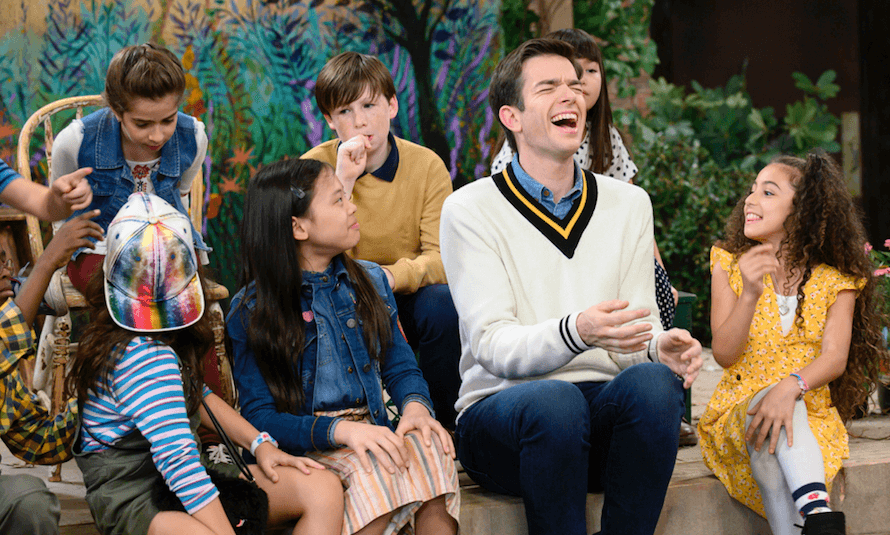 The show is very much a John Mulaney production. Oh, Hello, his collaboration with Nick Kroll, and 2018 special Kid Gorgeous (also directed by Rhys Thomas) both felt of a different time, longing for the that's-showbiz-baby era of NYC. (Just look at the auditions.) It's a less chaotic version of Wonder Showzen, a weirder take on Mister Rogers' Neighborhood.
It's also a showcase for kids: There's the aforementioned song about buttered noodles, played as a showy Broadway number, and several other kids get their own musical numbers. ("Do Flowers Exist at Night" is literally about that.) In a sketch about a focus group for a movie called Bamboo 2: Bamboozled, Mulaney plays the exec jotting down the kids' gushing praise (the movie "is my identity now," says one), but it's more a dunk on how Hollywood churns out the same movies over and over than the kids' tastes and opinions.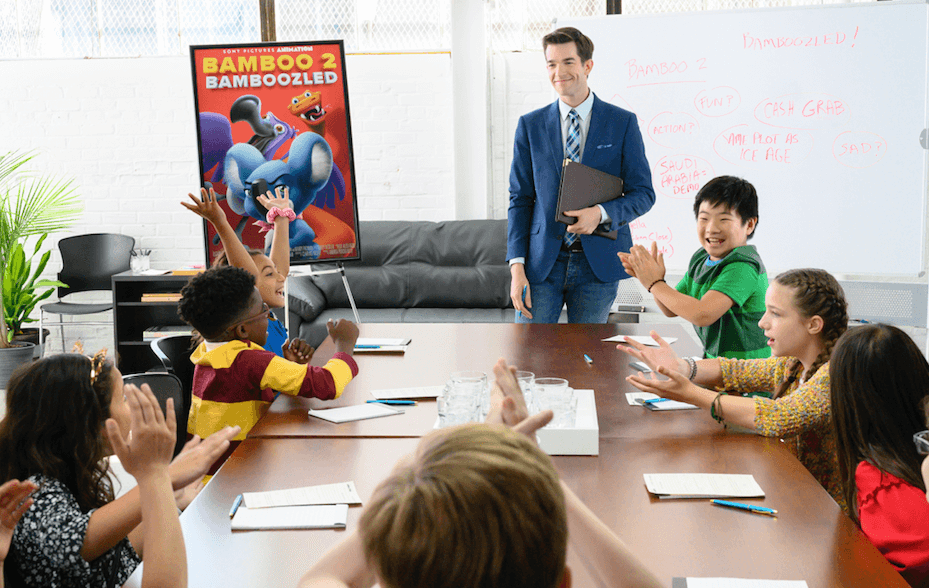 Mulaney talks to the kids as peers, but there's also a deeper context to the power dynamic: They casually let Mulaney know he's not in the group text with special guest Richard Kind—they are. Natasha Lyonne, David Byrne, and Jake Gyllenhaal (channeling his Okja character) add a little more of the showbiz component. While some of the one-on-one interviews feel like adults writing for kids (one boy says his favorite standup special is Nanette), when they talk about their fears (dying in their sleep, the trailer for Us), the special steps off stage a bit. 
Early on, one of the kids asks what the "tone" of the show is. For a special that starts off with a Real Housewives quote, John Mulaney & the Sack Lunch Bunch manages to avoid what could have been a trainwreck of precociousness and cynicism. Sometimes it really is as simple as noodles and (a little bit of) butter. 
Still not sure what to watch tonight? Here are our guides for the absolute best movies on Netflix, must-see Netflix original series, documentaries, docuseries, and movies.