The lasting image from John Mulaney's latest standup special, Kid Gorgeous, comes right at the start. The camera sits behind Mulaney as he walks out onto a vast stage in front of a packed Radio City Music Hall. It's a shot that will make the glossophobic stop in their tracks. Mulaney, like his previous specials, wears a well-tailored suit, and casually walks to the front of the stage and starts the show. From the suit to his aggressively clean-cut look, it could be the '60s. The retro aesthetic pairs well with Mulaney's absurdist stories and wry observations.

From writing some of your favorite sketches on a slew of Comedy Central shows and Saturday Night Live (he co-wrote the legendary Stefon bits with Bill Hader) to a Broadway run with Oh, Hello, to the 100-plus shows he did on the Kid Gorgeous tour, Mulaney has earned the big stage.
With Kid Gorgeous Mulaney continues to be consistent as both a writer and performer. Simple setups segue into increasingly ridiculous scenarios and before you know it a playground story ends with his dad asking, "How are you better than a Nazi?" The jokes and stories are intricately crafted (the Nazi line makes a triumphant return at the end of the hour). Longtime fans and newcomers alike will be amused. How could you not be? The material is casually relatable and just edgy enough in parts. Bits about college alumni donations and grade school assemblies get a huge response.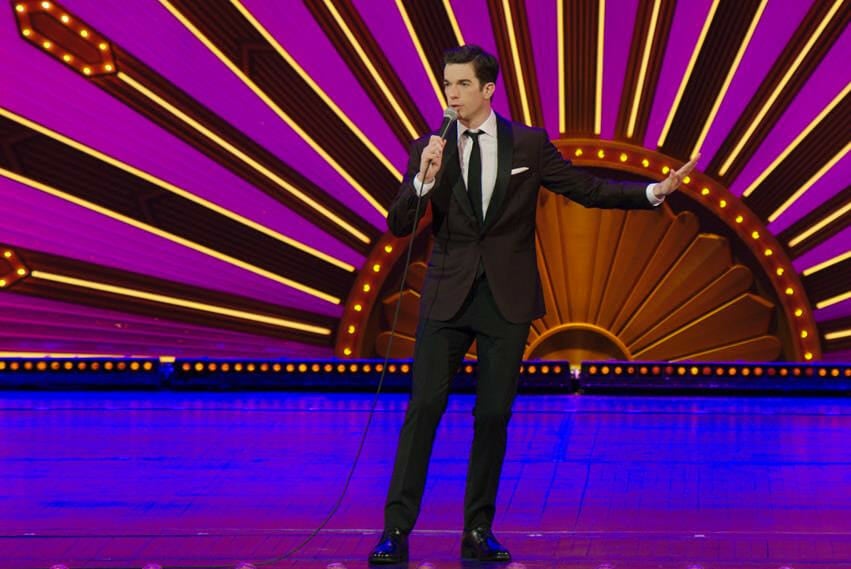 For as much as I enjoy Mulaney's work, my second trip through Kid Gorgeous left me wanting more. There is a lengthy bit where Mulaney uses a horse in a hospital analogy to talk about Trump. It's more overly political than he's been in past specials. The bit is funny, but it feels safe. Mulaney has mastered navigating personal stories without going to the darker places many comedians will go. I know it's a matter of personal taste, and who am I to demand people expose themselves for my amusement? But by staying just superficial enough, many of the jokes come and go. And that's fine because in the moment it's all funny. But when it's over it doesn't linger.
Alex Timbers directs Kid Gorgeous and he returns to the image of Mulaney juxtaposed against the sea of the audience and the vastness of the stage. It shows you how far Mulaney has come. He has graduated from being your favorite comedian's comedian to an in-demand headliner. He's stayed remarkably consistent, yet still has room to grow into something even better.
Still not sure what to watch on Netflix? Here are our guides for the absolute best movies on Netflix, must-see Netflix original series and movies, and the comedy specials guaranteed to make you laugh.