Everything's Fine, comedian Sarah Cooper's new Netflix special, positions her as the anchor of the titular morning show. She smiles through the bad news, trying to keep the dread just out of frame. It's a variation on what Cooper is now famous for: lip-syncing Donald Trump's speeches and interviews, making the president's word salad into something edible and digestible, while pointing out its absurdity.
Sarah Cooper: Everything's Fine
RELEASE DATE:
Oct. 27, 2020
DIRECTOR:
Natasha Lyonne
STREAMING:
Netflix
Cooper tries to translate her Trump dupes to sketch comedy.
Though Cooper's published books and done standup, her videos, originally posted to TikTok, pushed her onto a bigger, more politically divided stage, just as the pandemic rolled in. So how does her front-facing mimicry translate in Everything's Fine? Essentially, as filler material. Cooper does a few Trump bits and branches out to Melania and Ivanka, but it reads like she's doing them out of contractual obligation.
This week also saw the return of The Eric Andre Show, where much of the comedy comes from the host being trapped in some sort of talk-show purgatory. The end of Everything's Fine plays with the idea that Cooper and others at the TV station have been in a similar purgatory since 2017, but fails to really draw anything insightful or instructive from it. Is Cooper trapped in the chaos Trump created, or the bit she created?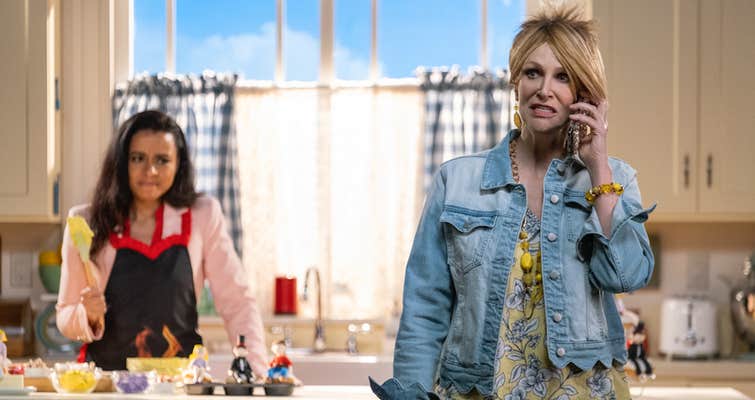 While some standup comics were vocal about not understanding Cooper's popularity, Mel magazine's Miles Klee (who previously worked at the Daily Dot) drew a bolder line over the summer, positioning her as "a star to the same #Resistance liberals and older Democrats who thought [Alec] Baldwin's undercooked SNL run was hysterical. In other words, Boomers are the key demographic." That take was divisive, but it makes a little more sense within the context of Everything's Fine. Executive producers Maya Rudolph and Paula Pell have writing credits, as do other SNL writers, and Fred Armisen stars as Cooper's odd producer. The writers' room has some great comedic talents, but the sketches feel half-baked, and the writing seems to have ended at throwing out a topical premise. 
A sketch about Black people at Mar-a-Lago, framed as a Jordan Peele movie, gets a little closer to the kind of commentary Everything's Fine needs, as does a bit featuring comics Marcella Arguello and Eddie Pepitone discussing Cooper's ratings based on reactions to her race and "attitude." Here, she starts to talk about her childhood and does an impression of her mother. It needs more of that personal touch. The deluge of celebrities makes Cooper feel more like a supporting character.
A reenactment of Trump's Access Hollywood segment, starring Helen Mirren as Billy Bush, is a quaint reminder of a time when we thought a candidate openly bragging about sexual assault would be a disqualifying event. Here, three-quarters of the way through the 49-minute special, it finally starts descending into more interesting territory. I get that Cooper and friends are trying to mirror the feeling of doom-scrolling, but the result is more like an SNL cold open gone rogue.