At its best, a filmed version of a staged production can be almost as good as seeing it live. Those filmed productions are archival snapshots of the show that was—such as when a show ends or when the original cast exits—and makes Broadway much more accessible, opening the gates to a medium that often comes with a hefty price tag. In recent years, Springsteen on Broadway and Hamilton both pushed that envelope of what the filmed version of a stage show could relay; Springsteen felt so intimate you forgot the audience was there while Hamilton showed you why the show itself was such a massive hit.
David Byrne's American Utopia

RELEASE DATE:
Oct. 17, 2020
DIRECTOR:
Spike Lee
STREAMING:
HBO Max
Before it closed in February 2020, Spike Lee filmed the stage version of David Byrne's hit Broadway show. Not only does it give audiences views that money couldn't buy, but it also relays an essential message amid fantastical performances.
But David Byrne's American Utopia, which brings both Byrne's 2018 album (of the same name) and several classic Talking Heads songs to life for the Broadway stage, takes the filmed stage show to another level. It most closely resembles Stop Making Sense, Jonathan Demme's 1984 concert documentary that captured the boundless energy of a Talking Heads concert; in some ways, it doubles as a spiritual sequel. But as Byrne takes a different kind of stage, American Utopia delivers a joyful and urgent message while giving you an even better seat than the best seat in the house.
This time around, Byrne tapped famed director Spike Lee to bring American Utopia, which ran from October 2019 to February 2020 at the Hudson Theatre in New York, to life; plans to bring back the show for a limited engagement have been postponed by COVID-19. For much of American Utopia, Lee lets it speak for itself. The camerawork doesn't consist of just a couple of shots or scenes that place you in the front row or give you a view of the stage. We're on the stage, we're above the stage, we're looking across the stage, all of which is captured by cinematographer Ellen Kuras to give us a feast of light, color, and choreography by Annie-B Parson. More often than not, we're looking out straight into the audience, who's often dancing along.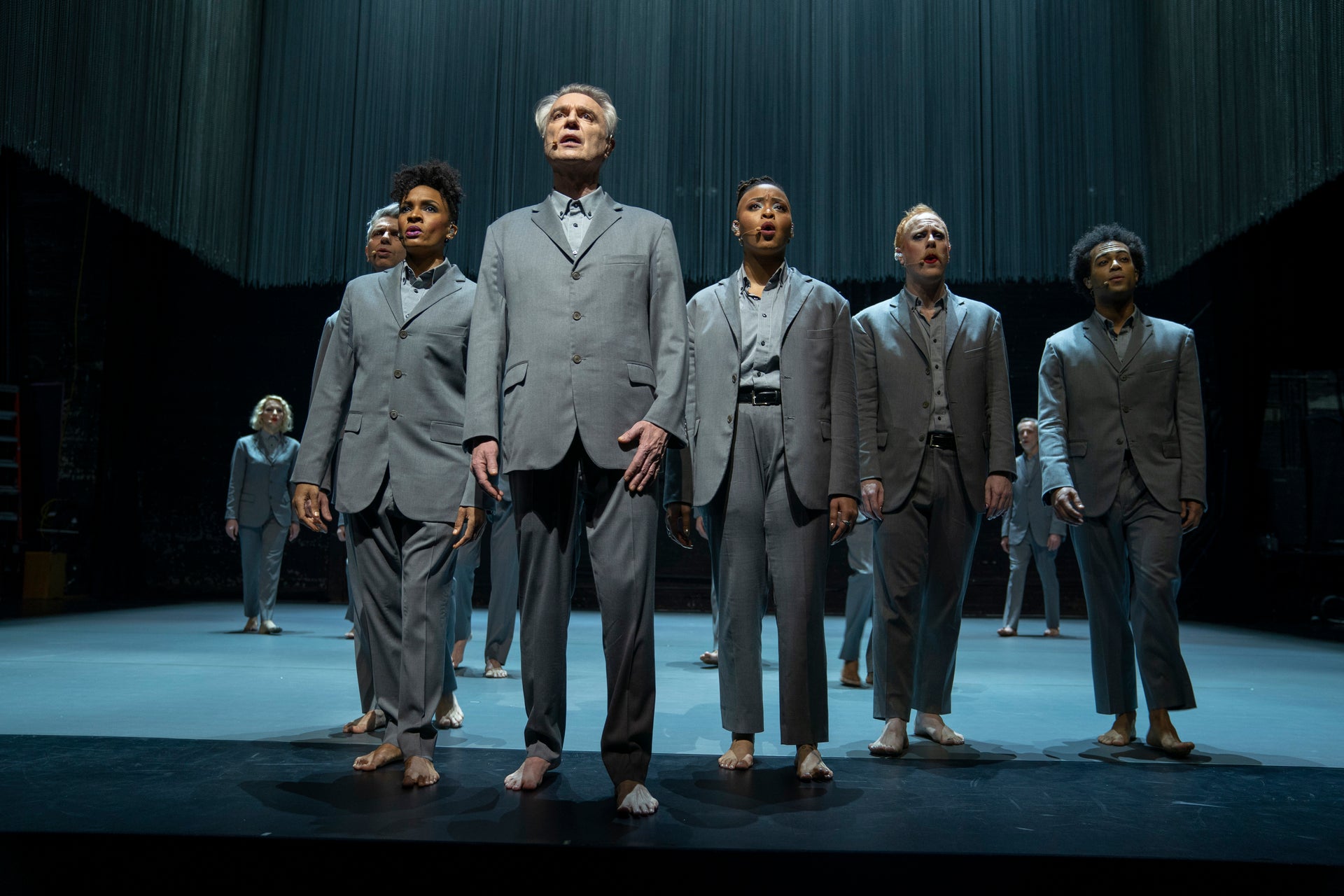 As Talking Heads drummer Chris Frantz put it to Rolling Stone in 2014, Stop Making Sense's footage of the audience at the beginning and end was to "have the movie presented to the viewer as if the viewer had the best seat in the house." Here, we're constantly reminded about the audience, who quickly get caught up in the music and start dancing and singing along from their seats. ("Thank you for leaving your homes," Byrne says to the audience, a statement that takes on a whole new meaning seven months into the COVID-19 pandemic.)
Byrne embraces that audience, even making them a part of the show. Byrne—who teamed up with HeadCount to help get attendees to register to vote before or after the show—turns the light onto them during an interlude to highlight the importance of voting, and not just in presidential elections; only 20 percent of registered voters vote in local elections, which he depicted by lighting up one-fifth of the theater.
The intimacy of American Utopia, both embedded within the fabric of the show and from what Lee captured from it, comes in other ways than foregoing the crowd. With the exception of a Byrne bringing a few props onto the stage, American Utopia's stage consists of Byrne, the 11-member band, and the instruments they bring onto the stage. "I thought about the show and I wondered, what if we could eliminate everything from the stage except the stuff we care about the most?" Byrne says. "What would be left? Well, it would be us. Us—and you."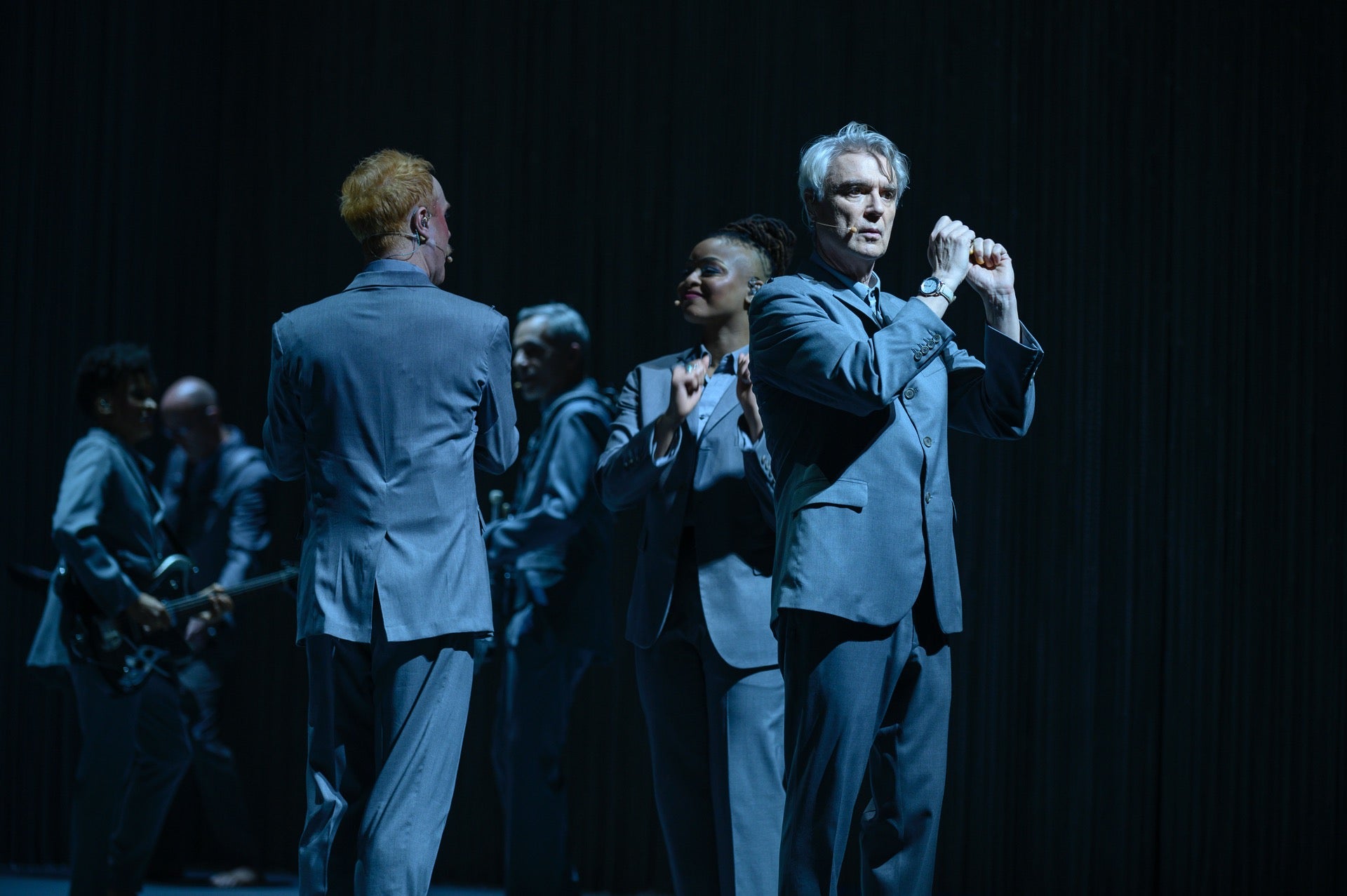 It's an eccentric and ethereal showcase of Byrne's music, and his seemingly boundless energy radiates on the stage; if you've seen Byrne running in circles in Stop Making Sense, this should come to little surprise. Backup vocalists-dancers Chris Giarmo and Tendayi Kuumba, the first two members of the band to join Byrne, are essentially tasked with keeping up with Byrne throughout most of the show, whether they're mimicking his every move or moving him around like he's a puppet, and they make it feel effortless.
But it's the connections Byrne makes with all of his fellow performers and the crowd makes that really makes American Utopia pop. The members of the band, many of whom are immigrants like Byrne (who was born in Scotland before becoming an American citizen in 2012), are the glue that hold the show together; everyone, even Byrne, dons identical gray suits and skips the shoes. The band is just as much of a marvel to behold as Byrne's vocals, and Lee never relegates them to the background; the camera is just as interested to what the band is doing as Byrne. (And Byrne is already doing a lot on his own.)
At another moment, Byrne mentions how someone's infliction of a song can change what it means. Using his song "Everybody's Coming To My House" as an example, he noted that when he sings it, it always sounds like he's anxiously waiting for everyone to clear out (because he can't change who he is and the meaning he brings to it). But when a Detroit high school covered the song, it broadcasted a much more inclusive message without the performers changing a single lyric or note. And in what's perhaps American Utopia's most powerful sequence, Byrne and his band cover Janelle Monáe's protest song "Hell You Talmbout". Lee takes it to new heights with striking visuals that really drive the song's message home.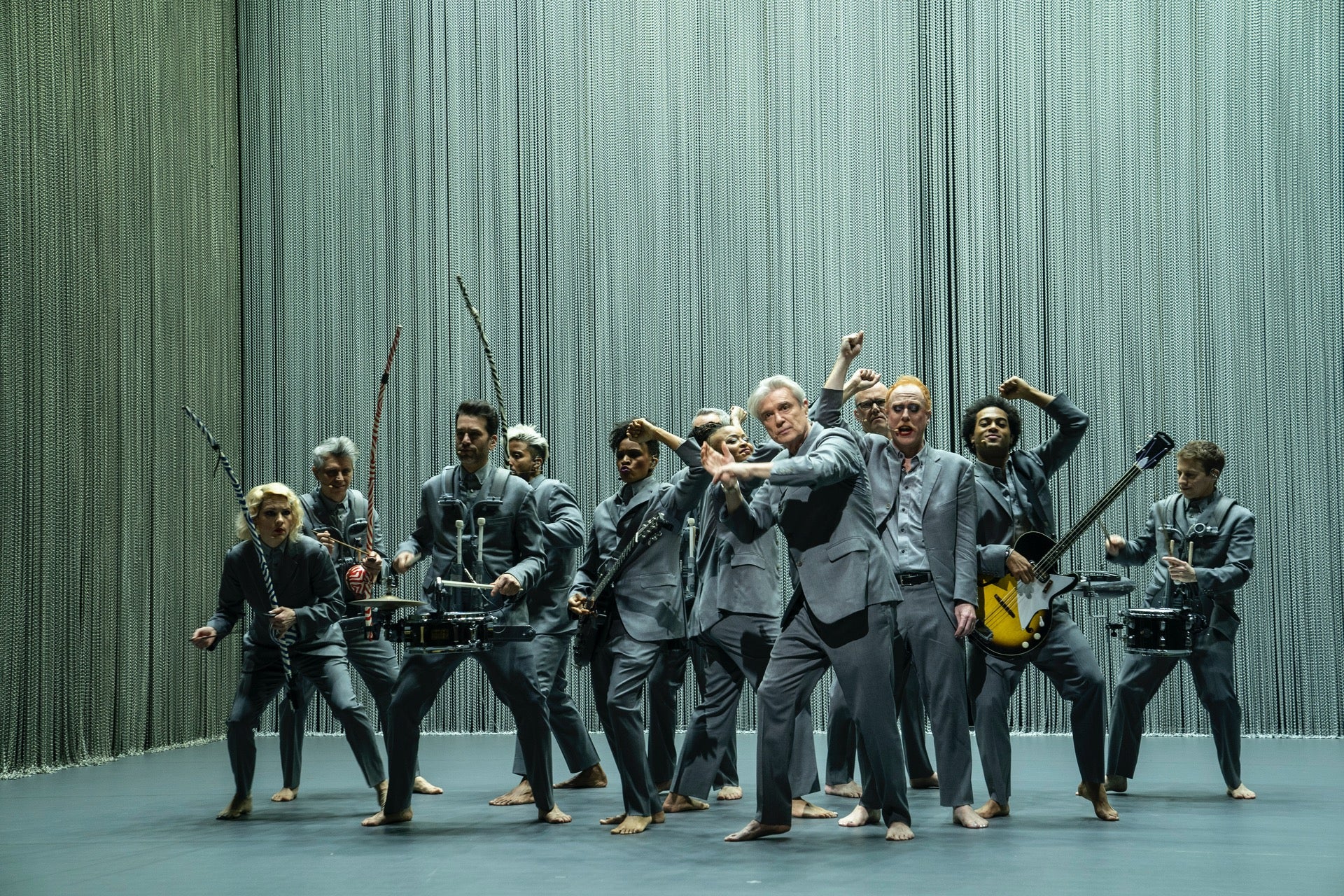 Like the high school cover of his own song, Byrne doesn't change a single note during "Hell You Talmbout." But for audiences who will watch American Utopia at a film festival or on TV, Lee pairs the names of a dozen Black men and women who were murdered by police with their photos, which are held by surviving family members. At the end of the song, Lee includes the names of more than 100 Black men, women, and children (including George Floyd, Breonna Taylor, and Ahmaud Arbery, who were all murdered after American Utopia ended its run) followed by the words "and too many more," indicating both a list that's longer than it ever should have to be—but one that will inevitably grow longer.
A show like American Utopia won't solve things, nor does it pretend that it can within its 105-minute runtime. But, for a little while at least, there's an infectious sense of hope over just what our ability to make connections and empathize with one another could potentially accomplish. "We're a work in progress," Byrne notes. "We're not fixed. Our brains can change." Byrne is hopeful; optimistic, even. And it's not long before he and the band take the road to nowhere—and straight into the crowd.
David Byrne's American Utopia is now available to stream on HBO Max.
HBO Max is the newest way to watch HBO, featuring an array of WarnerMedia holdings in addition to all your HBO favorites. It's also got a new series of shows, Max Originals, exclusive to the service.
---